Wanna rock'n'roll in Capetown? Ace'n'Spades is the way to go!
Located in the city center on Hout Street, Ace'n'Spades has been a hotspot even since its opening in August 2012. Owner Reg Macdonald (also behind the super cool The Village Idiot) describes it as a "rock inspired upscale dive bar", and that's exactly how it feels, with its stained glass skulls windows and rock'n'roll legend wall of fame. The crowd is young and hip and hipster, and Ace'n'Spades is definitely a trendy spot for a night out in the Mother City.
Drinks wise, you'll find an extensive selection of craft beer and some a small bar snack menu.
But Ace'n'Spades is all about the music and its live performances. If you're a rock'n'roll fan that is! 😎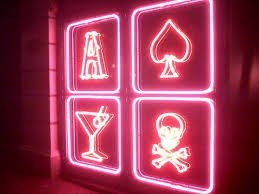 Open Wednesday to Saturday nights from 5pm to 2am.