Anfora is a West Village bar from the Epicurean Group ("EMCo") hospitality team, which, for me, means you are guaranteed a good evening 🙂 (they also manage the neighboring restaurant Dell'Anima and my beloved l'Artusi ♥). It's also a neighborhood staple when it comes to legit date spots.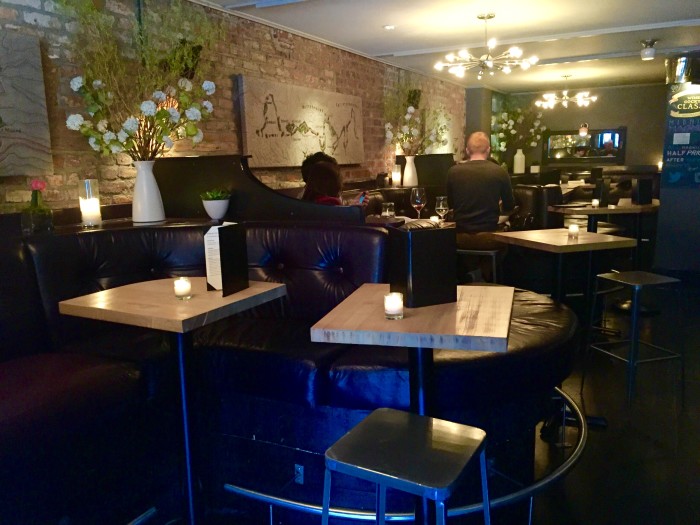 Anfora is a conglomeration of all the things people look for when planning a successful date. It's classy and intimate, but in a casual setting with a trendy and buzzing vibe. The decor is warm and relaxed, but with an upscale feel to it. You'll recognize the signature West Village exposed brick walls, steel furnishings, and most importantly, great romantic lighting, with dim ceiling lamps and candles everywhere. This is a lounge with mostly seating space, with high tables and booths along the left side of the room. A few stools and standing room space are available by the bar as well.
Best seats are the isolated stools facing the window
The crowd and noise really depend on the time and day. Generally, there will be a casual-hip crowd, amongst which at least half will be on dates! Most of the time, you will walk into a young vibrant scene, although you can find a more chilled atmosphere during off-peak hours.
$10 cocktail deals every Wednesday!
The name Anfora refers to the vessels used by ancient Greek and Roman winemakers to store and transport wines. So naturally, Anfora has a great wine selection, with some unique bottles (including unusual grapes from Slovenia and Lebanon ❗ ) and even serves my always-longued-for Orange Wine ♥ ! Although it feels more like a wine bar, there is something here for everyone: a full liquor bar, house cocktails, craft beers on tap, and even a food menu. Order a few bar snacks to share (get the ricotta crostini $8, the duck rillettes $14 and charcuterie and cheese – $6 to $20 ). The service is laid back, friendly and attentive. Expect a longer wait for food.
Ok, so Anfora is great for dates yada yada yada but this place is the BOMB for late nightcaps, with 50% off all pours from a Magnum and bottles after midnight 😛 ! And for every night of the week except for Sundays (but who wants to start off the week with a Monday hangover anyway).
They also organize special events like wine and cocktails classes (great special date idea guys – hint hint) hosted by their sommeliers and bartenders, and even owner Joe Campanale himself. You can organize your own private event as well with their party package offerings.
Half-priced magnums after midnight!
Anfora is a good spot if you're looking for a romantic date spot with a buzzing energy, but also great for girls' night out or for drinks and nibbles between a small group of friends.
Open Mon-Fri 5pm- 2am / Sat 4pm-2am / Sun 4pm-1am.