You've had a promising first date and are now looking for the best place to break the ice or bring it to the next level? Aria Wine Bar is THE place for you.
Aria Wine Bar is the archetypal rustic West Village wine bar with a lively crowd in an intimate setting. Since its opening in 2010, it has been one of the neighborhood staples when it comes to popular date spots .
Even before you make your way into the restaurant, the pretty fairy lights on the quiet Perry St entrance welcome you to its magically inviting atmosphere. Once inside, you'll immediately get why it has date night written all over it.
The setting is charming and overly cozy, with a warm rustic decor, exposed brick walls, wood tables, and most of all great intimate lighting. There are several seating options: a few standalone tables here and there, a convivial large communal table and bar seats.
Best seats are the bar stools facing the window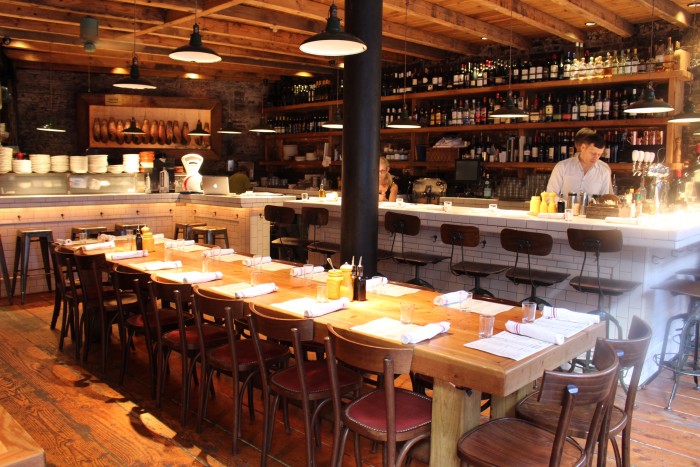 Aria Wine bar is an Italian tapas bar with an authentic taverna feel to it, focusing on traditional Venetian small plates also known as "cicchetti".  The food menu is quite extensive with a mix of tapas and classic Italian dishes, and offers something for everyone: pasta, salads, meat, fish, a wide range of vegetarian dishes etc. All dishes are made for sharing.
The food is "ok" – meaning it's not what keeps me coming back. Some dishes are good, sure. But nothing is "spectacular". And let's face it Aria has some tough competition with all the stellar Italians in the area (hellooo? L'Artusi is just a few blocks away!). To me, Aria is the perfect "wine & cheese" type of place, to which you should just add some unpretentious small plates (I often get the burrata, crostini, the lobster salad, the truffle mac & cheese). The main dishes are average but still satisfying for the average palate if I may say so  😉 –  stick with Pastas and the Lamb Chops.
The best thing about the food menu is its pricing – each dish is priced $10-$15, which is extremely reasonable considering the portion sizes and the area.
Aria is also a wine bar, with a very affordable list of Italian wines. Wines by the glass and carafes are are bargain, although the major con (for Frenchie winos like myself) is that they are served in water glasses – eek! The selection is decent but not for wine snobs. For the true aficionados with a bigger budget go with their Reserva bottles (and you may even be lucky enough to snatch one of the dozen real wine glasses they keep for special customers).
Aria is open all day and offers lunch, brunch and dinner. On evenings and weekends expect it to be packed! Aria only takes reservations for parties over 6 people so come early if you do not want to risk a long wait time. You won't really be able to kill time at the bar area either as the seats are considered dining space and the bar is cramped enough already! Come for weekday lunch and afternoon snacks if you want a more chill and neighborly environment.
Reservations available for big groups and private events
You'll love the awesome vibe and lively atmosphere, and the beautiful West Village crowd. It sometimes feels confined, and depending on the time and day, can get chaotic pretty quickly. Which may be an explanation as to why the service is so inconsistent. During off-peak hours, I've had super friendly waiters, but I must point out that I've also experienced very pushy and dismissive service…
Now, let's get back to the whole date thing. As I already mentioned Aria Wine Bar is the perfect date spot. Correction – it's the perfect second to third date spot: it's too loud and crowded for a first date, and you're risking the awkward long wait time. Once the ice is broken, it's romantic enough to want to cozy up closer to your date, but still casual and chill in a vibrant atmosphere – and at a reasonable price tag.
So you've got it by now, Aria is the quintessential date spot but is also great for casual drinks and nibbles between friends and for girls' night out. It's a good place for private events as well: they offer fixed price set menus in their downstairs cellar, great for birthdays, corporate or wine-tasting dinners etc.
Come here If you want an easy, great atmosphere as long as you do not have too high expectations of the food, wine or service.
Open everyday from 11am-midnight and until 1am on weekends.
Aria Wine Bar also has a Midtown West/Hell's Kitchen location – check it out here!