It's safe to claim Enrique Olvera as the most globally renowned Mexican Chef. His celebrated fine-dining restaurant Pujol in Mexico City is among the world's 50 best, and Cosme (review coming soon…) has become New York's hippest Mexican spot. Cosme was first intended to be a casual joint before it almost accidentally became a trendy upscale destination. With the persistent desire to make his cuisine accessible to everyone, he finally opened Atla in the spring of 2017.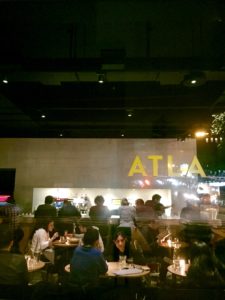 Atla is a casual all-day eatery in an airy space in Noho, serving a modern light Mexican fare for breakfast, lunch and dinner. Think Mexican tapas with a contemporary Olvera/New York twist. The small-plates menu highlights conventional Mexican ingredients and recipes with an emphasis on vegetables and healthy(ish) options. Traditional white ayocote becomes a hummus dip, the signature tostada has no pulled pork but an arctic char on it, and meatballs are made with farro and quail eggs por favor! The menu, just as the concept, encourages community, and all dishes are made for sharing.
Small portions: order 2-3 dishes per head
The food is good – not muy good. Lots of hit-or-misses, so focus on their more original dishes, i.e. skip the guacamole / quesadilla type orders. I did, however, have one of the best dessert bites of 2017: I tried their Corn Tamale dessert the first night it was tested on the menu, and it was incredible. This dish is aimed to become their signature dessert, like Cosme's legendary Cornhusk Meringue, and is the dish that will make me keep coming back to Atla.
Atla also has a strong emphasis on drinks, from coffee and aguas frescas for day-time hangouts, to refreshing mezcal cocktails and michaladas of course.
I feel like Atla first gets mostly publicized as a local breakfast spot (that really reminds me of Olvera's Eno in Mexico City by the way). The sun-drenched, relaxed space is particularly enjoyable during day-time, with floor to ceiling windows overlooking Lafayette street. The 60-seat restaurant has a great welcoming vibe and lofty look, designed with sleek black and natural wood furniture, and stylish greenery along the walls. The overall atmosphere is cool and relaxed, and the service is super friendly.
Walk-in only – No reservations
Atla is a great addition to Noho for its cute vibe and accessible small-plates. The casual spin-off is not as impressive as its Flatiron megahit Cosme, but a great space for casual bites and drinks for any time of the day.
Open all day:
Mon-Sat: 8am-4pm / 5pm-11pm
Sun: 10am-4pm / 5pm-10pm