I love meat. I love cheese. And I looove butter. So while I totally recognize, respect and even endorse plant-based diets, it would be merely impossible for the Frenchie gourmande in me to even consider going vegan. That being said, I absolutely love going to vegan restaurants. I am always on the lookout for the new hotspots, especially in cities like New York or Los Angeles where vegan has become the new black. I just feel that when a vegan restaurant is unanimously praised as being good, it's actually really good. When meat and dairy aren't involved, there's a lot more creativity that has to come into place for the cuisine to shine. And that's exactly what Avant Garden is all about.
Dinner only
Sure, the name is cheesy (no pun intended), but "avant-garde vegan" is exactly how I'd describe this East Village eatery. Avant Garden serves a unique, inventive spin on vegan cuisine, with a tapas-inspired fare that will impress even the most skeptical meat-lover. In fact, the chef himself is not even vegan! It's apparent his goal is to make each dish delectable for all palates and diets, by bringing out the best of each vegetable, fruit, grain, nut, legume, herb or spice!  No soy, tempeh or other processed fads here – the focus is purely on plant-based foods, masterfully executed in an unconventional, experimental way.
Book seats at the Chef's Counter
The seasonal small-plate menu is made for sharing and divided into three parts: toasts, cold and hot dishes. Every bite is surprisingly innovative, and most importantly, bursting with flavor and texture. Not to mention the gorgeous colorful plating as a visual bonus. Avant Garden takes experimental vegan to a distinctive, refined level.
Wine & beer only with limited but affordable selection of natural wines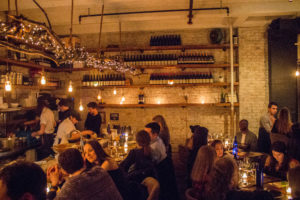 It might sound like upscale vegan gastronomy, but Avant Garden is actually pretty casual and fairly priced. The small 28-seat space is a bit confined but with an intimate, relaxed atmosphere, and a cool open kitchen overlooking the whole dining room. Avant Garden is a great East Village date spot, especially if you score the best seats in the house facing the kitchen. Second bests are the window stools overlooking East 7th street. If you're stuck with table seating, dinner will be cramped but cozy!
Fairly easy online reservations for parties of up to 4 guests – for larger parties, email reservations@avantgardennyc.com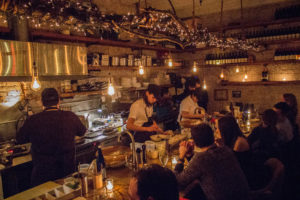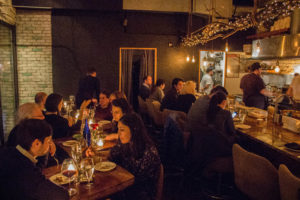 Avant Garden is probably my #1 vegan restaurant in New York City. I've ironically only brought non-vegans there, who unanimously left impressed without ever missing the meat! Their desserts are the only thing that leave room for improvement, but I always cheat and get my dose of dairy next door at Big Gay Ice Cream after (or stick to vegan at Van Leeuwen)! Great for a casual cozy date or a sharing plates with a small group of friends.
Open daily for dinner after 5pm  
Also check out Avant Garden's vegan sister restaurants/bars Mother of Pearl, Ladybird and Cienfuegos.