The first thing that comes to mind when I think about Manhattan's 57th street is "get me out of here"! That or a meal at Betony. When Betony (named after a minty herb known for its healing qualities) opened in Spring 2013, it was a much needed culinary addition to one of Midtown's most hectic streets (Nobu and Quality Italian are so five years ago!). Taking over the old Brasserie Pushkin space, Chef Bryce Shuman revamped the dramatic oligarchic decor into a modern New American restaurant that impressively managed to earn a Michelin star hardly a year after its opening.
After his six-year stint as a sous-chef at Eleven Madison Park, Chef Bryce could not have had a better training to open his own top-tier New York restaurant. Does Betony live up to EMP? Of course not! But it is still a good Midtown fine dining option, especially for a business lunch or a pre-theatre dinner.
Closed Sundays
Betony offers a refined New American cuisine, with an inventive take on traditional ingredients. Dishes are playful, colorful and beautifully presented. I feel like the overall culinary experience at Betony entirely depends on "luck" and the dishes you'll be having that night: some dishes end up being underwhelming (especially considering the hefty price tag), and others are phenomenal in creativity and flavor. Their chicken dish has been widely raved about, but I tend to find that Betony excels mostly in their appetizer courses.
Betony no longer has an à-la-carte menu, but offers several prix-fixe tasting options. For dinner, you can choose between a $110, 4- course prix-fixe menu or a $215, 10+ course chef's tasting (wine pairing for $130).
Go for early dinner for their 2-course pre-theater $65 menu  (including hors d'oeuvres and amuse bouche)
The best time to come to Betony is for their lunch deals, over half the price than dinner!  Choose between their 2-course $42 prix-fixe or their  $100 chef's tasting  (wine pairing for $60).
Betony lays in an beautiful large and airy room, with high ornate ceilings that stretch across three levels: the 85-seat main dining space on the first and upper levels and a private room downstairs. The regal decor is warm and sophisticated, with plush brown velvet banquettes, matching tablecloths, and silver brick walls in which hang photos of NYC streets. It's a unique space that feels both personal and majestically grandiose.
A spacious and vibrant 35-seat bar area is what you'll first notice as you enter the restaurant. And that's where you'll need to be to enjoy their great innovative cocktail menu! The adventurous cocktail program is where Betony stands out. Betony also has an extensive wine and champagne list (including for by-the-glass options) and draft and bottle beer and cider.  Bar service is super friendly, table service is attentive but sometimes spotty, which should never be the case in a restaurant of this standard.
Best for a business power lunch!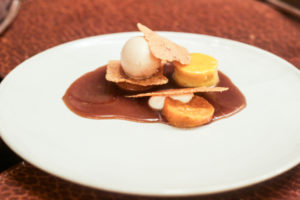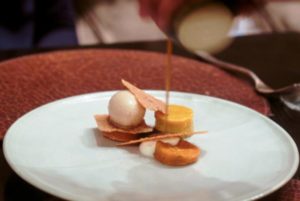 Sweet Potatoe, Whiskey Maple, Pecan
Overall, Betony is a great restaurant for a corporate meal, or for a fine-dining pre-theatre option. Reservations are easily made, which makes it all the more convenient for business gatherings. The quality of the food makes up for the challenging location, but is nowhere near some of the other top tier restaurants in the city (still have a long way to go to acquire EMP status, Chef Bryce!) and overpriced, despite the Michelin star rating. I'm happy I went – I would return – but won't be running back (or be the one picking up the bill)!
Lunch weekdays 12pm-2pm
Dinner Mon-Thurs 5:30pm-10pm / Fri-Sat 5:30pm-10:30pm
Closed Sundays