Not sure where the name comes from, since Black Sheep is a great choice of a little local restaurant for a trendy but casual dinner with friends in Cape Town! I say little but it's actually quite big, with a three-level space, accommodating for all kinds of dining occasions: a drink in the bar area on the main floor for a  view of Table Mountain, cozy up by the fire place on cold nights, or the upstairs mezzanine, perfect for large groups (which is where we ate for one of my Saffie friend's numerous rehearsal dinners). You can also have "sundowner" drinks (i.e. the South African word for "apéro") in their street-side bar, offering great cocktails, craft beer and their beautiful local wines of course. Lekker! 🙂
Black sheep is a two-family restaurant open late 2013 by Jonathan Japha and Jorge Silva, located in Cape Town's City Bowl area. The place is trendy and vibrant (can be noisy for non New Yorkers…!) but in a non pretentious and laid back environment, with an open kitchen, and great friendly service – which is a lot to say when you are part of a party of 20!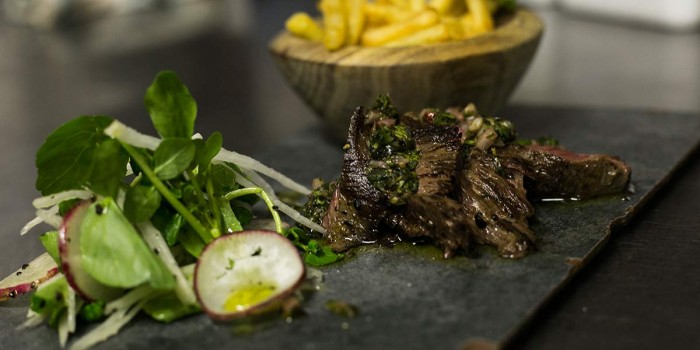 www.blacksheeprestaurant.co.za
Black sheep is a "blackboard restaurant", meaning that the menu is listed on a large blackboard daily according to the fresh seasonal ingredients on offer. Average cost is R200-R210 per head, with starters priced between R40 and R55, mains between R85 and R140 and desserts between R35 and R60. For large groups you'll get a set menu, with plates served family style. Everything was delicious and the portions were definitely generous. You will not walk out of there hungry. Lots of dishes are suitable for vegetarians.
If you're lucky enough to live in Cape Town, book 72 hours in advance and grab a few friends (minimum 6 people) and book their seven-hour pot roast larded leg of lamb. Had food FOMO when I saw that there…! 😯
Oh and you can BYOB for a R70 corkage fee.
Open Monday for Dinner, Tues-Sat for Lunch and Dinner. Closed Sundays.