Buvette is a quaint French Gastrothèque on Grove Street with the quintessential Parisian vibe, and yet is a true NYC West Village staple. And my go-to neighborhood spot when I'm feeling home-sick 😥 . Bienvenue à Paris!
Buvette is a small 50-seat bistro, where everything is teeny-tiny: you walk into a pint-sized room, with teeny-tiny tables, teensy little chairs and itty-bitty tableware – and order from their teeny-weeny menu. You will be sitting very close to your dining neighbors. If you are tall or slightly larger in any way, be advised, you will feel like Alice in Wonderland! This is not for the claustrophobic big people – you will feel cramped and squeezed, but that's part of Buvette's unique charm.
Walk-in only – expect a long wait, especially on evenings and weekends!
The inviting setting will make most first-timers exclaim a "oh how lovely / charming / adorable" type of reaction. The dining room has an elegant and cozy atmosphere, with carefully curated details to make you feel like you've been teleported to Montmartre. The ambiance will be warm and tranquil during off-peak hours, but bustling and vibrant on evenings. It has a certain "je ne sais quoi" that will make you want to come back. You cannot beat Buvette's vibe –  this is what this place is all about.
Buvette is your everyday all-in-one restaurant/bar/café. It's an all-day eatery, serving French small plates from breakfast onto late-night tapas. Chef Jody Williams describes Buvette as "a place committed to the pleasure of good food" – for the "bons vivants, quoi", as we say! The menu changes seasonally (each carte du jour is even stamped with today's date).
My favorite meal to have here is breakfast – Buvette serves a killer petit-déjeuner (and brunch) and great coffee. Any one of the scrambled egg dishes and the waffle are a must.
Serves late night drinks & snacks until 2am!
The food menu is pretty simple but authentically French. Each dish is prepared with palpable quality ingredients, but not everything on the menu is a home-run when it comes to taste.
Apart from breakfast and some stellar menu items, the food is not what I come here for. For a guaranteed palate-satisfying experience, focus on the Charcuterie (the Duck Rillettes are legit), the tartare and the Croque-Monsieur (or Madame/Forestier) is one of the bests in the city.
I cannot go through winter without having their Aligot – an oh-so decadent dish from the Aveyron region, which is basically a kind of potato fondue – drool 😛 ! Ze comfort food for ze French!
For dessert they excel in their Tarte Tatin. Stick to these star menu items and you will experience the best Buvette has to offer. Also ask for their daily specials. Prices could be cheaper considering the portion sizes, but overall affordable for the area (expect $7-$15 for each plate).
Buvette is the perfect "wine & meat-cheese board" type of place, so order vino from their great selection of French wines by the glass, carafe or bottle.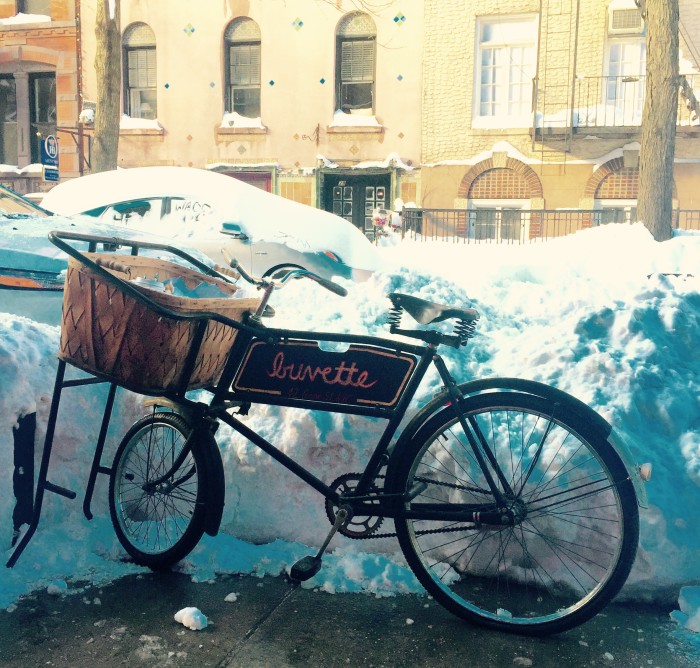 I love coming here in the winter for its warm and cozy environment, when I crave red wine and cheesy dishes. On warmer days and nights I go to Buvette for their cute outdoor patio.
On warmer days and nights sit in their outdoor patio!
Buvette is a perfect spot for dates in various stage of progression, for an intimate casual meetup between friends at any time of the day, or just to get a little feel of Paris in the City. I appreciate it best for breakfast, afternoon tea (wine? 😳 ) or late night drinks and snacks.
Open Daily – Mon- Fri 8am-2am / Weekends 9am-2am
Buvette is also in Paris:
28, rue Henry Monnier, 75009