Ever since its opening in summer 2015, by CHLOE. has taken the NYC vegan food scene by storm. It's been overly praised, raved and blasted about all over social media, and has become the must pit-stop for the trendy vegan New Yorker. I'm not vegan (duh) but my FFOMO (Food Fear Of Missing Out) obviously led me to by CHLOE. to see what all the hype was about.
 by CHLOE. is a fast-casual restaurant in the heart of Greenwich Village by the under-30 duo Chef Chloe Coscarelli and ESquared Hospitality Group's Samantha Wasser. Chef Coscarelli had built a name for herself in the reality show "Cupcake Wars" by being the first vegan chef to win a culinary competition on national television. Three best selling cookbooks later, Coscarelli opened by CHLOE. to offer an innovative take on vegan cuisine and fight the "rabbit food" stigma linked to plant-based diets.
Veganism has been a culinary trend for a while but let's face it, ever since Beyoncé revealed her 22-day diet slim-down transformation, the vegan lifestyle became the new "it" for all kinds of health-conscious eaters. However, there is common misconception that mixes up healthy eating with veganism. One does not necessarily come with the other, especially not at by CHLOE. Trust me when I say that if you eat at by. CHLOE for 22 days straight you will NOT look like Queen Bee! Although there are some healthy food options and juices, the majority of the menu is what I would qualify as vegan junk food.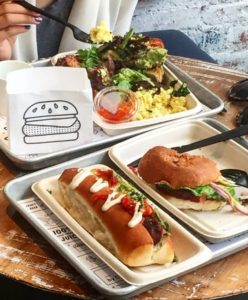 by CHLOE. offers an all-day menu and weekend brunch, where everything is 100% vegan, kosher, organic, and whatever else the eating trend is these days. Everything about the brand is a promotion against carbon footprint with an animal and preservatives free menu, mindful ingredient sourcing and eco-friendly packaging. The menu is quite diverse with everything from salads, burgers, soups, sandwiches, cold-pressed juices, ice cream, freshly-baked sweets, and a variety of grab-and-go options.
Don't forget to try their beet ketchup and chipotle mayo
First timers, get the $9.95 Guac Burger, and the Mac n' Cheese made with sweet potatoes and cashew sauce. My favorite menu items are actually the salads, especially the $9.95 Kale Caesar (shiitake mushrooms are labeled as bacon here!). The $10.95 Spicy Thai (that is not spicy by the way) and Quinoa Taco are other popular favorites.
And shhhhh! Ask for the (not-so) secret off- menu item "Oh So Fancy Fries" , that are "Oh So Fatty" and a stoner's paradise, even for the meat-eating kind! 😉
The average price is about $10 a dish, which is pricier than your everyday fast-food joint but then again this is not your everyday fast-food joint! It's, in fact, very affordable considering the quality of ingredients and the large portion sizes.
Get the off-menu "Oh So Fancy Fries"!
Come to by. CHLOE for vegan fast-food, but don't expect fast service… This place constantly has a line out the door with all kinds of hungry New Yorkers (and a lot of NYU students that are not afraid of killing time)! I strongly suggest you decide what you want beforehand and be all set by the time you get to the register. Once your order is taken, you will be given a buzzer that will notify you when your meal is ready (just like at Shake Shack!)
The line isn't much the issue (if you're lucky they'll give up free samples to ease your hunger!), it's hunting for a seat that's a true mission. Once you're seated expect to have an array of hangry guests with their platter in hand, eyeing your every bite for you to leave your spot!
 Come with a friend to snag a seat while you stand on line
Chef Coscarelli's was hoping to break the stereotypes linked to plant- based cuisine, with a mission to show people that vegan food  "is not just for people who label themselves as a vegan" – mission accomplished! Chef Chloe has concocted inventive recipes and unique flavors that can be appreciated by everyone and will not make you miss the meat, even in a burger!
by. Chloe is now also in Flatiron & new locations opening soon in Soho, Rock Center & Williamsburg!
Open Mon-Fri: 11am-11pm
Sat: 10am-11pm / Sun: 10am-10pm