Any time Mario Batali waves his magic wand over a restaurant, there's a good chance it will become a New York classic. Casa Mono is no exception. Since its opening in 2003, it has remained a timeless NYC staple part of Batali and Joseph Bastianich's culinary empire, and has successfully maintained its Michelin star since 2009.
I always struggle to find decent dining spots in the Union Square area, so I will often end up at the corner of Irving Place and 17th street at Casa Mono. When it first opened, Batali took a small risk: he was not playing it safe by opening another publicized Italian restaurant, but a Spanish tapas joint at a time where small plates were not yet a foodie trend. To this day, Casa Mono is the best place in the city for tapas.
Casa Mono is a very small restaurant with limited seating, with just over a dozen tables and bar seats. You walk into a buzzing and crowded dining room with mosaic tile floors, interior walls decorated with wine bottles, and floor-to-ceiling windows that open onto Irving Place. The atmosphere is always vibrant with a mix of couples on dates, friends' night out of all ages, and an after-work crowd.
Sit at the bar directly facing the open kitchen
I've lived in Spain and have always loved going out for tapas, but frankly more for the conviviality than for the cuisine itself (tapas can be boring

). Casa Mono is not your average tapas joint  –  Batali takes it to a whole other level, with unique and ambitious renditions of Spanish small plates. If you want traditional tapas, head next door to the sister restaurant Bar Jamón.  If you want inventive and refined dishes with a wow factor, you're at the right place. Everything on the menu is ingenious, surprising in flavor, and just plain delicious.
Highlights include the infamous $17 Razor Clams a la Plancha (best razor clams in the city ❗ ), the  $19 Confit Goat, and do not leave without trying the $18 Creamy Eggs with Sea Urchin & Ancient Anchovy Oil. So many things could go wrong here, but Mario Batali makes it oh so right (and keeping in mind how picky I am with eggs!) This is how I imagine eggs are served in heaven. ♥
Plates are (obviously) made for sharing. Depending on your appetite, aim for two to four per person. Prices are high for tapas but very reasonable for a Michelin-starred restaurant. You get more than what you pay for in terms of quality and ingenuity.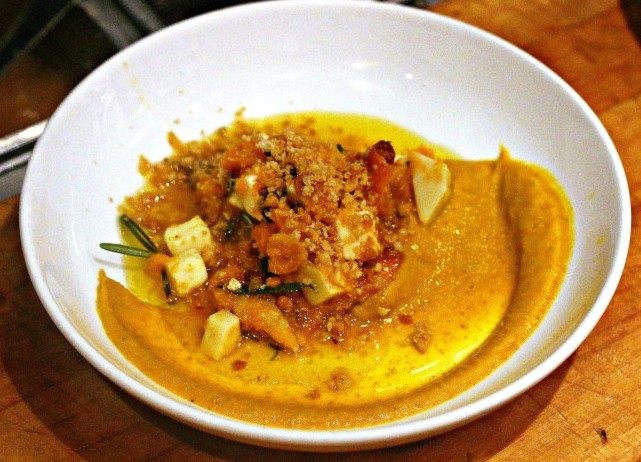 All dishes are a hit – only miss would be the occasional heavy salting and the more disappointing desserts.
Not only is the food stellar, but Casa Mono, along with Bar Jamón, has an unparalleled selection of Spanish wines, with a highly acclaimed list of nearly 600 bottles for every taste and budget.
The food and wine highly deserve the Michelin star – the service a lot less. This is definitely the sort of place where the food outshines the often-arrogant service. My only true criticism would be that a restaurant that has earned a Michelin star for this long should command more consistency in every level of hospitality.
Snatching a reservation that's not at 5:30pm is never an easy task, but not impossible. For dates or small parties, don't bother with booking a table and stick to the bar counters reserved for walk-ins only. They are by far the best seats, you are right in front of the kitchen and get to see the chefs work their magic. Unless you get there early, you'll most likely have to wait for your spot, in which case you should go to adjacent Bar Jamón to get a drink and/or small tapas to kill time –  they will come and get you when your seats are ready and transfer your bill to Casa Mono.
Casa Mono is the top place in New York for high-quality tapas and for the best selection of Spanish wines.
Open everyday from for lunch and dinner from 12PM to 12AM. Also accommodates private events.