When Contra opened late 2013, it was almost immediately praised for being the "best new tasting menu" in NYC. Claiming it to be the best would be very far-fetched, but Contra's tasting is definitely a great michelin starred fine dining value in NYC.
Contra is a small restaurant discretely located on Lower East Side's Orchard Street. Keep an eye out for the interior red neon sign or you'll miss the unassuming entrance. The restaurant itself is very minimalist, in a simple design and casual vibe, but "so New York", with signature brick walls and wood themes playing off the welcoming lighting. Once you've entered the 8-seat bar area, you'll make your way into the railroad dining room, in which wood tables align in a narrow alley ending in an open kitchen. The overall space is unpretentious and modestly decorated, setting the scene for a relaxed dining experience.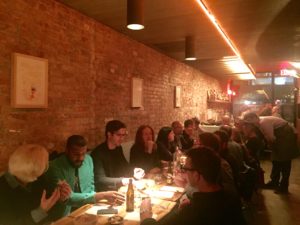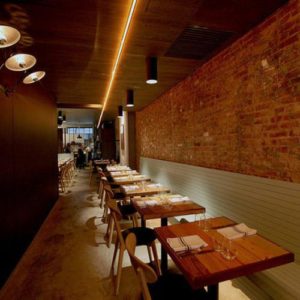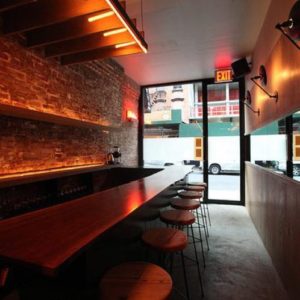 Contra serves one unique $67 six-course tasting menu, composed of four savory dishes and two desserts (bread and cheese are additional). The single menu changes daily or weekly depending on market availability, serving only seasonal and locally available produce. They describe their cuisine as "contemporary New York", whatever that means! I'd describe it as an edgy take on New American with hints of Modern Nordic cuisine (i.e. expect flowers and leaves on your plates

  ) and would fall into the "hipster gourmet" category 😎 . The whole concept kind of reminds me of my beloved Chateaubriand in Paris.
Closed Sundays and Mondays
The food is inventive, but approachable. Each dish is beautifully presented, ingeniously mixing high quality ingredients, with clean, refined flavors. The talented duo of young chefs does a great job balancing different textures and temperatures. The complexity of each course gives way to an exciting tasting menu. The portions are fair, and the quality-to-price ratio cannot be beat. Dinner at Contra is, nevertheless, not at the level of some of the extremely high-end tasting menus in the city, but for the price you're paying here, that shouldn't be the expectation.
For allergies and dietary restrictions, email at info@contranyc.com
Wine pairing is available for $55 (which, again, is a pretty good deal compared to the average NYC tasting menu), or you can choose from their highly curated drinks menu with an interesting list of natural wines, in-house cocktails or bottled beers. I got very excited when I saw they offered different types of my always-sought-for orange wine: this is the best beverage to start your meal at Contra.
Make sure you pay the $3 extra for the bread!
The overall atmosphere is very chill and laid back. Service is friendly and approachable. No sommelier here but waiters are attentive and knowledgeable about both food and wine. Courses come at a good pace – expect 2-2:30 hours for your full dining experience.
Contra accepts reservations (secured with a credit card) for parties up to six guests. It's now a lot easier to get a reservation compared to when the hype was at its peak (and when the tasting menu was only $55!), but definitely book a table if you want to have dinner in the main dining room. The full tasting, as well as an abbreviated menu, are also available at their 8-seat bar on a first-come-first-serve basis.
 A $67 fee is charged in the event of a cancellation within 24h of the reservation
Contra is perfect for a special, yet casual date night, or for a small group looking for an adventurous, laid-back gourmet experience.
If you're not in a tasting-menu mood, head next door to their great little sister restaurant Wildair for drinks and delicious bites.
Open for Dinner Tues-Sat 6pm until closing.