Summer 2016 marked the end of an era in the Montauk dining scene… It was sad enough when Duryea's closed down its Montauk landmark lobster-shack to become another sceny St-Tropez style joint. But when Dave's Grill, one of Montauk's iconic restaurants for decades, shut down its infamous 468 West Lake Drive eatery, it was too much for me to handle in one summer.
Closed Wednesdays
After operating Dave's Grill for nearly 30 years, husband-&-wife owners Dave and Julie Marcley moved across the lake to open Dave's Gone Fishing, taking over the old "Fishbar" site near Montauk's Gone Fishing Marina (phew, ok so it wasn't a complete shutdown). The legendary joint had a fierce local following and was notorious for its exceptionally fresh seafood and incredibly hard tables to snatch (and celebrity spottings if you were lucky)! The new location changed its original menu to focus more on small plates, including a raw bar, seafood pasta dishes and salads. There is still a full bar, as well as an eclectic wine list.
Dave's Gone Fishing is fully first-come, first-serve.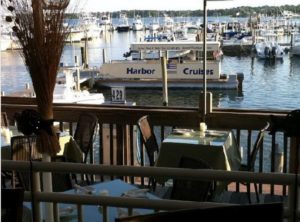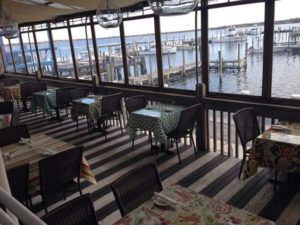 The new spot is a smaller and more casual outpost of their former gem, in an equally great waterfront setting. The restaurant offers indoor seating with a cozy library-like lounge, but the reason you come to Dave's is for the outdoor dining. The beautiful outside deck overlooks the harbor and the marina, with stellar views of Montauk's picturesque and lively inlet. Make sure you come to Dave's Gone Fishing for the stunning sunsets over the marina, visible from almost every seat in the house.
Come for sunset dinner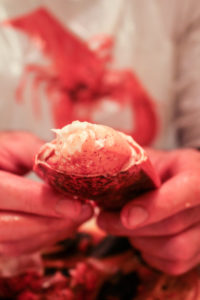 Dave's Gone Fishing is still a great option for an authentic Montauk seafood dinner with a view. But I'm definitely nostalgic (as are most regulars, I'm sure) for Dave's Grill's food and atmosphere. If it's any consolation, Dave's signature dish, the famed Cioppino, (a medley of lobster, scallops, clams, shrimp, mussels and calamari poached in a thick, rich fish and tomato reduction) is still on the menu  as Dave's original "Baby Cio" (although in a much smaller portion 🙁 ) 
The original Dave's Grill used to be one of my favorite restaurants in Montauk (after The Crow's Nest of course). I miss it ♥. But for those who have never known the original outpost, you won't have anything to compare it with and will most definitely love Dave's Gone Fishing. Come early to make sure to get a table with the best view.
Open seasonally June-October for dinner: 5:30pm-10pm.