As the name suggests, East by Northeast brings Far East Asian cuisine to the East End of Long Island. Overlooking Fort Pond Bay, this fusion restaurant has one of Montauk's finest panoramic waterfront views.
Call for reservations
"ENE", as regulars call it, connects to the newly renovated Stone Lion Inn. The restaurant has a large, polished interior space, with sleek wood and a wall of windows overlooking the bay. There is no point in sitting in the indoor dining room – it has an impersonal and uptight feel to it, if you ask me. Their outdoor bar and patio is what East by Northeast is all about. Request a table overlooking the water and make sure you are there in time for sunset.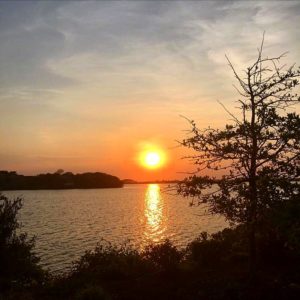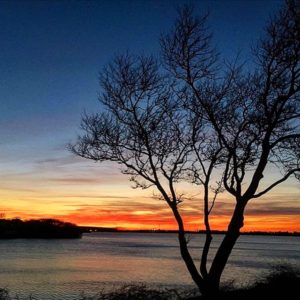 East by Northeast serves an Asian-inspired fare with a northeastern twist, which includes locally sourced ingredients, seafood and a sushi bar. The food is average at best, although they do have the most addictive Organic Lolli Pop Kale Chips. If you're craving fresh sushi, head to Inlet Seafood instead. Stay at ENE for its Happy Hour specials and their outdoor seating with breathtaking lakeside views.
Go for Sunset Happy Hour
With its spacious indoor and outdoor spaces and unique views, East by Northeast accommodates private parties and special events (family reunions, weddings etc) for up 180-200 guests.
Skip the dinner at ENE – come for sunset drinks & kale chips!
Dinner: Sun-Thurs 6pm-10pm / Fri-Sat 6pm-11pm
Brunch Sundays 11:30am-3pm
Happy Hour Mon, Wed, Fri 6-7pm / Tues 6-8pm