Ever since its 2011 opening, East Hampton Grill has become a local favorite – even though it's not really "Hamptony". Perhaps because it's one of the few legit Hamptons dining spots open year round that's consistently buzzing.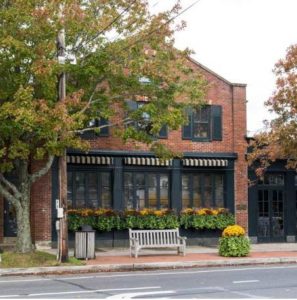 East Hampton Grill is – a grill(!) – with the standard American comfort food menu. You'll find the expected oysters, tuna tartares, burgers and steaks – but not in a (too) boring way. The food at East Hampton Grill is hearty and delicious, with something for everyone. Most dishes are rich and portions are huge, so unless you're focusing on their raw bar, East Hampton Grill isn't the best spot for the bikini diet.
East Hampton Grill traditionally serves dinner only, but opened "The Flying Chicken" for the summer, cooking up fried chicken & biscuits daily, great for picnics, beach parties and hanging out.
If you're looking for a beachy summer atmosphere, this isn't the spot. East Hampton Grill has more of a New York vibe, with a warm, wood-accented decor and dark lighting overlooking an open kitchen, and more upscale (older?) crowd. That's why I usually prefer East Hampton Grill off-season or on a rainy night.
Call for reservations
During the summer, the bar is bustling and the dining scene is happening. Bookings are a must on weekends.
Open year round for dinner:
Sun-Thurs: 5pm-10pm
Fri-Sat: 5pm-11pm
Summer 2017 Flying Chicken:
Mon-Thurs: 11am-10pm
Fri-Sun: 11am-5pm