Looking for the perfect casual first date spot in the West Village? Look no more, Entwine is for you loverboy (I'm unashamedly assuming the first date setting is chosen by the Mr.).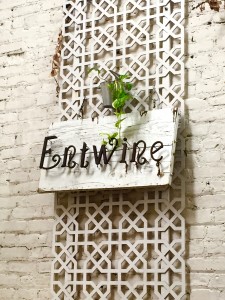 Entwine is a quaint Turkish wine bar located on Washington Street in the midst of several of West Village's staple restaurants. I know what you're thinking – the West Village is full of intimate first-date-certified wine bars. BUT at Entwine you will have several seating options according to where you stand with your date. Keep it simple and sit at the rustic bar at the entrance. Want to make it more formal? Head to the back room and get table service or downstairs to "subtwine" for a seated intimate drink. Beautiful day out? Enjoy the super cute outdoor patio at the back. Feeling lucky? Go back inside and sit in the comfy back-room couch by the fire place… Entwine also has both a downstairs and an upstairs bar area, perfect for large parties or private events. You name it you got it!
On warm nights grab a drink in the super cute outdoor patio!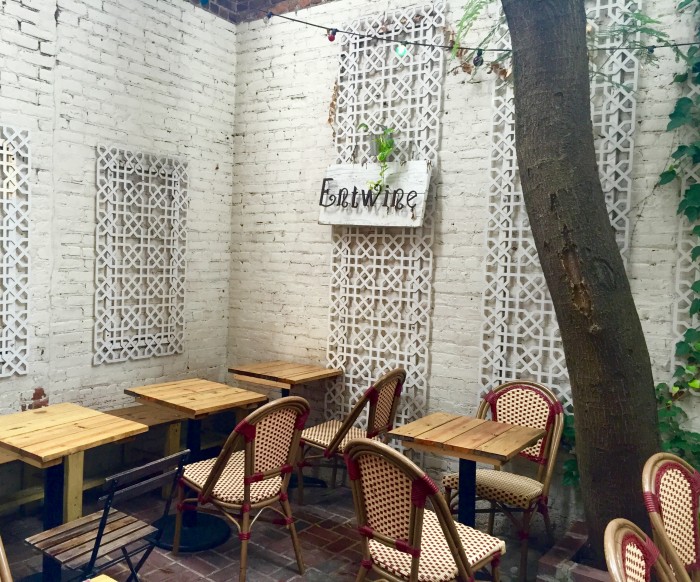 Out of all, my favorite spot is their Mediterranean-style outdoor patio, with its white brick walls and intimate lighting. Side note for smokers (boooooh) or intolerable non-smokers, this is a Turkish bar so smoking in the outdoor courtyard is permitted and common.
The overall atmosphere is cozy and intimate, with the West Village signature brick walls, shabby-chic lounge decor and dim lighting.
Entwine offers a lunch, dinner and brunch menu. But I would stick to drinks and sharing their Mediterranean small plates and meat and cheese boards. Ingredients are supposedly organic and from local farms and markets. The wine list is decent and moderately priced, featuring a selection from across the globe. They also have an in-house cocktail menu as well as all the classics. And all of this at an affordable price, especially for the area. Staff is super friendly and laid-back.
I am always drawn to Entwine for its ambiance and setting, and tend to only stick with their beverages, whether it be their traditional Turkish coffee in the mornings, their Aperol Spritz for summer patio nights, or their vino of course. Entwine is best pre or post dinner at neighboring faves Malaparte or Barbuto.
Note for late night drinks: Entwine "only" opens until midnight.