Esiatorio Milos is a New York staple when it comes to upscale Greek restaurants. As the off-shoot of a Montreal bistro, it has been a Midtown Manhattan favorite since 1997. Milos now has several more locations across the globe.
The spacious, loft-like restaurant has a split-level dining room with a classy, Mediterranean-themed decor. The white walls and linens, exposed structural columns and Greek artifacts (including a huge terra-cotta amphorae) will make you feel like you're in a fancy Athens eatery, but Milos also has a very American steakhouse feel to it. I refer to it as the signature old-school Midtown vibe. The ambiance is lively, but as Milos is probably the most expensive Greek restaurant in New York City, it naturally attracts an older, corporate crowd. Milos is a good Midtown option for a business meal, or a pre-theatre dinner with the parents (i.e. when you're not the one paying!) 😆
Milos is the place to go for high-end Greek cuisine, and specifically for its fresh seafood. They pride themselves for importing their fresh fish daily from the Mediterranean (am I the only one this startles by the way?

). Their daily market is displayed on a bed of ice near the open kitchen for you to choose from. Prices are by the pound, so expect a surprisingly hefty bill at the end (but again, Mr. Corporate Card should be paying here)… Once you've picked your fish, you can ask for it to be prepared to your liking: grilled, fried, shashimi, tartare or traditionally cooked. For the ultimate Milos experience, make sure you order from the raw bar, get the octopus, and of course, their signature Milos Special (a tower of fried zucchini and eggplant over a mound of tzatziki and kefalograviera cheese) is a must.
$27.50 3-course lunch deal!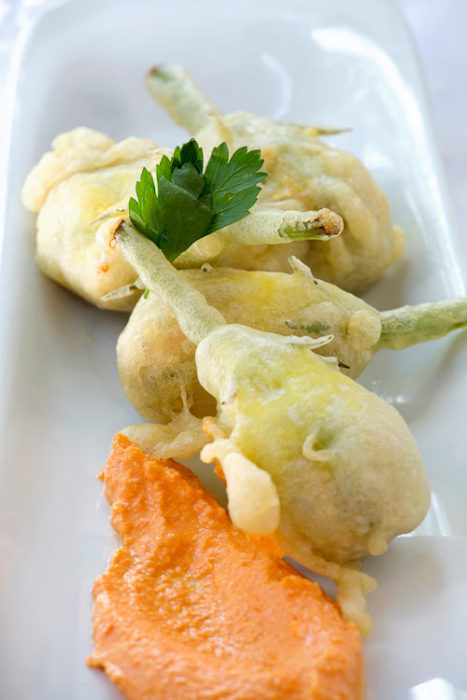 Sharing food at the table brings people together and enriches the culinary experience- is the tagline on Milos' menu, which is therefore tailored to accommodate two or more people to share. Considering how absurdly expensive your meal will be, you might as well taste it all!
Pre-post theater 3-course $49 prix-fix menu!
Reservations and walk-ins are both easy to come by
The ingredients are of undeniable quality, the food is extremely flavorful, but I think I've made my point that a meal at Milos is also excessively overpriced. Come here for their $27.50 lunch deal, although a business expense will allow you to make the most of their high-quality seafood and their great (and, wait for it, expensive) selection of Greek wines. Milos is in close proximity to the Theater District, with reasonable pre- or post-theatre dinner deals.
Private rooms are also available for corporate events up to 24 guests.
Open daily for lunch 12pm-2:30pm
and dinner Mon-Sat 5pm-11:30pm, Sun 5pm-10:30pm
Pre-post theatre deals Mon-Sat 5pm-6:30pm, Sun 5pm-10:45pm