Long gone are the days when Colombia was on every traveler's blacklist, synonymous with danger and drug cartels. The world is now finally able to discover the beauty of rejuvenated Colombia which, contrary to popular misconceptions, is among the safest South American countries (if you travel wisely, of course). Colombia is my all-time favorite Latin country to visit for its vibrant local culture, incomparable hospitality and diverse scenery. Along with Medellin, Unesco world heritage site Cartagena de Indias has won my heart. This port town at Colombia's northern coast is the country's most visited and popular destination. Tourists from all over the world come to Cartagena to get lost in its romantic walled old city, for its various cultural attractions, its heavenly Caribbean coastline, the buzzing lifestyle… and of course its gastronomy scene, which itself combines Latin, African and Mediterranean influences. Explore Colombia's Caribbean cuisine at its best in the most picturesque setting with Cartagena' s top spots!
⇒ The best seafood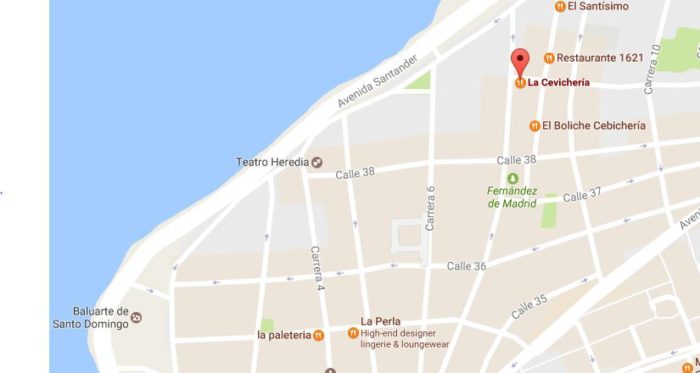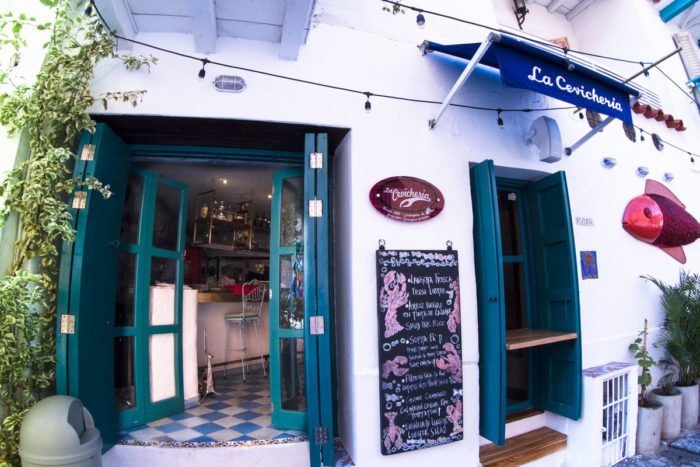 La Cevicheria is probably the most popular restaurant in Cartagena and the holy grail for – you guessed it- ceviche! Ever since Anthony Bourdain featured this local Old Town eatery in one of his episodes, it's become the #1 spot on every tourist's bucket list. Bourdain was probably biased as he's good friends with the Chef Jorge Escandon, but they hype is justified regardless. This is the best place for fresh Caribbean catches at an affordable price.
No reservations!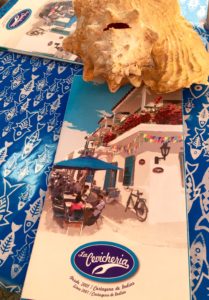 La Cevicheria is open all day from 1pm, but the best way to enjoy it is for lunch in its outdoor tables. La Cevicheria takes no reservations, so a long wait is almost always expected – come at least thirty minutes before it opens for lunch, i.e. 12:30pm and enjoy the people-watching in this colorful colonial street.
The wait is shorter for indoor dining!
Order ceviche, of course, but also some of their daily specials, seafood stews and rice dishes
LA PERLA


4 – 42 Calle de Ayos
(+57) 5 6642157


$$




♥♥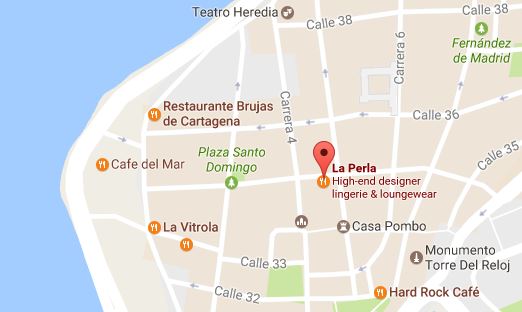 I know what you're thinking – you're in Colombia, why would you want to go to a Peruvian restaurant. But truthfully, there are a lot of similarities in both cuisines, and let us not forget that ceviche is first and foremost from Peru! Peruvian food is all over Colombia, but if you want the best in Cartagena, La Perla is the place. Centrally located just one block from Plaza Santo Domingo, La Perla has a modern-chic dining room decorated in summer-like whites and sea blues, an inviting space for both lunch and dinner. Food-wise La Perla is famed for its seafood dishes, particularly the tiraditos and ceviche, to be paired with a Pisco Sour (or two or three!) of course. You won't need a reservation for lunch but make sure you call ahead for dinner bookings.

⇒

For Fine Dining
Although it's more of a Cuban spot, La Vitrola is probably the most quintessential Cartagena restaurant. This old town staple is known for being the best spot for local celebrity and politician spotting. Along with being the "it" place among the ruling elite, this was Gabriel Garcia Marquez's favorite hangout! The bar and restaurant has a somewhat vintage Cuban ambiance, with great mojitos, a live salsa band and Caribbean seafood that will make you feel like you've been transported to 1940s' Havana! This is a Cartagena classic and a must-stop if you manage to get a reservation (a very hard task – call a few weeks ahead!), more for the history of the place and the live music than for its food. Lunch seatings are a lot easier to come by, but La Vitrola has the best vibe for at night!
Call ASAP to book a table!
RESTAURANTE 1621


Sofitel Legend Santa Clara Cartagena, Calle Del Torno 39-29 Barrio San Diego
(+57) 5 6504700

$$$$




♥♥♥♥
The Sofitel Santa Clara, one of the nicest hotels in Cartagena, is home to Restaurante 1621, a fancy restaurant in the city's old town for a sophisticated dining experience in a gorgeous historical setting. The hotel used to be a convent and the nun's ate in what is now the restaurant dining room! No monk food here though, Restaurante 1621 mixes old and new world cuisines, serving high-end Caribbean  dishes prepared with a French gourmet flair. The restaurant serves dinner only, and has the best atmosphere for a romantic dinner al fresco!
Book in advance!
CARMEN


Calle 38 # 8-19, Calle del Santísimo
+57 5 6645116

$$$$




♥♥♥♥

On my first trip to Medellin, I was blown away by my meal at Carmen. So naturally, I had to come back to their Cartagena outpost. Carmen is a trendy, contemporary restaurant for the ultimate dining experience:  the decor is stunning (the Cartagena location has a super cute, greenery filled patio if it's warm enough for al-fresco dining), the service is stellar, but the star of the show is the food.

Duo Cangrejo"No me llames Cazuela" dish – funny name, gorgeous plating, delicious taste!

Carmen offers a creative and very refined take on regional flavors. I'd define it as a modern interpretation of Colombian fusion with influences and techniques from high-end cuisines. Every dish is an explosion of flavors (and stunningly plated), the highlights being their appetizers and their fish entrées.

Reservations are a must.

Great wine list and cocktails as well. It's pricey but the quality is such that no gringo will complain about the pricing! Open for lunch and dinner but best for

date

night!

DONJUAN
Historical Center Calle del Colegio, # 34-60 Local 1
+57 (317) 501 14 15
www.donjuancartagena.com
$$$$
♥♥♥

Donjuán is an upscale

Spanish

restaurant for a refined Mediterranean twist on traditional Caribbean fare (so think lots of fish and seafood dishes with Basque ingredients). The chef cooked in no less than three of San Sebastian's three Michelin star restaurants, so he knows what he's doing! The restaurant's owner also happens to be one of Colombia's top mixologists, so along with the tasty tapas you'll want to go there for their handcrafted

cocktails

. If it's your first time, must-orders include the grilled ctopus and the signature tiraditos.

Call for reservations – Closed Sundays

The airy stylish space and the international vibe (and the hefty prices!) will make you feel like you're in LA or NYC rather than Colombia, but Donjuán is still a delicious option if you manage to book a table. The restaurant serves lunch on weekdays and dinner every  night except Sundays.

MARIA 
Historical Center Calle del Colegio, # 34-60 Local 2
+57 (5) 660 53 80
www.mariacartagena.com
$$$$
♥♥♥
María is the slightly more casual, baby sister restaurant of neighboring Donjuán. Another great city-center option for contemporary Colombian cuisine with a lively, modern vibe. It's known for its trendy interior with flamboyant details like a giant chandelier of mini white pineapples and colorful furnishings. The highlights at María, though, are the seafood dishes and crafted cocktails from master mixologists. It's an elegant eating option but with an unpretentious (seasonally changing) menu and friendly service, although prices are on the expensive side. This is a great place for large groups, but make sure to book ahead of time!
Closed Sundays
MAREA by RAUSCH
Centro de Convenciones Cartagena de Indias
+57 5 6544205

$$$$




♥♥

Marea is a modern seafood restaurant by the locally famous

Rausch

brothers. It's a great restaurant for its sophisticated menu, but mostly for its

location 

overlooking the harbor and walled city. It's all about the scenery and ambiance, with delicious French-Colombian dishes as a bonus. Only con is the inconsistent service. Good for group dinners or date nights (book in advance online or by calling).
Alma is yet another fancy-ish fish restaurant with great dishes from the sea, but best for its bar and most of all for its beautiful location. Situated in Hotel Casa San Augustin, the romantic decor, high ceilings, and live music in the courtyard makes Alma a dining oasis. If you can't make dinner, come for their (pricey) great cocktails in a relaxing setting.
EL SANTISIMO
Calle Del Torno #39-76
+57 5 6601531
www.elsantisimo.com
$$$$
♥♥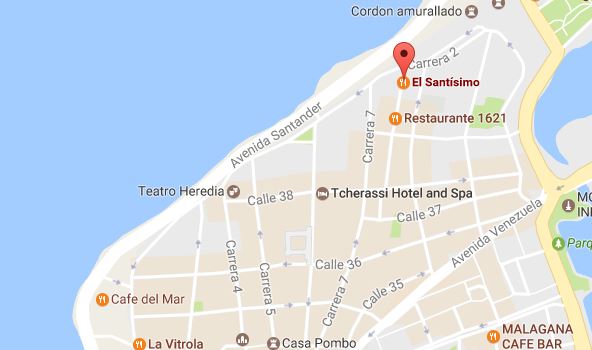 El Santisimo is a great option if you're sick of seafood or looking for a more straightforward approach to typical Cartagena cuisine. They might try to push for their prix-fixe but go for their à-la-carte menu, and make the most of their open bar / unlimited wine deals if you're in the mood for a boozy night! And make sure you order their obatala, a slow-cooked beef served with coconut rice and plantains.
Make a booking online.
⇒

For Casual Dining or Lunch 

LA COCINA DE PEPINA


Callejón Vargas 9A-06, between Arsenal y Calle Larga, Getsemaní
+57 5 6642944


$$




♥♥♥♥

La Cocina de Pepina is probably my

favorite

restaurant in Cartagena, and one of the most popular in Cartagena amongst both locals and visitors (Gabriel García Marquez was a regular!). This is a must-visit for an authentic local experience that will make you discover a whole array of new flavors. It's a small, very casual, no-frills space in the hipster

Getsemaní

area.

The setting is welcoming but nothing special and this is not the place for trendy mixologist concoctions – the sole purpose of coming to La Cocina de Pepina is for its unique food. La Cocina de Pepina serves incredibly creative takes on hearty, traditional Colombian dishes. This includes comfort food and saucy creations with fun names! Do not leave without trying their signature Cabeza de Gato (cat face!) or the city's finest Mote de Queso, a soup made from local Colombian cheese! No stay in Cartagena is complete without a memorable dining experience at La Cocina de Pepina. The restaurant is always busy, so reservations are a must (call ahead).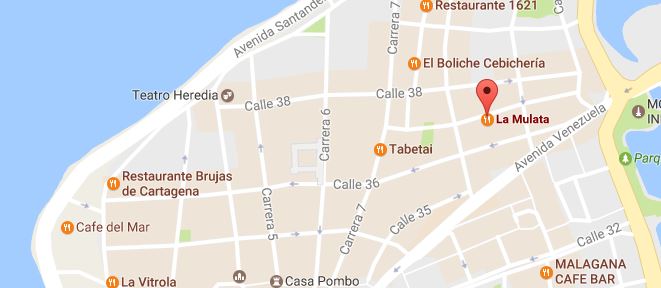 La Mulata is a casual eatery for affordable local food and fresh juices. Although it's open for both lunch and dinner,

La Mulata

is a staple almuerzo spot in Cartagena, where local workers and tourists alike come for the great value for money. They have an unbeatable

prix-fixe lunch

, one of the best in town. Hearty seafood, pork, beef or chicken dishes are served, Caribbean style (think cazuelas style with plantains and rice). Do not leave without trying their signature

Limonada de Coco

!

CAFFE LUNATICO


Calle Espíritu Santo #29-184, Getsemaní
+57 5 6601735


$$




♥♥♥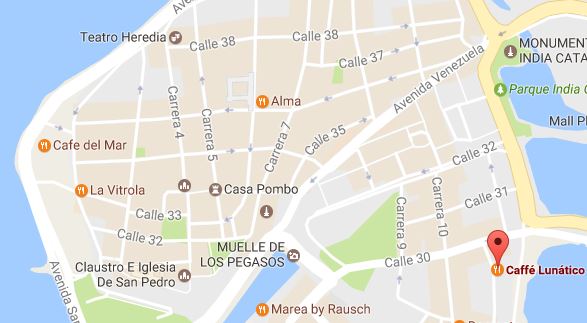 Caffé Lunático is a popular food destination for travelers and hip

Getsemaní

locals alike. This casual eatery with a chill,  bohemian vibe has an all-day kitchen breakfast, lunch, snacks and dinner, but I like it best in the mornings for their super affordable menú del día for lunch. The lunch deal is one of the best in Cartagena for Catalan-inspired dishes and tapas, or traditional Colombian recipes.

Closed on Sundays

⇒

For Breakfast / Bakery

LA ESQUINA DEL PAN DE BONO




Carrera 6,

 

Calle San Agustin Chiquita, Esquina


+57 (314) 5028444


$




♥♥

Cash only 

Cash only For a quick breakfast or a fresh snack, a quick hop by La Esquina de Bono is the way to go. The space is quite dingy, but this is the local reference point for a quality bakery in Cartagena. Workers, students and tourists line up to buy their freshly baked goods and their made-to-order juices. Must orders are empanadas, pan de queso, and of course their pan de bono! They even have a selection of gluten-free breads (made with corn or yucca flour).

⇒ For Drinks
Cafe del Mar is the bar on every tourist's bucket list for sunset drinks. Located on the ancient city wall of the historic center, this is where families, couples, and large groups gather for late afternoon drinks that might or might not lead to a wild night. There is a simple food menu, and the bar is open until 3am, but Cafe del Mar is best for sunset drinks exclusively. The touristy hype is a bit overrated, but overpriced drinks and cheesy DJ aside, the relaxed setting and view make it worth-while for a pre-dinner Club Colombia beer.
Large groups recommended to book a table!
Casual sunset drinksLocated right at the city walls

CAFE HAVANA


Calle de la Media Luna & Calle de Guerrero, Esquina, Getsemaní
+57 (314) 556 3905
www.cafehavanacartagena.com


$$




♥♥
Located right outside of the walls of the old town in hipster Getsemaní, Cafe Havana is the late-night hotspot for what will feel like a wild night in – you guessed it – Havana! The Cuban bar is as cliché as it gets, with Cuban decor details at every corner, mojitos flowing, men in white fedoras and an animated live salsa band. It's undeniably a great ambiance, but the $25,000 pesos admission charge and the crazy crowd on busy nights will make it feel like a tourist trap…
Closed Monday & Tuesday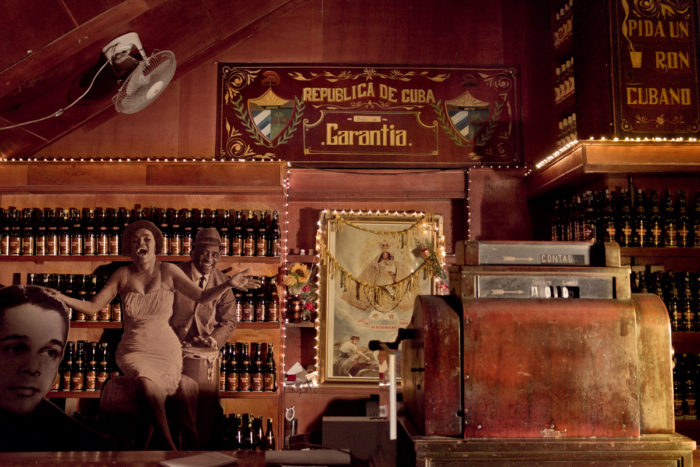 Demente is a fun spot for the ultimate Getsemaní bar experience. It's open 7 nights a week, on evenings only, and although it serves pizza & Spanish tapas, Demente is best for its bar scene. The trendy space is located in the heart of the coolest district of Cartagena in a 18th century ruin, giving it an intimate speakeasy vibe. Demente keeps it simple, in its menu, in its laid-back atmosphere, and its pricing. Join the cool kids for a local Dictador rum drink or beer on tap!
Open after 6pm only!
Exploring Colombian cuisine would not be complete without its snacks and street food. All over the streets of Cartagena are colorful fruit vendors, ice cream shops, and of course the obligatory arepa carts!  
PORTAL DE LOS DULCES

$




♥♥

Off the

Plaza de los Coches

, right as you enter the Old City's main square, stands the sweetly named

Portal de los Dulces

, or "gateway of sweets." Under the covered arcade, locals sell jars of handmade delicacies, including the local cocadas, a (very sweet) chewy coconut candy. Look for the cocadas de guayaba, sweetened with guava juice for a bit less of a tooth ache. It's not the most refined treat, and you will definitely be on a sugar high, but a it's a must-try.
LA PALETTERIA
Calle de Ayos Number 03-86 | Local 2
+57 5 6661579
www.lapaletteria.co
$
♥♥

Take a sweet break from Cartagena's scorching heat with La Paletteria's unique dipped popsicles. These are like traditional paletas 

gone wild, 

with a large variety of flavors available, but go for the local ones!
AREPAS AND EMPANADAS

If there is one food that is part of every Colombian's daily diet, it's most definately arepas. Second would be empanadas. Arepas are often eaten for breakfast, or as a snack any time of the day. They can be fried, stuffed, or topped with cheese, and are sold at every street corner around Colombia. Colombian empanadas are deep-fried (and some of the tastiest in South America) and to be eaten with a lot of green and red hot sauce! No stay in Colombia is complete without a daily dose of arepas and empanadas, it doesn't get any more local than this!

LOCAL FRUITS



My favorite part about wandering the streets of Colombia are the all tropical fruit markets and vendors! Colombia has the freshest fruits, including mangoes and papaya at every corner.
BUEN PROVECHO!