Mexico is globally known to be home to the best beaches in the Americas, but also to be one of the world's greatest urban travel destinations: Mexico City, a.k.a D.F., a.k.a CDMX. The densely populated, high-altitude capital of Mexico is a popular tourist destinations for its vibrant and colorful lifestyle, its various cultural attractions, and of course its world-renowned gastronomy scene. Explore Mexican cuisine at its best with Mexico City's top must-spots!
⇒ The best Mexican fine dining…

PUJOL


Petrarca 254, Miguel Hidalgo, Polanco, 11570
+52(55) 5545 4111
www.pujol.com.mx/en/


$$$$




♥♥♥

If you ask any Mexican (or legit worldly foodie) what is the best restaurant in Mexico City, the first answer will most definitely be Pujol. Pujol is the most renowned restaurant in Mexico, and has been repeatedly ranked as one of the world's 50 best restaurants and among the top 10 restaurants in Latin America. Top chef

Enrique Olvera

 introduces Mexican fine dining at its best. Find the full review of Mexico City's #1 restaurant

here

.

QUINTONIL
Newton No. 55, Miguel Hidalgo, Polanco, 11560
+52(55) 5280 1660
www.quintonil.com/en/
$$$$
♥♥♥

Right behind

Pujol

 is

Quintonil,

 Mexico's City 2nd most-famed fine-dining restaurant. For many, it has stolen 

Pujol

's top spot show, and has even earned a better ranking than its peer among the

world's 50 best restaurants

. The young chef Jorge Vallejo is a protégé of Enrique Olvera – the influence is notable, although at

Quintonil

, vegetables and greens take center stage. This discreet Polanco restaurant has an elegant, yet relaxed vibe, and the cuisine offers an inventive and modern take on traditional Mexican ingredients. The best part is the value: it's hard to beat a 10-course tasting menu at one of the world's top restaurants for around $70 USD! Good service, great wine (with pairing), and high-quality food!

Reservations

are a must!

AZUL HISTORICO
Isabel la Católica #30, Cuauhtémoc, Centro Histórico, 06000
+52(55) 5510 1316
www.azul.rest
$$$


♥♥♥
In the heart of Downtown,

Azul Histórico

is a beautiful Mexican restaurant, located in an old courtyard of a colonial style building (at the lobby of

Hotel Downtown

). The restaurant's decor and lighting have a magical romantic feel to it, with its open air patio shaded by tall trees climbing all the way to the roof, in which trunks and branches are flickering with pretty little chandeliers. The restaurant serves high-quality authentic Mexican recipes with a modern twist.
Colima 168, Roma Norte., 06700
+52(55) 5511 7527
www.blancocolima.com
$$$
♥♥♥
This restaurant was recommended to me by THE Mexican Oscar-winning director Alejandro Iñárritu as he was dining next to me at

Mimi

in New York. So obviously, it's legit! Blanco Colima is a new Mexican Gastronomy and culture house located in a historical mansion house in

Roma

. There are different dining rooms, each with a specific style (choose the balcony if you want a romantic night), with an overall upscale and classy atmosphere. The menu is a refined gastronomical take on Mexican and International cuisines – you can order the tasting menu (recommended) or à-la-carte, and they even have a whole section for

vegetarians

! Come for

date

night or a special group dinner.

ROSETTA
Colima 166, Colonia Roma., 06700
+52(55) 5533 7804
www.rosetta.com.mx
$$$
♥♥♥

If you want a break from tacos and mole, Rosetta is your best bet for fine-dining Italian with 

a slight Mexican touch.

 

Rosetta

is a relatively small, cosy restaurant in

Roma

, with a great relaxing atmosphere. Its chef, Elena Reygadas, has even been named the best female chef in Latin America!

Reservations

recommended.

⇒ The best seafood…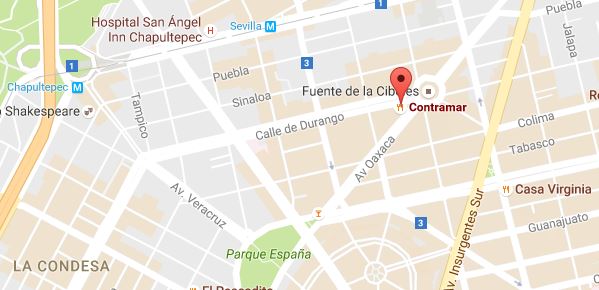 Ok… Pujol and all the other new Mexican fine-dining joints are great, sure. But the culinary highlight of a trip to Mexico City is

Contramar

! If you love seafood, or even if you just like it, this is THE must-stop.

Contramar

is a VERY popular restaurant, amongst locals and visitors, for authentic, fresh Mexican

seafood

fare. Find the full review of this stellar seafood joint

here

.

DE MAR A MAR
Niza 13, Cuauhtémoc, Juárez, 06600
+52(55) 5207 5730
www.demaramar.mx
$$$
♥♥♥
Located just off Reforma,

De Mar a Mar

is one of

Zona Rosa

's prime restaurants and probably your 2nd best choice for seafood after

Contramar

. The unassuming, casual-looking restaurant has a nice low-key ambiance, but the sole reason for coming here is for the fresh seafood! Don't leave without trying their ceviches and fish tostadas (good wine list as well).

⇒ The best tacos…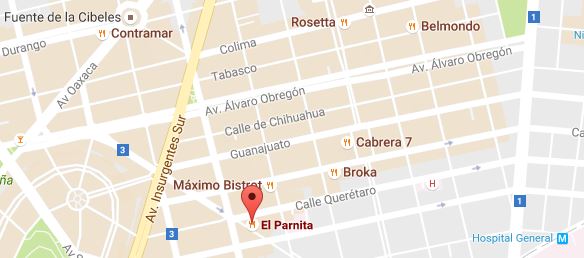 El Parnita is a local favorite in one of Mexico City's hippest areas for authentic, top-notch tacos with a fun vibe. The crowd is a mix of regulars, business men/women with their button down shirts wolfing down sloppy tacos, and a trendy young crowd. The service is fast and friendly, and the tacos are delicious with high-quality ingredients. Best for lunch street-side dining – but can get very buzzy and busy!
LOS PANCHOS
Tolstoi 9, Miguel Hidalgo, Anzures, 11590
+52(55) 5254 5430
www.lospanchos.mx
$$
♥♥♥

Another recommendation from Señor Alejandro Iñárritu himself, for great, authentic tacos at a reasonable price. Get the carnitas and chicharrón tacos! Best for an informal lunch.

⇒ The best breakfast/brunch…

EL CARDENAL
Palma 23, Cuauhtémoc, Colonia Centro, 06000
+52(55) 5264 7551
www.restauranteelcardenal.com


$$




♥♥♥

3 other locations:




Alameda (Hotel Hilton)




Hilton Mexico City Reforma, Av. Juárez 70

Lomas


Avenida Paseo de Las Palmas No. 215

San Ángel


Av. de la Paz Núm. 32, Alvaro Obregon
El Cardenal has several locations within the city, and is the #1 quintessential breakfast & brunch joint in Mexico City – recommended by most D.F. locals, and by Señor director Alejandro Iñárritu himself (gracias Ale!). El Cardenal is the finest place in town for a traditional Mexican breakfast. Mexican cuisine isn't only about tacos and mole – ants and insects are a huge part of the local gastronomy. And since every complete breakfast must include protein, El Cardenal's signature dish is their Escamoles, i.e. ant eggs (!) decadently cooked in a lot of butter. It sounds weird and scary, it's actually delicious. Other must-orders include their nation-wide famous conchas pastries, (to be accompanied with their nata cream and semi-sweet hot chocolate) and their house main dish specialty is the pecho de ternera (oven-roasted veal breast). El Cardenal occupies three floors of a Parisian-style space, convenient for small parties and big groups. Great for family and friends brunch gatherings!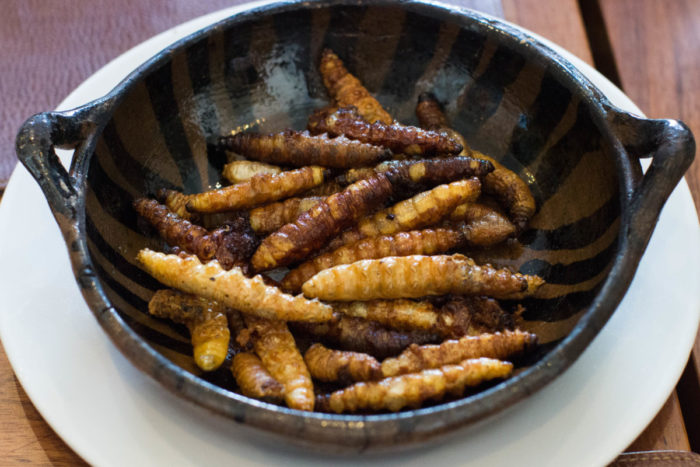 More protein: Crispy Worms!
CAFE DE TACUBA
Calle de Tacuba 28, Cuauhtémoc, Centro, 06010
+52(55) 5521 2048
www.cafedetacuba.com.mx
$$
♥♥♥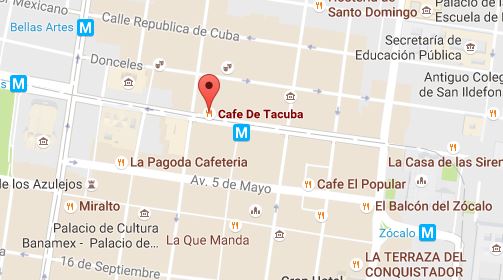 Café de Tacuba is another authentic restaurant for real, traditional Mexican food in its "simplest" form. Old school Mexican comfort food is served all day, but the best would be to come here for breakfast or lunch, although live music is played on evenings. I was recommended to come to Café de Tacuba for their famous enchiladas as a hangover cure, and it works! Major cheat meal though. The large dining space is located right by Zócalo in a historical building that looks like it was an old church, with stained glass mosaic windows and beautiful Mexican paintings. It's full of locals and seems to be one of those legit places where families gather for a group meal. This is not the refined "new Mexican" joint, but a local favorite for typical Mexican food served by an old-school uniformed waitstaff!
ENO
Calle Petrarca 258, Miguel Hidalgo, Polanco, 11570
+52(55) 5531 8535
www.eno.com.mx
$$
♥♥♥

Eno is Pujol chef Enrique Olvera's "fast casual" café located in the Polanco district. Eno is the place to go for breakfast or brunch, with lots of delicious options, including traditional Mexican egg dishes with a slight modern twist, and healthier choices if needed. It's obviously not the same price point as Pujol, although on the pricier side for breakfast. Can get very crowded!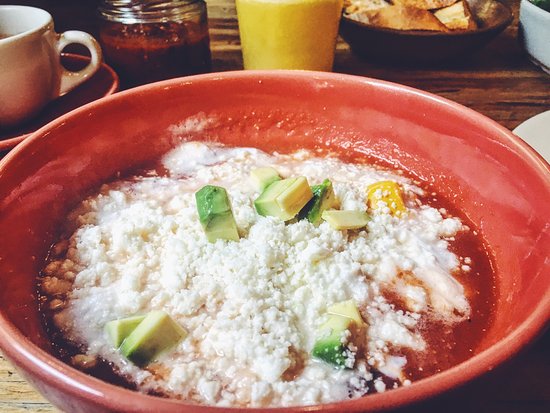 LA ESQUINA DEL CHILAQUIL
Alfonso Reyes 145, Condesa, 06140
$
♥♥♥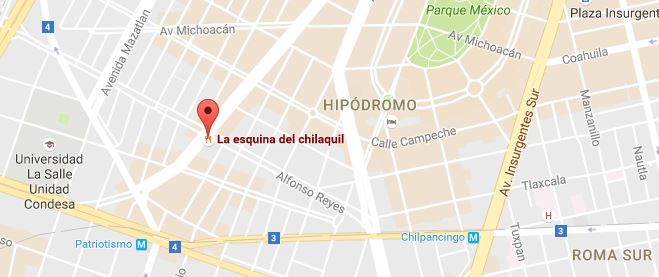 If you need a heavy duty cure from last night's one-too-many margaritas, La Esquina del Chilaquil is your quick, on-the-go remedy! This corner street vendor is the place to be for a chilaquiles breakfast of milanesa. The tortas are the way to go, i.e. carbs and fat with a side of carbs and fat.  All you need is choose if you want the green salsa or red salsa – or both! Lines are long but service is super quick.

⇒ The best bakeries

MAQUE


Several locations 
www.maque.com.mx


$$




♥♥♥




Condesa

location:
Av. Ozuluama No.4, Cuauhtémoc, Hipódromo Condesa, 06100
+52(55) 2454 4662



Polanco

location:
Emilio Castelar 209 G, Polanco, 11510 Ciudad de México
+52(55) 5281 6429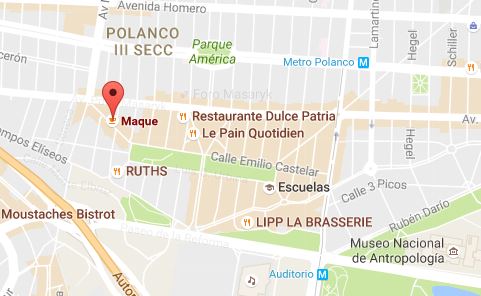 Maque is one of the finest bakeries in Mexico City. This side-walk panadería and pasteleria is known to bake some of the best  local pastries – the Pastel de Elote (cornbread cake) is a must order. Expect long lines, even midweek, so try to get there before 10am and sit outside if you can!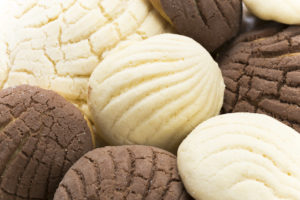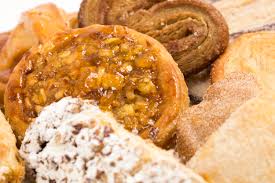 ROSETTA PANADERIA
Roma location:
Colima 179, colonia Roma,
+52(55) 5207 2976
Juárez location:
Havre #73, Cuauhtemoc, Juárez, 06600
+52(55) 5207 7065
www.rosetta.com.mx
$$
♥♥♥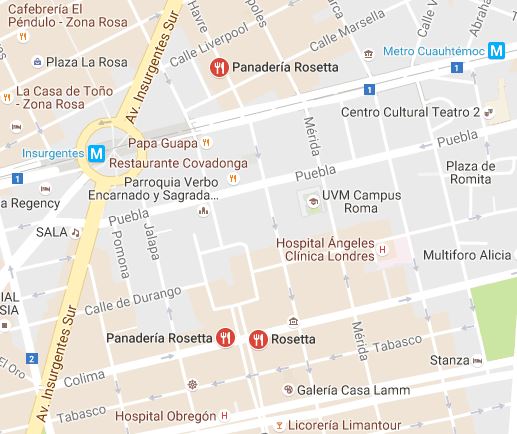 The people behind Rosetta restaurant also have a Panadería, ranked as one of the best bakeries in Mexico city. Both locations are in small, cozy spaces and get very packed! Coffees are exclusively from small local Mexican producers, and they bake some of the city's best bread and pastries. The vibe seems far more European than Mexican though, but instead of a croissant order their Mexican Ocho or conchas. Quiches, sandwiches etc. are also popular.
LARDO
Agustín Melgar 6, Cuauhtemoc, Condesa, 06140
+52(55) 5211 7731
www.lardo.mx
$$
♥♥
Lardo is a hip and trendy spot in the Roma/Condesa area, with a cool vibe and beautiful crowd.  The restaurant is open all day, but best for breakfast (or lunch). The food is a blend of French cooking with Mexican-international ingredients. The space almost has a "New York vibe" to it. Best catered for young locals and tourists looking for a leisurely breakfast (menus available in English).
⇒ The best food markets
Now, the most important Mexican culinary journey is of course the street food. This is what the Mexican food culture has always been about. No trip in Mexico City is complete without wandering about its numerous food markets, discovering the local produce, and eating at the numerous, ridiculously affordable mercados. Try to explore as many as you can (San Juan is more of the gourmet market with unconventional meats and bugs!), be adventurous and buen provecho!