The Greek islands are the closest thing to paradise in the Mediterranean. Mykonos is the most popular island in the Cyclades for its summer party atmosphere and vibrant nightlife. Make sure you stroll around the picturesque old town and its 16th century windmills, have a sunset drink in Little Venice, beach hop around the island, party trendy, and of course hit all the best dining hotspots!
⇒ KIKI'S

Agios Sostis Beach, 84600, Mykonos


$$




♥♥♥♥
Kiki's is the #1 lunch spot in Mykonos. Located next to Agios Sostis beach, this casual outdoor restaurant is the most authentic taverna in Mykonos. Kiki's is a must stop for the spectacular beach views, the friendly, laid-back atmosphere, affordable prices, and most of all, for its simple but delicious Greek food.
Kiki's has the freshest fish and seafood (octopus is a must, of course) but also a killer BBQ chicken and pork chop. The menu has a simple but great selection of local dishes catering to everyone, including vegetarians. Portions are huge and best shared.
Kiki's is by far the best lunch in Mykonos. So what's the catch? Kiki's takes no reservations, and always has a long line… The restaurant opens for lunch between 12:30pm and 1pm and closes when it gets dark, so get there as early as noon and expect a wait. Waiting is never too bad though: the owner serves you complimentary white wine or rosé, and the restaurant is right by a gorgeous beach and a beautiful church yard to kill time (mandatory pictures to be taken!).
Fighting the top lunch spot with Kiki's is the gorgeous restaurant Spilia. More than a great lunch spot, its superb location makes Spilia the most romantic restaurant in Mykonos for both lunch and dinner. Located in a beautiful cave of Agia Anna, next to Kalafatis beach, you'll be peacefully dining on a natural platform on the rocks, overlooking the sea. The atmosphere, vibe and views are simply stunning and like no other place in Mykonos.
This all-day venue is best for its amazingly fresh fish and seafood, served straight from the Aegean. Your oysters, mussels, urchins, crayfish and lobsters are "fished" from their natural sea pool and prepared before your eyes!
Don't leave without having their sea urchins!
Come here for the unique seaside views for lunch, or for a romantic date-night dinner.
Make sure you make a reservation by calling or emailing at spilia.seaside@gmail.com. Spilia takes bookings for lunch and dinner.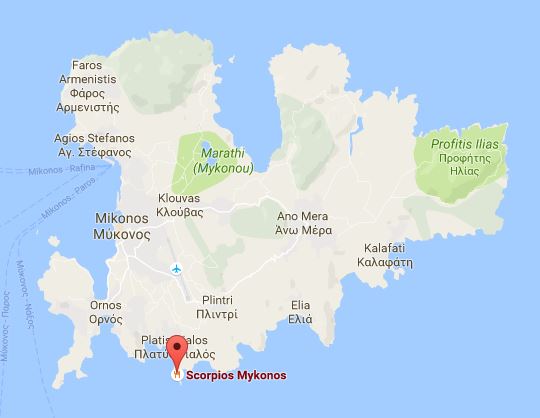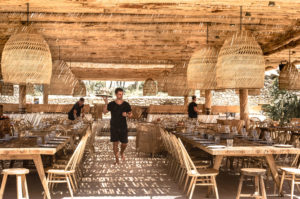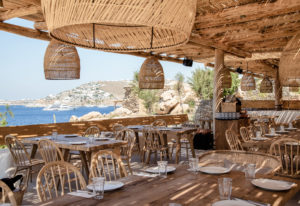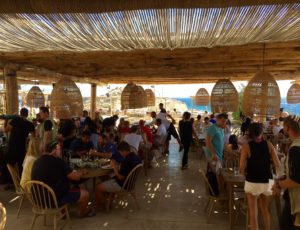 Scorpios is a trendy and sophisticated beach club, beautifully located atop Paraga beach. This is THE place to go to on Sundays for its wild evening parties. The best way to enjoy Scorpios is to book a late lunch table and/or a few beach beds and stay the whole day/night (make sure you make a reservation).
The food menu has hit-or-miss dishes, but overall very good. Order a bunch of plates to share and expect a hefty price tag!
Come on Sundays!
After your meal, chill with a drink in hand by the lower level of the beach club and enjoy the beautiful sunset views. And the best is yet to come… The best part of Scorpios is its Sunday Night outdoor club party!
Keep your eyes out for celebrity sightings!
⇒ NAMMOS

Psarou Beach, 84600 Mykonos
+30 2289 022440
www.nammos.gr


$$$$

♥♥♥

Since its opening in 2003,

Nammos

is hands down THE most happening beach club in Mykonos. Located on

Psarou

Beach, the iconic 

Nammos

is where all the trendy beautiful (and nip tucked!) people of the island gather to see and be seen. Come here for

lunch

, order fresh seafood and a sushi platter to share, then stay for the rest of the day and chill on their pricey sunbeds.
A major

party

scene gets going starting 5pm. Food is good, service is attentive.

Reservations

are a must (call to book) and expect an expensive beach day!

⇒ ALEMAGOU

Ftelia Beach, 84600 Mykonos
+30 22890 71339
www.alemagou.gr


$$$

♥♥
Alemagou is another iconic beach bar, best for its welcoming, laid-back atmosphere.

Alemagou

is sophisticated but not over-the-top, with a relaxed bohemian setting. The food is just ok, but

Alemagou

is great for drinks and to chill by the beach. Come here for the cocktails (they make a killer champagne/mint drink) and make sure to catch the

sunset

!

⇒ PRINCIPAUTE DE MYKONOS PANORMOS
Panormos Beach, 84600 Mykonos
+30 2289 077184
www.panormosmykonos.gr
$$$
♥♥♥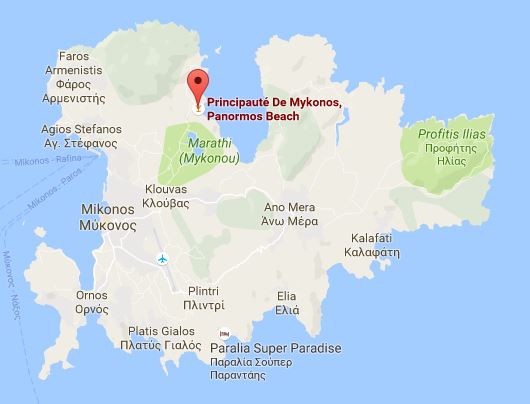 Principauté De Mykonos is a beautifully designed beach bar and restaurant on Panormos beach. It doesn't have the hype of the island's other trendy beach bars, but offers a more classy, high-end seaside experience: luxurious decor, attentive service, greek gastronomy, and most importantly, a superb beach protected from the winds!
Open all day, call for bookings.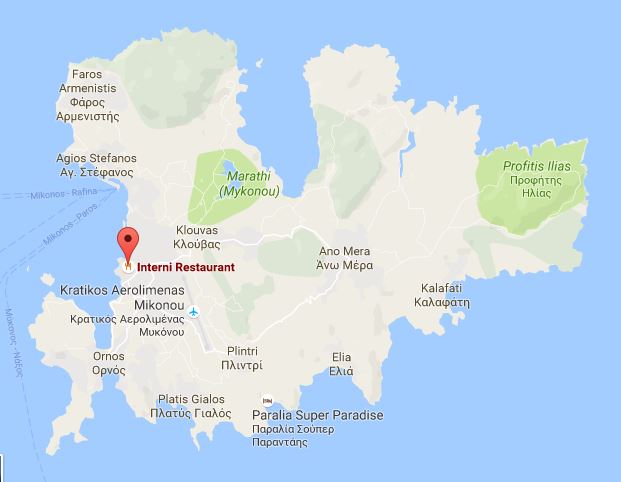 if you're looking for a good dining option in the Old Town, Interni is your best bet. The best part about Interni is the ambiance and the beautiful location. Chill in their cozy lounge and have a romantic dinner in their charming courtyard. Service is very attentive, and the food menu includes classic Greek/ Mediterranean dishes with a twist.
Book online!
⇒ HIPPIE FISH

Agios Ioannis Diakoftis, 84600 Mykonos
+30 2289 023547
www.hippiefish-mykonos.com


$$$$

♥♥

Hippie Fish is a stylish beach tavern on the west coast of the island. Come here for fresh

sushi

and cocktails from their mixology bar with one of the best views on the island (bonus: the beach is wind protected!). The spectacular

sunset

makes up for the average food and service.

⇒ JACKIE O' MYKONOS

Super Paradise Beach

,

Plintri

, 84600 Mykonos
+30 22890 77298
www.jackieobeach.com


$$$

♥♥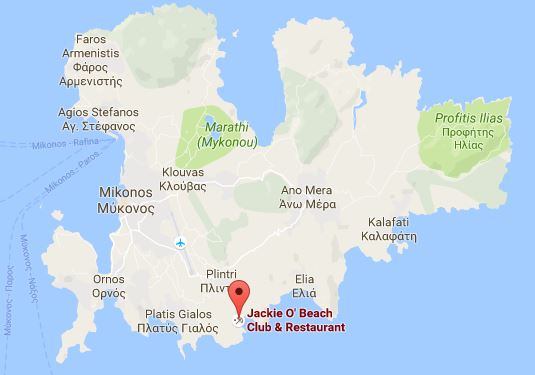 Not to be mistaken with the bar on the old harbor of Mykonos, Jackie O' is an uber trendy beach club set on a cliff of Paradise Beach. Historically popular among the LGBT community, Jackie O' is guaranteed fun for every crowd. Have a drink, a few small bites, hang by the pool overlooking the beach and make sure you stay for the party. As the sun sets, things start to get wild. Expect a lot of dancing and entertaining drag shows!
⇒ CAPRICE OF MYKONOS

Little Venice, Old Town

, 84600 Mykonos
+30 22890 23541
www.caprice.gr/en


$$$

♥♥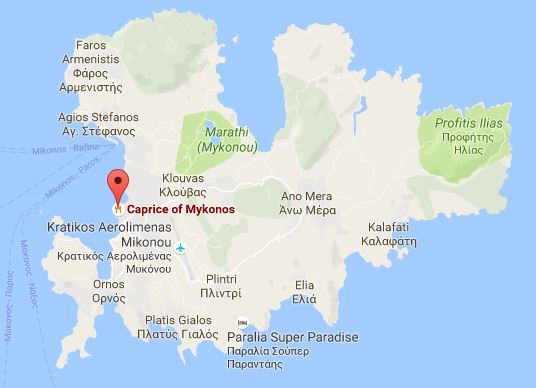 Caprice is an iconic bar in Mykonos, and has even been named by Newsweek as one of the top-10 best bars in the world! Located in picturesque Little Venice, right on the seawall of the old harbor of Mykonos, Caprice is THE hotspot for a sunset cocktail in the Old Town. Their cocktails are colorfully tropical, served with skewers lined with fresh fruit, and STRONG! All drinks are best consumed while dancing on the tables, along with all the other lively beautiful people 😆 .
⇒ JIMMY'S 

Lakka

, Old Town, 84600 Mykonos


$

♥♥

And of course, all that Mykonos partying would not be complete without an authentic Greek hangover snack.

Jimmy's

is a Mykonos institution for its famous souvlaki and gyros, available 24-hour! This fast food joint is located in the heart of the old town, and is a must-stop to satisfy your salt craving at any time of the day or even better, after a wild night. They even have a "wall of fame" to prove they're legit. And if you walk by Jimmy with a gyro from another eatery, he'll make you toss it off and swap it with his for free instead! Now that's marketing! Epharisto Jimmy!
Καλό ταξίδι!