Leblon is Rio's upscale neighborhood and the best area to explore the city's trendy hot spots. If you are on a foodie trail, Rua Dias Ferreira is THE go-to strip for some of the best fine dining and cocktails.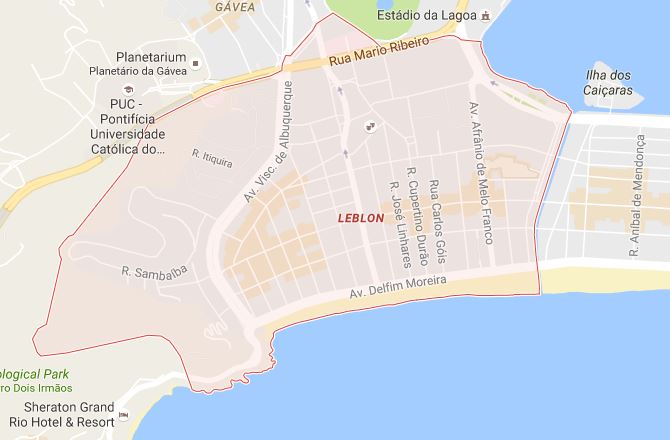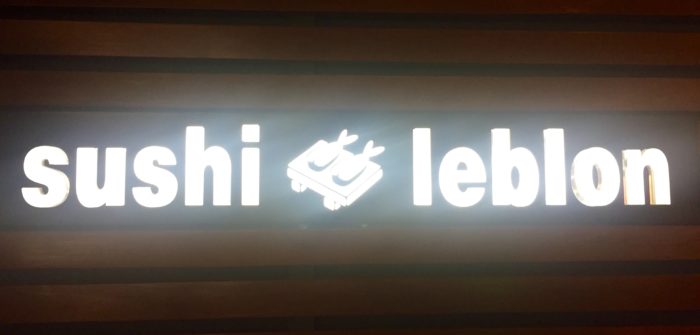 Although famed for its churrascos, there is a strong Japanese influence in Brazil as well, which means great sushi at your disposal (especially in Sao Paulo and Rio). Sushi Leblon is the most famous sushi spot of Leblon (and arguably of all of Rio), a swanky and contemporary restaurant where the posh cariocas come for their sushi fix (and to see and be seen). You can order à la carte or the Chef's combinado specials if you can't make up your mind.
Sit at the sushi bar and watch the chefs in action!
Don't leave Sushi Leblon without having their more creative concoctions. Highlights include the crunchy rolls with quinoa, the brulées, the butter fish and the OMG-decadent quail egg with truffle oil.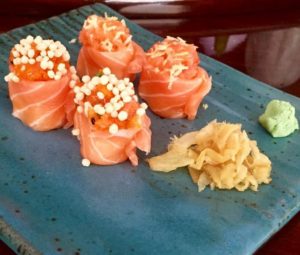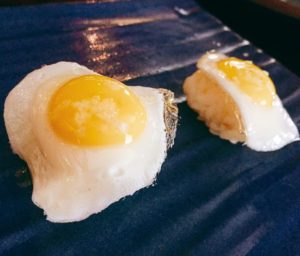 Sushi Leblon is expensive for Rio, but very reasonable by US or European standards, especially considering the quality and freshness of ingredients. Service is average (most servers don't speak English).
They only take bookings for a very limited number of seats, so expect a wait during peak dining hours. Kill your wait time with a cocktail at Brigite's across the street.
Open every day for lunch and dinner 12pm-1:30 am (1pm-12am on Sundays) 
Zuka is one of the most popular spots in a famous strip of restaurants located on Dias Ferreira. Chef Ludmilla Soeiro is locally very famous and offers a contemporary and creative take on Brazilian cuisine. I'd qualify it as "Brazilian fusion-gourmet", with traditional high-quality ingredients, but with influences and techniques from the best cuisines around the world.
The crowd is hip and buzzing, with a mix of tourists and attractive cariocas. The decor is minimalist but trendy.
Sit at the bar facing the open kitchen
Zuka caters to all food tastes: you'll find a great selection of fresh fish and seafood, local meats and several vegetarian options. Make sure you order the hearts of palms appetizers and the seared tuna with truffled ponzu and egg yolk.
Have a meal at Zuka if you're looking for a fancy night out and with a big(ish) wallet: food and drinks are definitely not on the cheap side, especially by Brazilian standards. This is the place to come for a hot date, or between a group of foodie friends.
Zuka only accepts reservations for bookings before 8pm. Expect a wait time for walk-ins or late-night tables. If you can't snatch a table, head to their sister restaurant next door Brigite's.
Open everyday for lunch and dinner (only dinner on Mondays). 
Brigite's is a bistro next door to and from the same owners of Zuka and Sushi Leblon. This Bistronomia restaurant is a great place to come for a drink if you're waiting for a table at the popular neighboring joints, or for a more casual dinner option in a beautifully designed space. Come to this two-floor restaurant for its great vibe and experimental cocktail list!
Open daily for lunch and dinner (only dinner on Mondays).
If you're sick of caiprinhas, come to this Spanish bar for some sangria and tapas. Although often cramped. it has a great casual vibe, a fun crowd and an inviting atmosphere.
Open daily for

dinner

, Tues-Sun for

lunch.
Next to door to all the other hyped Dias Ferreria spots, Quadrucci is the place to come to for its outdoor terrace and its swankier crowd. The international menu has an emphasis on Italian cuisine and a lot of delicioso mushroom dishes (for mushroom-obsessed folks like myself).
Open daily for lunch and dinner from 12pm – 1am.
⇒ JOBI

Av Ataulfo de Paiva, 1166 B
+55 21 2274-5055
$$
♥♥

Come to this traditional Brazilian bar and Rio institution for the best chopp in town and local 

boteco

snacks 

(think lots of fried, finger food). This authentic bar is always busy, often gets messy, but has a great casual and friendly vibe.
Open daily 11am- 4am, until 6am Fri-Sat
⇒ BOTECO BELMONTE

Rua Dias Ferreira, 521
+55 21 2294-2849
$$
♥♥
This local chain of taprooms is a casual hangout for the young and trendy Cariocas. Serves traditional Brazilian appetizers, cocktails and draft beer, but the best way to enjoy Boteco Belmonte is to take your chopp outside, along with the hoards of people spilled out on the streets.
Open daily 11am- 2:30am
⇒ MOMO GELATO

Rua Dias Ferreira, 147
+55 21 2294-1965
www.momogelato.com.br
$$
♥♥♥

Possibly one of the best

ice creams

in Rio. Also serves waffles, pastries and coffee, but make sure you don't leave without a scoop of

Momo

gelato!
Open daily, Sun-Thurs 11am-11pm, Fri-Sat 11am-midnight.
Another delicious ice cream option with more than 20 flavors to choose from. Legit Italian gelato that severely competes with Momo, although its mall location is naturally not ideal, unless you need a break from all the Havaianas and bathing suit shopping.
Open daily 10am-10pm.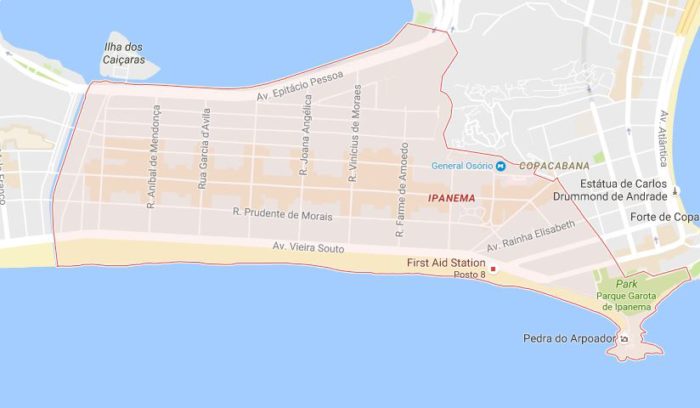 Primely located in Ipanema, this all-day Italian café serves breakfast, lunch and dinner. Come to this Ipanema location for brunch, their lunch prix-fixe or for their outdoor seating, or head to Leblon for their formal restaurant.
Open daily from 8am to 1am.
If you haven't tested the Leblon location, this Ipanema Spanish tapas bar is open daily for both lunch and dinner.
Open Sun-Wed 12pm-12am, Thur-Sat 12pm-1:30am.
Upscale Italian-seafood restaurant, where the catch of the day is on display for you to choose from. Stick to seafood options, and make sure you pair your meal with wine from their extensive 500+ bottles selection.
Make a reservation for lunch or dinner, or for the optimal experience, head out to their location in Buzios for the stunning ocean views.
There are a lot of hidden service and cover charges so expect a hefty bill!
Open daily 12pm-midnight, until 1am Fri-Sat.
If you want a break from all that churrasco and feijoada, La Carioca Cevicheria is a great Peruvian restaurant for a lighter fare and delicious ceviche. Make sure you pair your meal with a Pisco Sour of course. This location offers both indoor and outdoor seating, but takes no reservations. La Carioca Cevicheria also has a sister restaurant in Jardim Botânico.
Open daily for dinner from 6pm-11pm (late nights Thurs-Sat), lunch also served on weekends starting 1pm. 
No trip to Brazil is complete without a healthy dose of açai. Have some of the best (and most expensive) açai bowls at Amazonia Soul, where the berries themselves come from a small town called Belem, i.e. the "Mecca" for açai berries. All bowls are freshly made in-house.
Open daily 11am-9pm (closes 8pm on Sundays)
⇒ MIL FRUTAS

Rua Garcia d'Avila, 134
+55 21 2521-1384
www.milfrutas.com.br
$$


♥♥

Best spot for fresh fruit

sorbets

and unusual ice cream flavor combos. Several locations in Rio, including in

Leblon

's shopping mall and in

Jardim Botânico

.
Open daily from 10am-midnight.
COPACABANA
If you're lucky enough to hang out with the cool kids of Rio, you may get the privilege of a night out at the Clubhouse. This members' club is the equivalent of our Soho House, with a hip & trendy, but mostly international crowd (and lots of Frenchies!). Along with its organized events, pool parties and DJ-hosted evenings, the Clubhouse has a restaurant with a French chef and decent food offerings.
Have a meal in their outdoor deck before your wild night of cocktails and dancing at the Clubhouse!
Closed Monday
French-owned Le Blé Noir brings authentic Brittany crepes to Rio, offering more than 50 different varieties. Order their savory buckwheat galettes, followed by a sweet crepe, and make sure you wash it all off with their imported ciders. The space is small, but the overall atmosphere is cozy and intimate, with dim candle lighting. No reservations, so expect a long wait as it fills up very quickly!
Open Tues-Sun for dinner from 7:30pm.
BOTAFOGO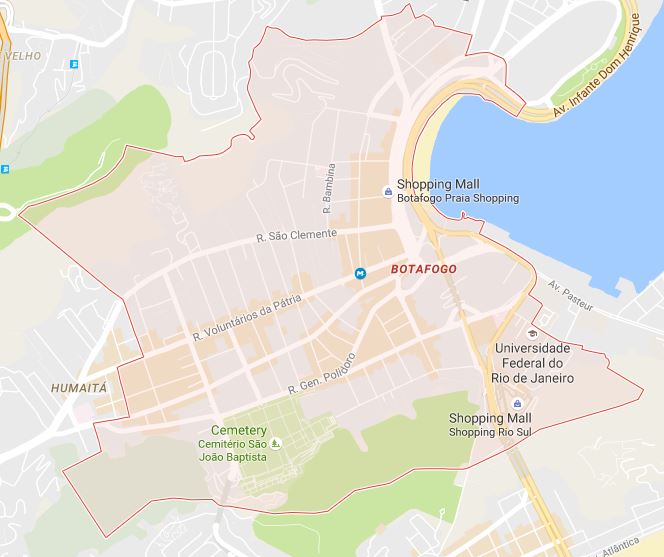 ⇒ IRAJA GASTRO

Rua Conde de Irajá, 109


+55 21 2246-1395
www.irajagastro.com.br
$$$$


♥♥♥♥

Irajá Gastrô

is a trendy, happening restaurant with a modern take on traditional Brazilian dishes. The Brazilian-influenced gourmet cuisine is served in an elegant, clean space, which includes a beautiful indoor garden.

 

The food is deliciously

inventive

and beautifully plated, and their wine list offers Brazilian bottles of great value. Make sure to save room for dessert,

Irajá Gastrô

is famed for having the best brigadeiro chocolate cake (Bolo Quente de Brigadeiro) in the country!

Book an early seating (they don't take

reservations

after 8pm) or be prepared to wait for your table!

Great for late night dinners

Open daily for

lunch

and

dinner.

⇒ OUI OUI
Rua Conde de Irajá, 85
+55 21 2527-3539
www.restaurantouioui.com.br
$$$
♥♥♥
Next door to Irajá Gastrô is Oui Oui, an eclectically designed restaurant located in a typical old Rio house of the Humaitá/Botafogo neighborhood. Contrary to what the name may suggest, Oui Oui is not a French restaurant (sounds better than "Sim Sim", I guess), but offers Brazilian cuisine with a contemporary twist. The food is served tapas-style and meant to be shared. Dishes are creative and innovative, and the atmosphere is modern and inviting. Reservations are highly recommended.
Open for lunch and dinner from 12pm-midnight (1pm opening on Saturdays).
Closed Sundays
⇒ MIAM MIAM
Rua General Góis Monteiro, 34
+55 21 2244-0125
www.miammiam.com.br
$$$
♥♥♥♥
Miam Miam is Oui Oui's sister restaurant, but in a smaller and (very) colorful space located in an old Rio townhouse. Miam Miam also excels in serving contemporary Brazilian cuisine, with a tasting menu that has even earned a Michelin Bib Gourmand! Make sure to book in advance.
Closed Sundays
Open Mon-Fri for lunch 12pm-3:30pm and dinner 7pm-12am, Saturdays for dinner only 8pm-12am.
 

⇒ BAR URCA

Rua Cândido Gafree, 205


+55 21 2295-8744


www.barurca.com.br

$$


♥♥♥

After a hike up the Pão de Açúcar, there is no better way to cool down than with a chopp at 

Bar Urca

. This Rio staple was made famous to us gringos by Anthony Bourdain, but both tourists and locals invade its famous sea wall. Located at the banks of Guanabara Bay, 

Bar Urca

 is all about the setting and atmosphere: order your drinks and snacks (Portuguese/Brazilian traditional cuisine) and take them to the ramp to enjoy the view. Watch the sun set over Christ the Redeemer, Flamengo beach, Botafogo beach, downtown and Niteroi. If you're lucky, you'll even get a glimpse of the local fishermen docking with their daily catch. Come here for a casual lunch or late afternoon beers.
Best time to come is for sunset
Open all day from 11:30am, 7 days a week (closes at 8pm on Sundays).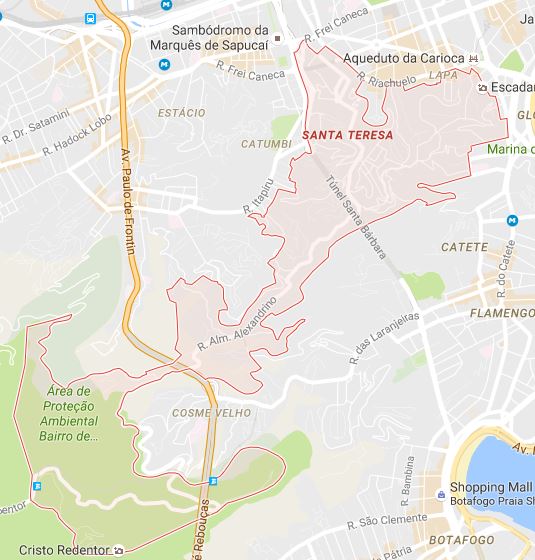 Aprazivel means pleasant in Portuguese, an adjective that would be a major understatement to qualify this restaurant's atmosphere: Aprazivel is all about the vibe, decor and most of the all, the view.
The picturesque restaurant sits high on a hill atop Santa Teresa, overlooking the Guanabara Bay (it will certainly be an advantage overseeing The Rio 2016 Olympics). Nature surrounds the rustic space (the majority of tables are outdoors), creating a tropical ambiance that makes you feel like you're dining in a tree house.
Go there for sunset
The menu offers (small portions) of Brazilian cuisine, highlighting national products. Aprazivel is pretty touristy and is not a cheap affair, but remains a foodie must-stop for the prime location and setting. Make sure you book online well in advance.
Closed Mondays
Open for lunch and dinner (closes at 6pm on Sundays).
 

⇒ CARIOCA DA GEMA

Av. Mem de Sá, 79
+55 21 2221-0043


www.barcariocadagema.com.br

$$


♥♥♥♥

Carioca da Gema

is an old charming villa turned into a

live music

bar in Rio's Lapa neighborhood. A no-frills dinner menu with items such as pizza and finger foods is available, but this place is all about the

late night

bar and the fun scene. Sip your caipirinhas and dance the night away like a local, while listening to live Samba and Choro.
R$ 30 Cover charge at entrance
Open Mon-Wed 7pm-1:30am / Thurs-Fri 7pm-3am / Sat 9pm-3am / Sun 9pm-1:30am.
 

⇒ RIO SCENARIUM

Rua do Lavradio, 20
+55 21 3147-9000


www.rioscenarium.com.br

$$$


♥♥♥♥

This is THE must-visit spot while in Rio. The first thing you'll notice as you enter this huge entertainment space is how beautiful it is.

Rio Scenarium

is located in an old, refurbished three-floor house, lavishly decorated with eclectic pieces of art work and antiques. Come early for drinks and dinner to avoid waiting in line, although the place doesn't come to life until later in the night, where you'll be dancing to the tunes of live samba. Ranked as one of the best bars and nightclubs in the world,

Rio Scenarium

is the temple of samba music.
R$50 cover charge
The most lively atmosphere is on the two floors where live bands are playing, but if samba isn't your thing, a part of the club also plays a mix of reggaeton, Latin music, hip hop… This is obviously a super touristy spot, but with a good mix of crowds of all ages. Great for a night out with a big group of friends. Be prepared for an all-nighter!

Reservations

available here.
Open Tues-Thurs 7:30pm-3am, Fri-Sat until 4:30am.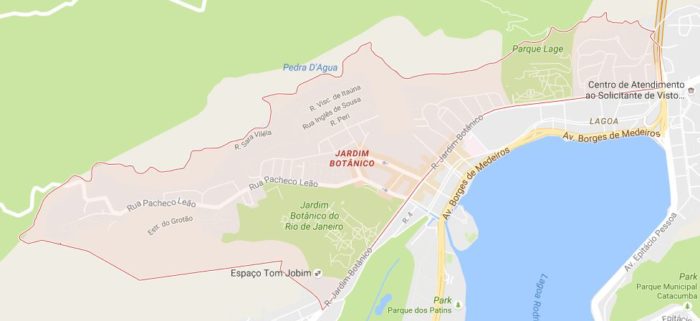 ⇒ PLAGE CAFE / PARQUE LAGUE

Parque Lage – Rua Jardim Botânico, 414
+55 21 2535-7336
$$$


♥♥♥♥
Plage Cafe is a great pit stop before stroll around Jardim Botânico. The café is beautifully located in a serene courtyard of the classical Parque Lage mansion, which is now also part of an Art school.
The patio has the most relaxing setting, with views of the Corcovado (there is even a path from the park leading to the Corcovado summit).  This spot is best for breakfast or brunch. Get there early to snatch a good table and avoid the park crowds.
Open daily, Mon-Fri 9am-12am / Sat 1pm-12am / Sun 9am-7pm
Yumê in Japanese means "to dream", and the restaurant's atmosphere will make you feel like you've been transported into an ancient Japanese mansion. Yumê serves a very traditional Japanese menu in a beautiful, relaxing setting. Best room to dine in is at the back: walk through the kitchen and make sure you sit in the latter area for the most intimate setting. Look out for the see-through aquariums at your feet! Best for a date-night dinner.
Open daily for lunch starting 12pm and dinner (including late nights).
If you can't make the Ipanema restaurant, this location has the advantage of serves both lunch and dinner daily!
Open daily from 12pm-1am (closes at 12am on Mondays).
⇒ MIL FRUTAS

Rua José Joaquim Seabra, s/n
+55 21 2511-2550
www.milfrutas.com.br
$$


♥♥

Another one of the many Rio locations for the best fresh fruit

sorbets.
Open daily from 10am-11pm.
Just an hour drive from the Rio city center, Restaurante do Bira is a must-stop for an authentic Brazilian seafood meal with stunning beach views of Restinga da Marambaia. This restaurant does not have sign and is notorious for being hard to find, so make sure you have a GPS and keep your eyes open! This is the place to come to for a fresh fish and seafood lunch with a stunning panoramic beach views. Share plates of Pastéis and Muqueca (portions are humongous) and wash it off with a cold beer. Expect long lines on weekends, so get there early.
Open Thurs- Sun for lunch 12-5pm.
La Boticella

is a small Italian restaurant hidden in the middle of the residential

Barra de Tijuca

 neighborhood. Located in an old house,

La Boticella

will make you feel like you've entered someone's Tuscan home. Come here if you want to escape the touristy scene and city buzz, for an authentic and romantic Italian meal.
Cash only
Open for dinner Tues- Sat from 8pm, lunch Sundays 1pm-5pm , closed Mondays.
Vargem Grande is a neighborhood on the West Zone of Rio, considered as the region's gastronomical pole. Don Pascual is a pousada and restaurant surrounded by rainforest in the middle of the Mata Atlântica.
This unique venue will make you believe you're in an isolated tropical tree-house and forget that you're just an hour away from Rio! The lush and peaceful setting in the middle of the woodland is perfect for a cozy, romantic evening. Great place to come to in the colder season to cozy up at dinner by the fireplace. Reservations recommended.
Open daily for lunch and dinner, Sun-Thurs 12pm-1m, Fri-Sat 12pm-3am.
BOM APETITE!