When Chef Gabriel Kreuther left The Modern in 2014, panic struck in the Midtown culinary world. Kreuther was the name behind the restaurant's gastronomic success and that made The Modern a New York staple. Turns out it was a blessing in disguise: The Modern remained just as exquisite (and even won a 2nd  Michelin star) and Midtowners earned an additional fine-dining go-to with the opening of Gabriel Kreuther's eponymous restaurant.
By packing his apron, chef Kreuther brought a lot of The Modern along with him: the replicated two-in-one bar & dining room concept, the signature French-Alsatian/New-American recipes, the elegant modern decor, and even took in its ex Pastry Chef, Marc Aumont. In his namesake restaurant, Gabriel Kreuther reproduces a stellar epicurean experience in an energetic and comfortably luxurious setting. But most of all, just like at his original outpost, Kreuther manages to perfectly combine his classic French training and Alsatian heritage with a "distinctly New York spirit".
Closed Sundays
Gabriel Kreuther is located in a vast, beautifully designed space in the Grace Building overlooking Bryant Park. For a more casual experience, Gabriel Kreuther's bar room offers an accessible à-la-carte menu, with flawlessly executed Alsatian classics (the Liverwurst and Flamukeuch are must orders), along with a full bar and delicious in-house cocktails. The bar room is great for after-work drinks and/or nibbles with colleagues.
No bar room reservations required for parties of 6 or less
But the main dining room is where the real magic happens. Wooden beams divide the bar room from the white-tablecloth dining room. Along with the beams representing the timber homes of Eastern France, every decor element is inspired by the chef's native Alsace, my favorite touch being the chandelier made out of crystal storks. The attention to detail is prominent, from the decor, to the custom plates, the silverware, the lighting, and of course, the food.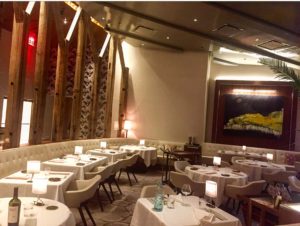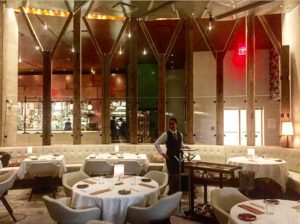 Two seasonal tasting menus are available at the dining room: a four-course $142 prix fixe (three savory, one dessert) or if you want to go all-in, a fourteen course "Carte Blanche" surprise menu for $215. For a lighter fare (and price tag), the lunch menu offers a two-course prix fixe for $58 ($29 for each additional course). Portions are larger than what you'd expect from a French tasting menu – you will get full. But every bite is sensation from start to finish. The cuisine is closer to classical French, but with Kreuther's personal Alsatian twist. Every dish is beautifully creative, executed with classic European ingredients and techniques but with a very innovative finish (even more so than at The Modern) and stunning plating.
Unless you're going for the Chef's Carte Blanche, choosing your courses will be a hard task…. For your first visit, focus on Kreuther's signature dishes (the Sturgeon & Sauerkraut Tart of course, although that dish is also available at the bar), a foie gras appetizer (I usually will never order foie gras as my first choice, but Chef Kreuther does a particularly phenomenal job in execution), and if the Squab & Foie Gras Croustillant (for two) is on the menu, ORDER IT. Decadent drooling guaranteed.
The service is impeccable in every way, without it being too stuffy and fawning. Yes, this is a formal dining experience, but the atmosphere still feels somewhat relaxed. For an even more unique service ad dining experience, their chef's table nestled inside the kitchen is available for private bookings.
The sommelier does a remarkable job curating a European-leaning wine list, with, unsurprisingly, a special attention to Alsace. The only area of improvement I would deem worth mentioning would be to add on prepared wine-pairing options.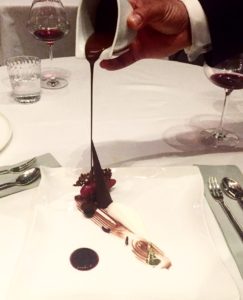 Gabriel Kreuther's faultlessness has earned him a Michelin star (along with many more rewards) within the first year of its opening. Take note: Gabriel Kreuther deserves and will get a second star. Prices have already gone up since its opening and I suspect this will keep going, so book a table sooner rather than later (easy reservations) if you're planning on celebrating a special occasion with your date or with parents in town, or for your next business meal.
Lunch served Mon-Fri 12pm-2pm
Dinner served Mon-Thurs 5:30pm-9:30pm, Fri-Sat: 5:30pm-10pm