For an island, there are frustratingly not many waterfront options in New York. For the longest time, The Frying Pan was the NYC institution when it came to outdoor summer spots and the only Manhattan option for a cool boat bar. But then came Grand Banks, and took waterfront dining to a whole other level. Think Frying Pan minus the rowdy college spray-tan crowd, plus a sophisticated setting, plus a REAL cocktail and food menu. So if you're long past the age of lining up for a bucket of Corona with a bunch of drunk B&T peeps (OK, I'm exaggerating but it's fact based!), Grand Banks is the best and coolest place for drinks on a boat!
For those who get sea-sick, avoid coming on a windy day (or getting too drunk!) 😳
Grand Banks is a seasonal oyster bar located on Sherman Zwicker, a large wooden schooner docked at the southwest edge of Hudson River Park's Pier 25 in Tribeca. To get there, once at the pier, walk along the southern promenade towards the river, continuing past the mini-golf course and volleyball courts. Anchored in one of Manhattan's prettiest ports, Grand Banks is the perfect place to catch a sunset on the Hudson river with clear panoramic views of the New York Harbor, FiDi and the Freedom Tower. And there's no better place to enjoy the views and lights of Jersey City and Hoboken (New Jersey sure looks pretty when you're not physically there – I kid, I kid) 😆 .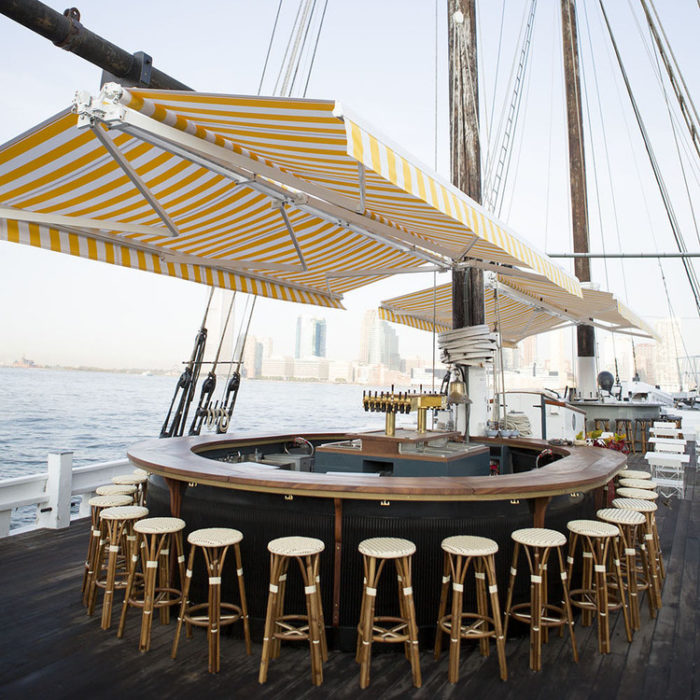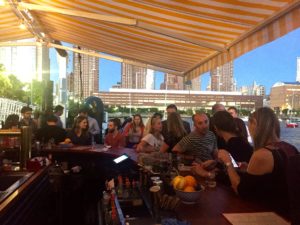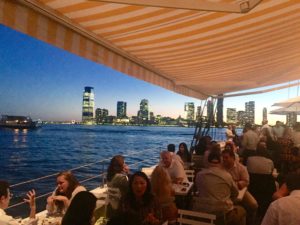 The vibe, menu and clientele are very "Tribeca meets Cape Cod", with an attractive, polished, young crowd and an easygoing, yet lively atmosphere. Although it may look initially small, the boat can actually hold quite a number of people.  It's divided into two parts: the first section is the standing bar area, and the rear of the boat is for seated dining.
Come before 5pm to avoid the longest lines!
Grand Banks has a great list of seasonal, nautically-inspired cocktails (curated by The Park), along with wine and craft beer. Prices aren't cheap: expect $15-16 cocktails, and $14 as the starting price for a glass of wine. Note that they do not make any drink substitutions – if it's not listed on the menu, you can't order it!
Grand Banks is a great for drinks, but also serves an all-day food menu with a killer oyster list and seafood-focused small plates.
The portions are small and all items are relatively over-priced, but every dish is delicious with fresh, high-quality ingredients. The Lobster Roll is tiny especially for the hefty price tage of $27, but I must admit one of the best I've had in the city, and this comes from a true lobster roll aficionada. Other favorites include the $18 Sea Scallop Ceviche (again – tiiiiny but so fresh), the decadent $22 Soft Shell Crab and believe it or not, their $16 Burrata is also a must. Their wild caught East and West coast oyster selection changes daily. On weekends, Grand Banks has extra additions for their brunch menu.
Grand Banks is primarily a walk-in restaurant, but does accept a very limited number of reservations (for parties up to 10). Expect a line for drinks, and a long wait for a table (they take your name and party size and text you when your table is ready – take the opportunity to stroll by the Hudson River while you wait). The nicer and warmer it is, the longer the line and wait!
Come for sunset!
Grand Banks is the coolest place to celebrate a special occasion (if you can afford it!). They host semi-private events for groups of up to 40, and also host a very limited number of fully private events for groups up to 199. The Captain's Table may be reserved for seated dinners for up to 12 people or cocktail parties up to 20 people. The Bow is available for parties up to 40 guests for a cocktail party as well.
Grand Banks is one of the coolest NYC summer spots. Come for after-work happy hour, day drinking with friends, date night, or just any occasion on a beautiful New York summer day.
Open Mon-Tues 4pm-12am
Wed-Fri 12pm-12am
Weekends 11am-12am