The Honorable William Wall is one of NYC's best kept summer secrets for a unique waterfront experience, with views unlike any other place in New York City. This will be your guaranteed favorite summertime location.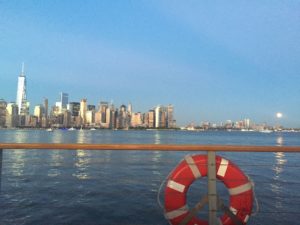 The Honorable William Wall, a.k.a the Willy Wall, is Manhattan Yacht Club's one-of-a-kind floating clubhouse, anchored in New York Harbor just north of Ellis Island from May through October. The steel barge was initially designed for the club's members as an educational center for teaching sailing and as a spectator platform for races. What many New Yorkers ignore is that the Manhattan Yacht Club has opened its clubhouse to the public since 2012, giving anyone the opportunity to come for a drink while enjoying the most stunning New York City views.
Closed Sundays & Mondays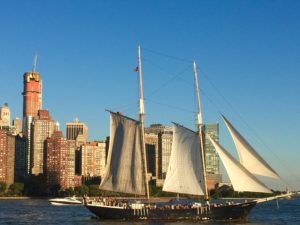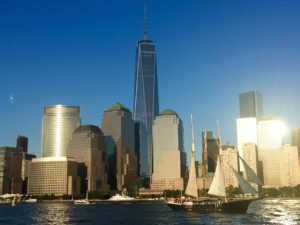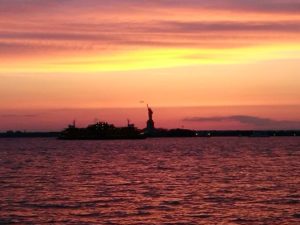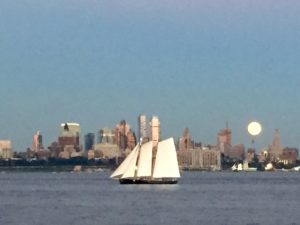 The two-story clubhouse's main deck is a members-only space, and features lounge seating and a heated interior. The open-air upper deck is open to the public, and is where you want to be to relish the breathtaking 360° New York views, including the Statue of Liberty, Ellis Island, Brooklyn Bridge and the Manhattan Skyline.
The deck has a full bar and a very casual café-style seating. No food served here, but they allow you to BYOS (bring your own snacks) 😉 .
-> Now how to get there:
– First book your $20 ticket (after-work departures sell out fast!)
– Take the "Little Lady" ferry departing from the World Financial Center Ferry Terminal (on Vesey Street and the Hudson River) and get off at the first stop at Warren Street .
– From there, the "Admiral's Launch" boat will pick you up and bring you to the clubhouse.
– You can get there directly from Jersey City as well by boarding the "Admiral's Launch" from the Surf City Restaurant at 1 Marin Blvd.
Make sure you get there in time for sunset!
-> To get back to Manhattan:
– Go via the same route if you plan on leaving before 8pm (or 7:30pm on weekends).
-> For later departures, you can:
– Take the Goldman Sachs Ferry from Paulus Hook (a short walk from the Warren St ferry dock) back to the World Financial Center (runs every 12 minutes from 8:30pm to 10:54 pm on weekdays/ on Saturdays, every 15 minute with the final ferry at 8:45pm).
– Take the NY Waterway Ferry from Surf City to Pier 11 at Wall St (final ferry is at 9:50pm on weekdays, no service on weekends).
– Take the Path Train from Grove Street running all night (10min walk from Surf City)
If it's late and you're hungry, my tip would be to make a whole summer night out of it and stop by Surf City on your way back (yes, I am actually suggesting a night out in Jersey 😛 ) for (very casual) burger and booze.
Book your tickets in advance!
The Clubhouse is also a unique spot for private events. Private rentals are available forup to 140 guests and make great summer office parties, birthdays, wedding brunches etc. Send your event inquiry here.
The Willy Wall is a unique, affordable summer spot and unlike any other waterfront bars in New York City. Come float on the Hudson River for a casual drink and enjoy the most unique city views.
Open: May 12 to October 15, 2016.
Hours: Tues, Wed, Thur &  Fri –  5:15 to 9:45 pm
Saturdays (2 seatings) – Brunch 1 to 4 pm & Evening 5 to 9 pm
Closed Sundays & Mondays.