For the longest time, going out for GOOD Greek food in New York implied a trek to Astoria or spending the big bucks at one of the fancy Midtown joints like Milos or Avra (ok fine – Pylos ain't that bad either). But then Kiki's came along, and brought New Yorkers the best authentic Greek food in…  Chinatown! It's all Greek to me! 😐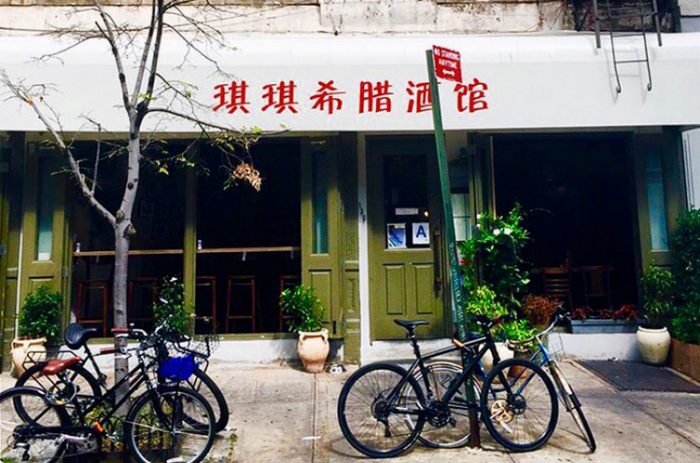 Kiki's opened in April 2015 from the same Greek-American family that brought Forgtmenot to the neighborhood (Kiki's is named after one of the three owners). Located at the corner of Division St and Orchard St, the restaurant is easy to miss: the outside sign is written in Chinese. Not Greek. Nor English for that matter. From the start, Kiki's was kept on the down-low: no sign, no advertisement, no website… And naturally, such mystery is the perfect New York recipe for attracting all the cool kids of downtown Manhattan, making Kiki's a huge success from day one.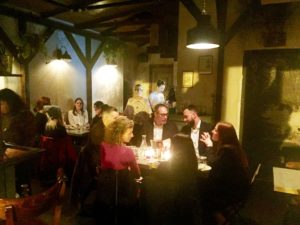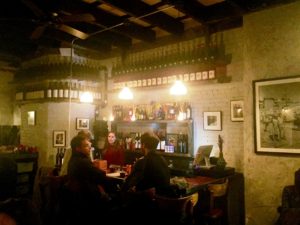 Though not obvious at first, the restaurant is surprisingly capacious, divided into three main dining rooms and making the most use of such an atypical space. A bar and dining area in the front leads to a larger iteration of the same in the back, with a banquet style table space in between (best for large groups). The decor is rustic and minimalist, with wood beams and tables, and the neighborhood's signature brick walls. Kiki's has a simplistic but unique design where Greek Taverna meets New York hipsterdom meets Chinatown (you get the picture ❓ ).
Best seats are at the divey stools by the window
The inside is welcoming, dimly lit and even a bit romantic, but the best word to describe Kiki's is "cool" 😎 . Kiki's is the cool Greek neighborhood hotspot for a cool crowd (expect bearded dudes with flannel shirts, trendy tattooed chicks with red lipstick and over-dyed fringes, and a good dose of beautiful people)! Nevertheless, the greatest thing about Kiki's is that amongst the young and trendy Lower East Siders, is a familiar, homey and friendly ambiance attracting all kinds of crowds. Its distinctive vibe caters to just about any situation. So rest assured, although everything about Kiki's screams hip, one will still feel welcome in spite of an un-hip appearance!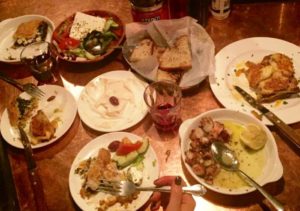 In terms of the food, Kiki's nailed it, with a menu consisting of a traditional, home-style Greek fare with affordable neighborhood prices. No fancy dishes here – the no-frills menu is simple but perfectly authentic, fresh, and delicious. The menu is divided into small plates (hot and cold mezedes) and several items from the grill, for a complete, hearty Greek meal that will keep both your stomach and wallet full!
The best way to order is to share everything family-style and stick with the basics : grilled octopus, tzatziki, taramousalata (fish roe dip), saganaki, zucchini chips, moussaka etc, are musts. Their grilled whole fish is always fresh as well. Oh and the cheesecake. Do not end your meal without having the cheesecake (#drool) 😛 . You can't really go wrong with anything on the menu, where every dish is prepared with Greek-grandma love and the quality of ingredients is never compromised.
Drinks wise, Kiki's offers wine and beer only, with a super affordable selection of Greek wines (pitchers, 0.5L carafes for $10, and bottles under $30!). The imported Greek beers are a great way to start your meal as well (go with a Mythos for a light lager or Keo from Cyprus for a pale lager with a hoppier taste).
Come for lunch or an afternoon snack to avoid a crazy wait
How to prepare your Saganaki, the Greek way: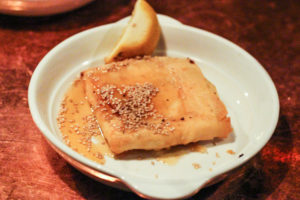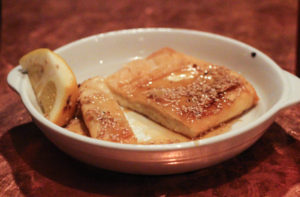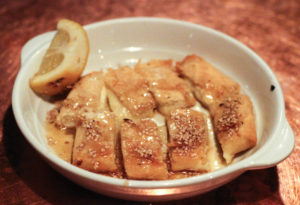 Such popularity also means you will never be the only one waiting to eat at Kiki's. Reservations are only accepted for parties of six or more, so come armed with a lot of patience as you wait for a table. Your name will be put on a waiting list, and you will be notified once your table is ready. During peak dinner hours, don't be surprised if the wait reaches 1h30-2h…  😯 The only upside in their dining policy is that they won't make you wait until the entire party is here to be seated. The restaurant is always crowded and lively, but has good acoustics (a very rare NYC quality!) which won't make you feel cramped or like you need to shout to be heard.
Best bet for a small party size is to try to snag bar seats
Kiki's is the perfect place for a casual, home-style Greek meal to be shared amongst locals, hipster foodies or friends and family, in a cool, laid-back atmosphere, Who would have thought you'd find the best of Yaya's cooking in Chinatown?
Stay tuned for the team's new Southern European restaurant opening soon on Monroe St, Brooklyn!
Open every day from 12pm-12am, for lunch and dinner – take-out available