To say Lilia is a New York hotspot is merely an understatement. Ever since its February 2016 opening and its three star New York Times review, Lilia has been THE most hyped restaurant in Brooklyn, and possibly one of the hardest reservations in the whole tri-state!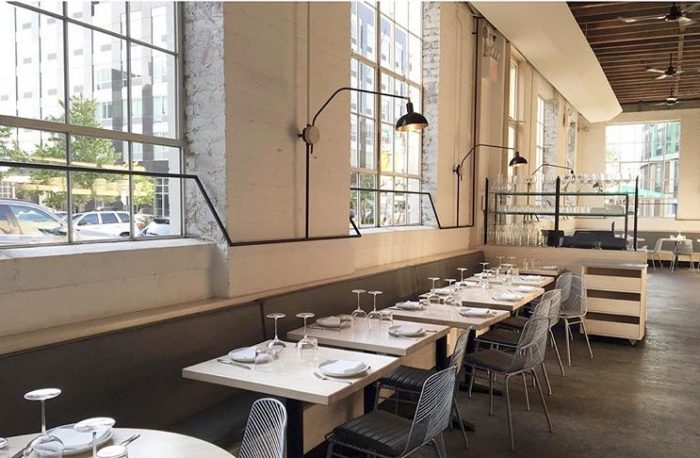 Chef Missy Robbins brought her Michelin pedigree from the renowned A Voce (and formerly Chicago's Spaggia) to North Williamsburg by opening her own Italian restaurant on Union Avenue. Lilia is housed in what used to be an auto-repair shop which has been transformed into a cool industrial-type dining space. The restaurant is bright and airy, with soaring wood beamed ceilings surrounded by large windows, and a wide open kitchen that runs through almost the entire length of the dining room (my favorite detail is the huge wood-burning grill). The minimalist decor has a Nordic-inspired aesthetic with neutral tones, original cement floors, and light furniture. The restaurant's modern and sleek design is the perfect blend of rustic and industrial, and its vibe on the border of NY swanky meets BK hipster – all for a sophisticated, yet casual dining experience.
Entrance is on Frost St – Doors on Union Avenue are for the Caffé
The space is unique, but all the rave comes from chef Missy Robbins' soulful cooking of regional Italian cuisine. I've been "fortunate" enough (once you've experienced how tedious it is to get a table you'll understand why I use the term "fortunate") to eat at Lilia on four occasions. The first time was really good. The second and third were phenomenal. The last was just OK. Basically, if I have to start with a con, it would be the lack of a consistent "wow" factor.
Outdoor seating available but stay indoors to appreciate the space
Everything on Lilia's food menu is delicious, with a unique use of simple ingredients. The most memorable dish is surprisingly the Bagna Cauda antipasto, which is basically a plate of raw vegetables with a warm anchovy and garlic dip – it sounds boring and healthy, it's actually inventive and lusciously decadent! Other musts include the Cacio e Pepe Fritelle to start (you can order these with your drinks while you wait at the bar), the perfectly al dente Malfadini (their signature pasta dish), and the Agnolotti (the best you'll ever have…) If you like spicy, definitely get the Grilled Clams. Prices are of "NYC hotspot" standard (so expect three digits if you're getting drinks and sharing several plates).
For dessert, their Olive Oil Cake does not compete with L'Artusi's of course, but is probably the second best I've had. My favorite dolce at Lilia's though is their caramelized Apple Tart.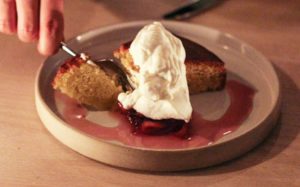 Lilia has a fairly priced and perfectly curated Italian wine menu (although they don't serve orange wine, tss tss). If you're in a cocktail mood, go for their $12 Bianco Bianco or classic $14 Negroni.
Despite it being on the scarcely developed Union Avenue, labeling Lilia as a neighborhood restaurant would be like calling Anne Hathaway the Brooklyn girl next door. Sure you can play the hipster Williamsburg card, but at the end of the day, Lilia has the pretentiousness of an over-hyped NYC establishment. Don't get me wrong – the service is great and the wait staff is friendly and courteous. But I have, more than once, witnessed blatant favoritism towards some guests, and many of my friends living in the neighborhood have "boycotted" the restaurant.
Welcomes parties of up to 20 guests in their semi-private dining room
Getting a reservation at this 70-seat venue is a herculean task. Hoping for an available walk-in table even more so. Make sure to book well in advance and expect to most likely score a very late seating, or just play last-minute luck for same-day cancellations.
So does Lilia live up to the hype? Yes. Is it a game-changer when it comes to Italian cuisine in NY? Debatable. Either way, Lilia is a great addition to the North Williamsburg food scene and a fantastic restaurant for a guaranteed delectable meal. Come with friends or for date night, or anytime you can score a reservation!
Lilia also has a Caffé section open daily from 7am for fresh coffee and in-house pastries, gelato and Italian snacks. On evenings this area serves as a bar section for aperitivi.
Open daily for dinner 5:30pm-11pm