Little Owl is one of those neighborhood spots that's on every New Yorker's bucket list. First, because it has remained a NYC staple for the past decade, and second because of its iconic location: yes, its tall brick building was the one used in the filming of the show "Friends"! Little Owl is no "Central Perk", but a quaint restaurant on a quiet corner of the West Village. Regardless of its touristy attraction, the homey feel of Little Owl is what makes it so inviting. It's cute, it's crazy charming, it's delicious.
Little Owl is the quintessential West Village dining spot. Everything about the neighborly restaurant screams coziness and warm hospitality. The space is tiny, holding no more than 10 tables and 28 chairs (so don't show up with a stroller or luggage, there isn't a square inch to spare!). The tall windows make it super welcoming for a day-time hangout, but Little Owl's atmosphere is the best for an intimate dinner or romantic date night. Best seats are at the bar (to peak into the open kitchen) or at a corner table for the coziest dining experience. My favorite feature is their one-of-a-kind elevated 2-seater nook, where you can have a drink and people-watch while you wait for your table!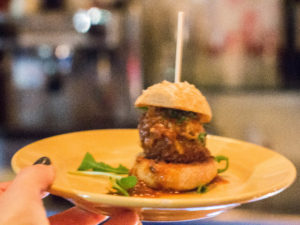 Every little detail is thought through but with simplicity – the decor, the vibe, the service, the menu –  all are unpretentious and approachable, for a relaxed dining experience. Chef Joey Campanaro serves a simple, comforting American-Mediterranean fare for lunch, brunch and dinner. No meal at Little Owl is complete without their signature Gravy Meatball Sliders ($6 each). Other favorites include their hearty entrees like their Pork Chop & Butter Beans ($33) or Brick Chicken ($28), and order the Chilaquiles ($15) for brunch! Drinks wise, Little Owl has a very limited cocktail menu, so stick to extensive wine list (or beer).
They'll split shared dishes for you!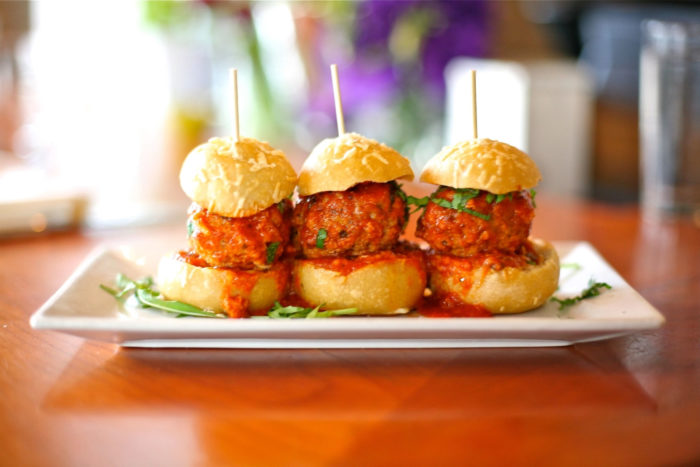 Signature Gravy Meatball Sliders – $6 each – a must order!

Despite all the constant new trendy openings, Little Owl remains a neighborhood gem. The best part about dining at Little Owl is its consistency. The food is simple but always satisfying, and you can always count on a friendly service. Because of its limited space and ongoing popularity, reservations ahead of time are highly recommended.
Reservations accepted up to one month in advance.
Little Owl's unique intimate setting and hearty New-American food is great for any occasion, but the very best for a cozy West Village date!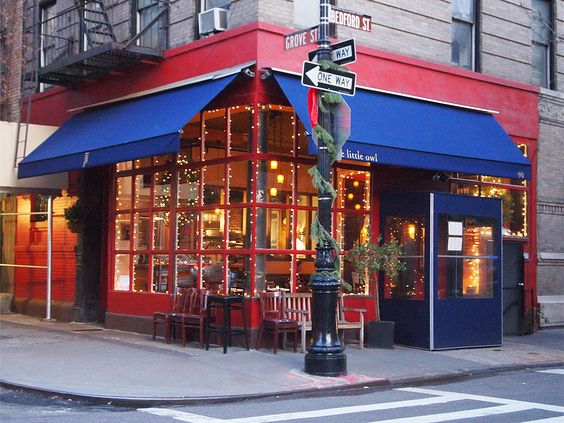 Also check out the sister restaurants Market Table & The Clam.
dinner – Everyday 5pm – 11pm
lunch – Monday – Friday 11:45am – 2:30pm
brunch – Saturday & Sunday 9am – 2:30pm