I thought twice before writing about Loosie Rouge… First, because its sister restaurant Loosie's Kitchen does not meet Gourmadela's picky criteria (except for maybe the cool outdoor dining space). But the real reason was that I was being selfish and didn't want the word to spread even more on how awesome Loosie Rouge is…
Loosie Rouge opened in 2015 by four (part French and hot) partners, taking over the old Fatty Cue space under the Williamsburg Bridge. It's a New Orleans-themed bar with a speakeasy vibe, where Southern hospitality meets sexy Frenchiness meets Brooklyn hipsterdom. 😎
Loosie Rouge is located in a small and narrow basement space, but with a well put-together layout: some seats by the street windows, a bar area on the right with stools scattered around, and a piano at the end for live music nights! The decor is warm and sultry, with white-washed brick walls, wood furniture, a marble bar and awesome ceiling lights.
Ever since its opening, Loosie Rouge became the cool bar for the cool kids, where all the beautiful people from both sides of the Williamsburg Bridge seem to be congregated! Guys, you'll find plenty of hipsterly sophisticated ladies on a girl's night out. Gals, along with the all-male staff, there is a way above-average hot-men vs. chic ratio here! The quality of testosterone at Loosie Rouge rarely dissapoints, which, let's face it, can't be said of many NY bars (did I mention the owners were babes?).
Loosie Rouge is more of a cocktail joint, but has a full liquor bar, beer on tap and a limited section of wines. The drink menu is simple but elegant. Stick with their Lousiana-inspired in-house cocktails (one of the owners used to be the head bartender at Daniel), my favorite being the Loosie's Cup, their custom light version of a Pimm's Cup, and the Bamboo Sazerac. Drinks are around the $13-$15 range.
Take home some of their cool highly-instagrammed coasters!
If you get the munchies, bar snacks are available (I like their fries with grated Parmesan). For a proper meal, you can get oysters or po'boys next door at Loosie's Kitchen. The food is "ok" but their inviting outdoor patio is super cute and will make feel like you've transported yourself to LA.
Loosie Rouge is one of those bars that's great for any night of the week: you'll get a guaranteed buzzing night out on weekends; you can fight the Monday blues with Mr. Piano Man nights; sing along on Open Mic Wednesdays, or chill on Sunday evenings with their Open Jam sessions.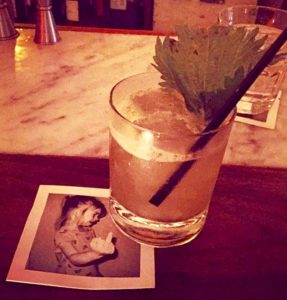 No other bar in the area beats the fun atmosphere, the hip crowd, the great music (with French accents in the background) and the casual-trendy vibe. Loosie Rouge is the sort of place you can spend hours just hanging out with friends with a guaranteed fun time, a convenient pit spot on your way to neighboring Diner or Bia, or before a wild booty shakin' night at Bembe.
Open Mon-Thurs: 6pm-2am / Thurs-Sun: 5pm-2am
Mr. Piano Man every Monday 9pm-12am
Open Mic on Wednesdays 9:30pm-12:30am
Open Jam on Sundays 7pm-11pm