ABC Kitchen is one of my all time favorite restaurants, and what I consider to be the quintessential New York City dining spot. So naturally, when ABC's executive chef left to open his own joint, I, along with the whole NYC food scene, was counting the days (years!) that led to the opening of his highly anticipated solo venture, Loring Place.
Dan Kugler (is it me or does it seem like every hotshot New York chef is a Dan…?) opened Loring Place at the end of 2016, in the heart of Greenwich Village (although the name comes from the street Kluger's family grew up on in the Bronx). Chef Kugler has made a name for himself for being the New Yorker farm-to-table master. At Loring Place, the winning recipe is still there, with Kugler once again brilliantly showcasing market-driven dishes that celebrate the simple, raw ingredients to stand out. The menu exclusively features farmers market produce, spotlighting farms Kluger has intimately worked with for over 20+ years.
Just like at ABC, Loring Place serves a bunch of wood-grilled and vegetable dishes, meat, hand-made pasta and pizza, but with a slightly more exotic twist, i.e. expect an extra Mediterranean or Asian spice here and there. The seasonal menu changes according to the best market availability, but IMHO you can never go wrong if you focus on the veggie dishes. Baked ricotta with kabocha? A must! Colorful market salads? Of course! A brussels sprouts pizza? OMG GENIUS! You get the point, mix it up and share, but make sure you get your 5 fruit & veggies and you're good. 🙂
Loring Place now serves weekend brunch!
The beverage program consists of hand-crafted cocktails, artisanal beers, and a curated wine list featuring all the classic regions. There's also a pretty buzzing scene in the ample bar area.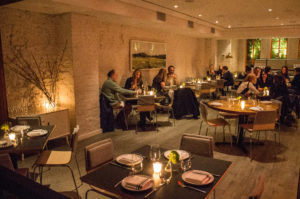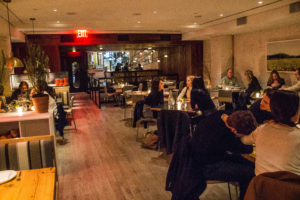 The large interior, holding about 120 seats, is built within an original 1848 building and has an "urban-rustic" vibe. The decor pretty much reflects the key elements of Kluger's restaurants: texture, balance, modern, whimsy but crude and simple. The crowd is trendy, the atmosphere is vibrant, the service is approachable and friendly – check, check and check! Loring Place has all the elements of a New York hot spot, including the tricky reservations! Book in advance if you want a decent dinner time (i.e. that's not 5pm or 10pm).
Loring Place is great for a date or dinner with a group of friends (they even have a beautiful private room for large party events), just make sure you go with food-sharers!
Open for:
Dinner Mon-Thurs 5:3pm-10:30pm, Fri-Sat 5:30pm-11pm, Sun 5:30pm-9:45pm
Brunch Sat-Sun 11am-2:30pm