There are some meals in your life that you simply never forget. I remember my first dinner at the original Momofuku Ko to be good – very good. My second meal at Ko's newer East Village location, however, was unforgettably mind-blowing.
David Chang is probably one of the most respected restaurateurs in New York City. He opened Momofuku Ko, his fine dining outpost, in 2008, which has retained its culinary praise and 2 Michelin star rating ever since. More recently, Ko was even ranked No. 58 on the World's 100 Best Restaurants list in 2017!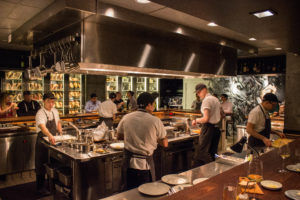 In 2014, Ko moved from its 1st Avenue location into a bigger, renovated space on Extra Place, while maintaining its signature East Village hipster vibe. I had really enjoyed how relaxed and intimate the first dining room was, but the "new" airy space takes the Ko cool factor to a whole other level.
The casual setting and the signature chef's table seating are still there of course, but with a unique modern design. Converted from an old garage, the unusual location in the hidden East Village alleyway is decorated with an industrial feel that will make you think you're in gentrified Williamsburg: graffiti on the wall, a gigantic meat freezer in the back, hip hop tunes in the background, and tattooed forearms seem to be a prerequisite to work here! Momofuku Ko may be a gourmet Michelin-starred restaurant, but no formal shmormal nonsense here. Leave your blazer jacket at home, put on your cool pumps, chill out and get ready for a one-of-a-kind culinary journey.
Before going any further, let me stress the fact that the ultimate dining experience happens at the chef's counter. Momofuku Ko has table service for 4 to 6 guests, as well as a private room, but a meal at Ko is all about the counter seating, where you'll be having meaningful interactions with the chefs as you admire the masters in action. Counter seating reservations are available for party sizes of 1 to 4, but 2 is ideal (this is definitely a special date place!).
Expect around 3 hours for your meal
Everything about Momofuku Ko is sensational. The wow factor is present from beginning to end, in the immaculate and personable service, the relaxed atmosphere, and of course the phenomenal food. A single 12-to-15-course $195 tasting menu takes you on a spectacular gastronomic journey. Contrarily to common misconception, the cuisine at Momofuku Ko has only a minor Asian influence. Chef Sean Gray's New American fare uses various techniques and refined ingredients from all over the world, with the most surprising flavors and texture combinations that will make your taste buds go crazy (in a really good way)! The tasting menu changes seasonally based on market availability, with just a couple of signature dishes that always remain, including their notorious Egg & Caviar and the Shaved Foie Gras with Lychees. There is a good mix of protein dishes, some raw, some cooked, some incredibly fresh fish and other perfectly executed meat. The duck was one of the best I've ever tasted, and I'll be naming my first child Uni after eating here… To top it off, the coursing speed and portion sizes are just right (just don't over binge on their addictive bread & butter like some may have done…).
Not ideal for vegetarians
Buckle up for the food-pic rundown:
And the first star of the night: the outstanding Skate & Vin Jaune:
The making of:
Ta-daaaa!
The beverage pairing is not cheap – at all. At $155 the pairing almost doubles your bill, but is well worth-it, with a majority of excellent European wines, but also a cocktail to start, as well as an atypical selection of sake and digestifs. I don't always splurge on pairings, but Ko's faultlessly compliments the already-almost-perfect meal (you can also share a pairing as a $$ compromise). If not, their extensive wine list has a great selection for all budgets.
And if you're getting really nervous about spending half of your monthly rent on dinner, Momofuko Ko also has a 6-seat bar open to walk-ins only, where a $75 5-course menu or $90 6-course menu are served.
Private dining room accommodates up to 14 seated, 30 standing
Momofuku Ko serves the same tasting menu for both lunch and dinner. To me, this is definitely more of a special dinner spot, but I can imagine it being a great option for a business lunch (and a corporate card would be more than welcome!).
Reservations are done solely through Momofuku's website and are available 15 days in advance for counter seating and 30 days in advance at a table (easier to score).
Momofuku Ko blew my mind in every way and is definitely a solid coup de cœur experience. Go there for a special occasion meal in a unique, cool setting.