Lower East Side's Orchard Street is dive bar central, so when Mr. Purple opened in the winter of 2015, it was a welcome neighborhood addition. For some reason, the Eeast side of downtown Manhattan has always been lacking good rooftop bars, which is probably why Mr. Purple has been mobbed since spring sprung!

Mr. Purple is a rooftop bar and restaurant located on the 15th floor of Hotel Indigo, with a signature LES lively and artsy vibe. The lofty interior space has a cool, generic modern design, with contemporary wooden furniture, metal and concrete fixtures, free-hanging and neon lights… But the whole point of Mr. Purple is its spacious outdoor rooftop, which includes two terraces with spectacular 360 degree views of New York City. The eastern terrace is smaller and best for more intimate gatherings.
Get there early to avoid insane lines!
All the action happens in their western outdoor area, with a variety of seating options including chaise lounges, banquettes, and high top communal tables, and most importantly a swimming pool! No pool party here though, it's tiny and reserved for hotel guests only (anyone who has ever been in a bar pool knows it's NOT a good idea to swim in one anyway)! 😐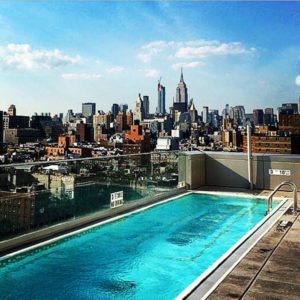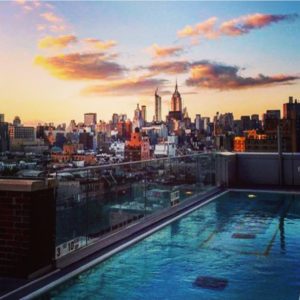 The views of Mr. Purple's rooftop are simply stunning. Too bad they have to come with the worst customer service… If there is one thing to look out for at Mr. Purple, is their terrible staff. From the bouncer at the hotel entrance, to the bartenders and waiters, they are all obnoxiously rude, arrogant and incompetent. Add to that the hour-long line to get in, the overpriced drinks, slow service, and horrendous food and you might just want to throw them off that gorgeous roof! I'm slightly exaggerating, but Mr. Purple is so promising, it's a real shame to see it managed in such a way. So why the two heart rating? It IS (I swear!) nevertheless worth going to for the location and the great view, if you follow these guidelines: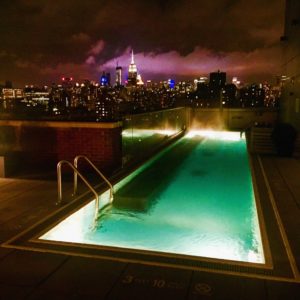 – Aim Monday-Thursday after-work drinks and get there early to avoid insane lines.
– If you are a group of 6 or more, request a table online  (with a minimum spend of course) to be sure to get in.
– For all party sizes without a reservation during peak evening hours, be prepared to get kicked out of free tables all night.
– Stick to drinks, although the (boring) bar food menu won't kill you if you want to share some nibbles (flatbreads, tuna tartare, sliders, grilled cheese etc.) Expect an average of $20 per plate, and a minimum of $16 for your cocktail or glass of wine. Beers are cheaper at $7 a can or on tap.
Brunch served on weekends
Mr. Purple has so much potential, it's just too bad it brought the distasteful Meatpacking rooftop traits to the Lower East Side. All in all, it's still a good spot for after-work happy hour drinks in the neighborhood with unbeatable views.
Open daily:
Sun-Tues: 11am-2am
Wed: 11am-3am
Thurs-Sat: 11am-4am