Since its 2010 opening, Navy Beach has become THE trendy go-to spot to catch the best sunset in Montauk. This beachfront restaurant overlooking Fort Pond Bay and Gardiner's Island is a popular boating destination, for daytime hangouts or for the quintessential summer drinking experience. With its prime location, you can't really beat Navy Beach's view and its breathtaking sunset.
Come here exclusively for the sunset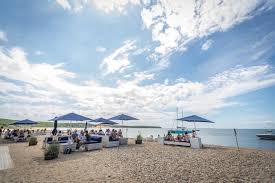 This waterfront venue has outdoor picnic tables and a lounge area overlooking their private beach. Ample indoor seating is also available, but the whole point of Navy Beach is the outdoor atmosphere and view. The decor is nautically themed and the outdoor patio furnishings are "beach-chic". Navy Beach is best for late afternoon drinks (they have a good selection of rosé wine), and to hang out until the sun sets over the Long Island Sound. The setting is casual and family-friendly, but sophisticated. Get there early to snatch a seat outside.
Reservations available up to 2 weeks in advance for indoor tables only

Navy Beach serves lunch and dinner, but skip the meal here. The food is horrendous, with extremely poor service and a rude staff. If you're really starving or getting too tipsy, just get a side of the Parm Fries – only decent item served here. If it weren't for these majors cons, Navy Beach would probably be one of the very best spots in Montauk. I would actually love to boycott Navy Beach because of their terrible waitstaff (think obnoxious, pretentious, incompetent bimbos and jocks), but the Sunday night sunsets and live music always get me… Fine, you win Navy Beach… 👿
Drive or anchor your boat at Navy Beach for a glass of rosé and enjoy the magical Montauk sunset. Just ignore everything else and you'll have a memorable summer moment.
Also a beautiful venue for a private event (such as a wedding) – just make sure you don't hire their staff!
Open seasonally daily for lunch and dinner 12am-12pm.