Since summer 2015, the NYC culinary scene has been all about farm-to-table outdoor dining events. By opening its site to the public for the first time in 150 years, North Brooklyn Farms has created a magical space for the most memorable New York summer evenings.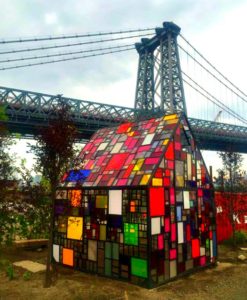 North Brooklyn Farms is located in South Williamsburg on the footprint of the iconic Domino Sugar refinery building, right on the East River water and underneath the Williamsburg Bridge. Entrance is on Kent Avenue and South 4th Street. The farm's purpose is to provide a green space to the Brooklyn community for people to connect with nature and with one another through agriculture, while gaining access to sustainably-grown produce. In this regard, the 35,000 square feet venue hosts weekly farm stands, dinner series, volunteer programs and private events.
For the most unique outdoor farm-to-table experience, North Brooklyn Farms organizes a weekly summer event series entitled "Sunday Supper at the Farm on Kent". Imagine a country-side farm communal dinner but in the most magical urban setting. Every Sunday starting 7:30pm, the Farm on Kent offers a vegetarian (and vegan friendly) dinner under romantic fairy lights, with sunsets over the Williamsburg Bridge and stunning views on the Manhattan Skyline. Talk about a one-of-a-kind New York dining experience…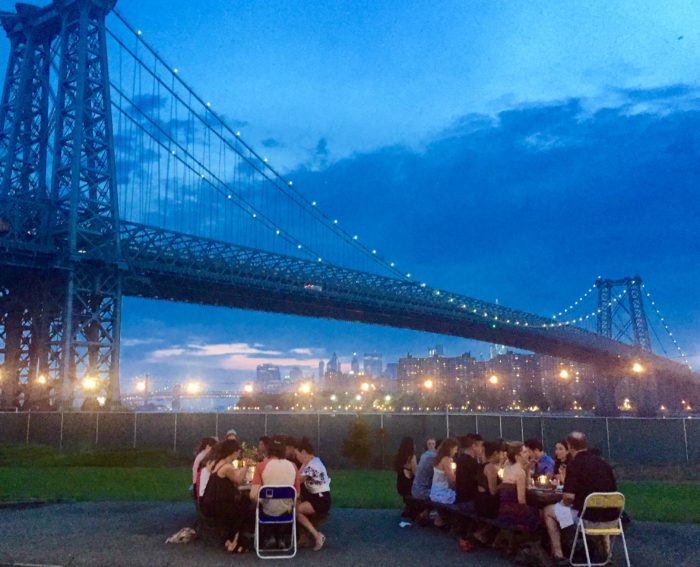 The evening starts out with casual drinks (wine, beer and usually one or two choices of in-house cocktails) and small bites before the three-course seated dinner. The farm's root-to-leaf menu serves dishes that use every part of the plant and highlight the freshest produce of the season.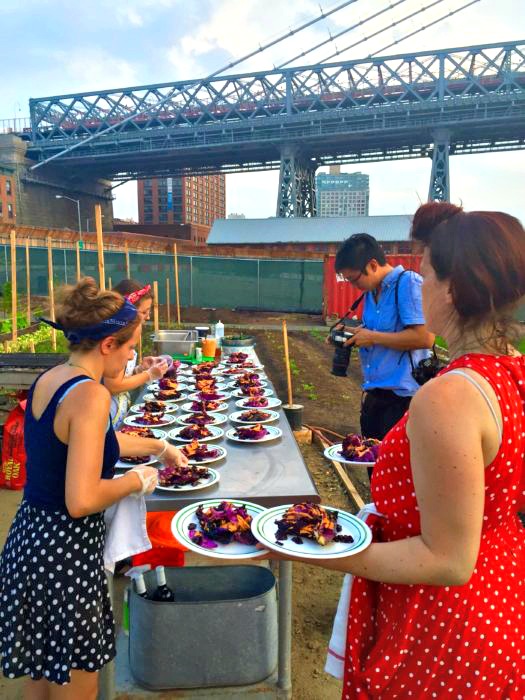 Vegan dinner served!
The large communal tables set the scene for a convivial meal during which you will most certainly be mingling with your neighbors.
The $85 tickets are to be purchased in advance (they sell out increasingly quick) and include food and beverages.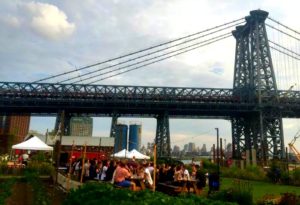 The most unique sunset dinner with a view
Along with its Sunday Supper series, North Brooklyn Farms hosts sporadic pop up dinner events, like this summer's Thursday nights Guest Chef Series, where Brooklyn-based restaurant chefs serve a four-course meal where seafood, seasonal produce, local pasteurized pork and foraged ingredients are served.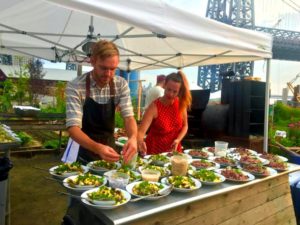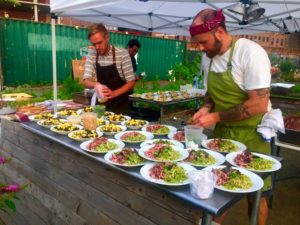 Guest Chef Series: joint venture serves a non-vegetarian  seasonal meal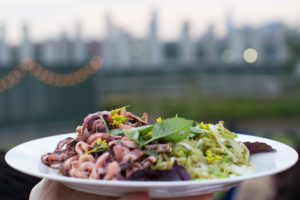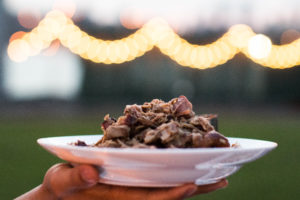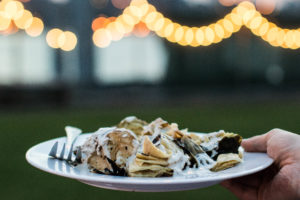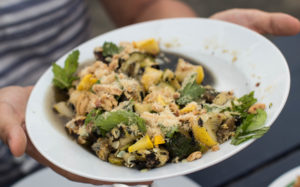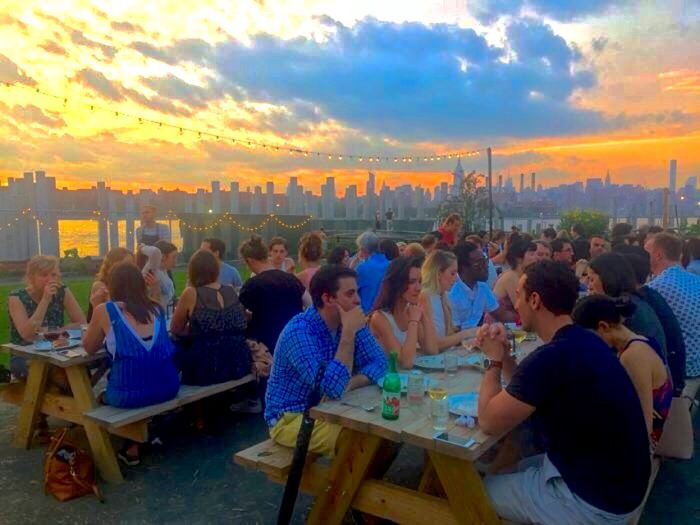 If you can't afford or snag a ticket for their Sunday Supper, a great time to enjoy the stunning scenery is  for their Tuesday evening Yoga on the Farm. The Blue Moon Collective teaches a 60 minute vinyasa-flow yoga class on the lawn at sunset. The class is donation-based, all you need is to bring your mat and water bottle.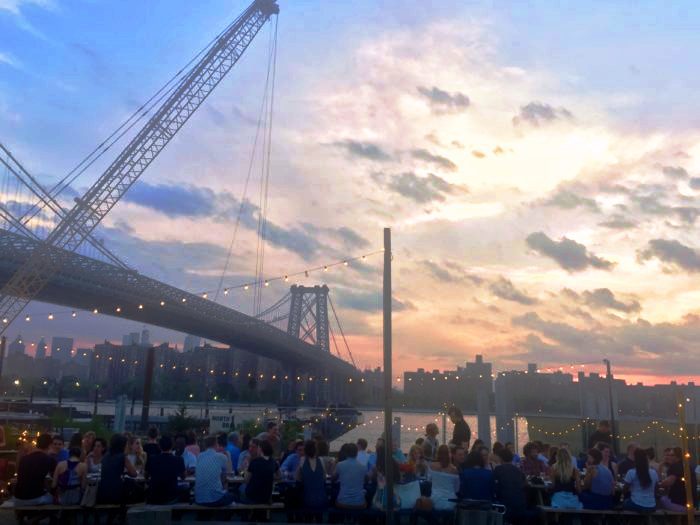 The Farm on Kent is an exceptional setting, the kind that makes you fall in love with New York all over again ♥  . Make sure you book a ticket this summer for their Sunday Supper, or plan a unique gathering, birthday, or why not even a casual engagement or wedding celebration for a private event. North Brooklyn Farms will make you live a midsummer night's dream… ♥
The farm is open and free to the public Tuesday – Sunday 11am- 8pm