I love all Asian food , but I'll admit I'm not a Korean cuisine expert. Up until recently, my Korean was limited to kimchi and bibimpap. I've been to 2-Michelin starred Jungsik in Tribeca where I somewhat discovered more about new Korean gastronomy. But East Village's Oiji is what got me hooked to this cuisine that is so much more than barbecue!
I hate trekking to Manhattan's K-town (unless karaoke is involved of course), so Oiji was a welcome downtown addition when it opened in 2015. Oiji is run by a Korean-American duo with pedigrees from New York's top fine-dining establishments, bringing in refined Korean fare to the East Village. Oiji goes for a modern approach on Korean comfort food, served tapas style. Oiji's menu masterfully explores traditional dishes while incorporating more upscale, modern techniques and ingredients. The artful plating is stunning, the flavor combinations are unique, surprising, and most importantly, delicious.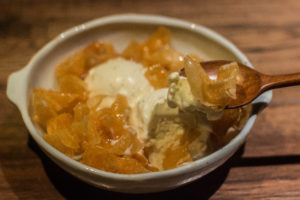 More specifically, let's start with THE dish behind Oiji's hype: the Honey Butter Chips. With a name like that, you know these sugar-coated-deep-fried-carbs (and add ice cream!) come with trouble. These dessert chips were a big sensation in Korea, and once you taste them at Oiji, you understand why: Honey Butter Crack.
Relatively easy reservations
The rest of the plates are all made for sharing (so are the Honey Butter Chips but you will be fighting for these!) and served family style. Dishes are beautifully plated and bursting with unexpected flavors (and most are under $20). You can't really go wrong, unless spice is a factor. Must orders include the Jang-Jo-Ji, the raw special, and the Ssam Platter of course. Oh and the Slow Cooked Baby Octopus… I used to always get the octopus, until I realized that every single restaurant in NYC has one on their menu and always recommends it, no matter how good or fresh it really is. So I got frustrated and bored, and stopped ordering it. Oiji's octopus is legit thought, so I'm glad I listened to the waiter's suggestions. Speaking of, the service at Oiji is top notch: friendly, personal and accommodating. And bonus point for letting diners sit before the whole party arrives (hate that about New York restaurants).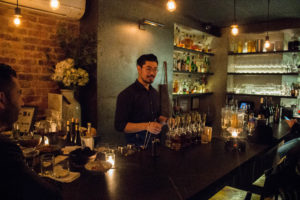 Beverage wise, there is a limited wine and beer list, but this is the place to go the Soju route! According the our waiter, the bartender is a pretty renowned mixologist, so it's also worth trying out one of their lively cocktails.
The dining room is relatively small with a very simple decor, but I love Oiji's typical East Village vibe. The modern downtown setting has the signature exposed brick, reclaimed wood details, ambient lighting and an open kitchen at the back. Despite the tight space, they have a communal table that can accommodate a large group, although this is more of a 2-to-4-party spot.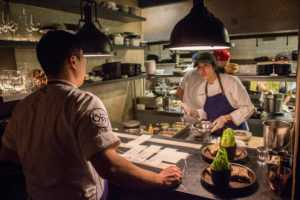 Oiji is probably not the most authentic restaurant, but non-connoisseurs like myself are the perfect audience to be wowed by this delicious Korean fare. Come here on a casual date or with a small group of friends and share a bunch of plates in this relaxed, yet lively setting.

Open daily for dinner:
Mon – Thurs: 6pm – 10:30pm
Fri – Sat: 6pm – 11pm
Sun: 5pm – 10pm