Before Taverna Kyclades made its way to Manhattan, Pylos was the East Village go-to spot for Greek food. It still has a long way to go to compete with Kyclades or Chinatown's Kiki's, but officially remains East Village's second best.
Pylos means "made of clay" in Greek, and as soon as you'll walk inside you'll get why. Pylos is all about the decor, with clay pots that look like Greek amphorae hanging rustically from the ceiling (more than 1000 of them!). Along with the mesmerizing ceiling adornment, the exposed bricks, the large mirrors and the Greek wine bottles lining the walls add to the elegantly intimate atmosphere. The restaurant is tight and narrow, but has the perfect cozy setting for a romantic, yet casual date night.
Ask for a corner seat in the front dining room
There is a communal table in the rear of the restaurant for larger groups, but the best vibe is at the front, where you'll be sitting close to your fellow diners but on throw-pillow covered benches instead of the uncomfortable back-room stools!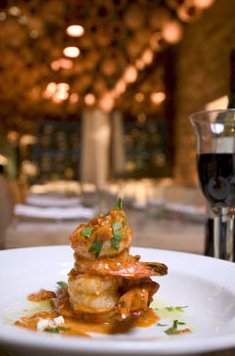 The inimitable setting is what makes Pylos stand out. The food a lot less. The "rustic Greek home cooking" menu is good – but nothing is unique. You'll find the classic Greek fare, with a large selection of mezethes, fish and meat entrees and traditional side dishes. The ingredients are fresh and the food is decent, but not everything is flavorful nor authentic. Go for their Horiatiki Salad, their Haloumi Cheese with sautéed grapes starter, and I mostly go for their signature vegetarian Artichoke Moussaka (and their complimentary warm pita and hummus!). As a main dish, stick to the whole fish. As should be the case in every Greek taverna, all dishes are served family-style and best shared. Drinks wise, Pylos offers beer and wine only, with an all-Greek wine list.
$15 prix-fixe brunch deal on weekends!
Although the food is not what makes me come back to Pylos, dishes are very reasonably priced, especially considering the generous portions.
Pylos is a good East Village option for a date or a friend gathering in a unique setting, if you're looking for a casual but cozy Greek restaurant with easy reservations. Come here for a Greek meal but leave some space to walk across the street to the Big Gay Ice Cream shop for dessert!
Open daily for dinner: Sun-Thur 5pm-12am / Fri-Sat 5pm-1am
Open for lunch/brunch Wed- Sun 11:30am-4pm
Take-out available