If you're looking to impress your guest or out-of-towner with a celebratory meal with a view, you can't beat The River Café. Nestled under the Brooklyn Bridge with sweeping views of the Manhattan skyline and the Statue of Liberty, this elegant restaurant has, since 1977, been a favorite destination for New Yorkers and visitors from around the world who want a memorable NYC dining experience.
The River Café opened at a time where Dumbo was just an abandoned neighborhood by the Brooklyn docks and has, since then, become THE iconic Dumbo establishment for its unique setting: right by the river, under the Brooklyn Bridge, across a cobblestone street, huddled in the trees sparkling with twinkle lights. Even before entering The River Café, you'll be dazzled by the romantically arranged lighting, their beautiful garden decorations and flower ornaments. As you walk into the restaurant, they have an elegant bar overlooking the river and live piano playing in the background (romantic clichés, check, check and check!)
Request a table by the window as you make your reservation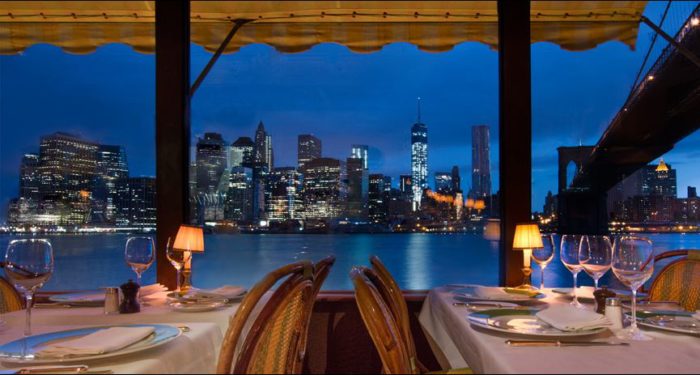 The majority of diners will be couples (if you're "lucky" you might even witness an engagement) or family gatherings for special occasions. Everyone is well groomed and elegantly dressed (appropriate footwear and jackets required for gentlemen after 4pm). It's definitely an uppity older crowd, but not unbearably stuffy nor snobby.
Formal attire required
Since its reopening after it had been decimated by Hurricane Sandy, The River Café  immediately regained its Michelin star for its fine dining.
The River Café serves dinner seven days a week, Saturday lunch and Sunday brunch (weekday lunch service will resume shortly after all Hurricane Sandy repairs have been completed). For dinner you have the choice between a  $125 three-course prix-fixe or the six course chef 's signature tasting menu for $155 (wine pairing is $125.00). Lunch and brunch offer more affordable deals with $42 and $55 prix-fixe menus. The River Café has a classic New American menu, in which every dish is beautifully plated with a high attention to detail.
Despite its Michelin rating, the food is not what you come here for though – it's good, but not worth the price and definitely not worth the michelin star (nor does the service for that matter). You've got it by now, the view is what makes this place.
The River Café accepts reservations from the same day to as far out as one year in advance (except for Valentine's day). The venue is also VERY popular (and understandably so) for weddings. Special dining and private events are available for parties of 30 to 100 guests.
The River Café is best for a special family occasion, an anniversary (for the old school crowd) or to impress your parents in town. The best time to go is during sunset, after a beautiful walk from Manhattan over the Brooklyn Bridge.
Open daily for dinner from 5:30pm-11pm
Sat-Sun lunch/brunch from 11:30am-2:30pm