"Ag, shame, you looking for a lekker new spot just now in Cape Town bru, hey?"  Now that I'm fluent in South African and feel like a local 😎 , I can tell you that an evening at Spasie is the guarantee of a unique and all-time "cool" ("Kif"!) dining  experience in Cape Town – and will make you feel as if you've teleported yourself to New York (or more precisely Brooklyn!).  At least that's exactly how I felt. And it's no coincidence as Spasie is brought to you by New Yorker turned Capetonian Greg Zeleny.
Located in the heart of Cape Town's CBD, close to historic Bo-kaap (kiiiiind of sketchy but increasingly hip and upcoming neighborhood), Spasie means "space" in Afrikaans –  and what a space it is! The major cool factor is explained as follows:
– First, it has a New York "speakeasy" feel to it – to find the venue you'll need to look out for the bouncer on the street as there is no outdoor sign. You'll then go down dark stairs to join the underground joint. At the entrance is a bar overlooking their open kitchen, before entering their huge warehouse-type space.
– Secondly, It's an exclusive "invite-only" type of supper club. But despite the VIP aspect of it, the atmosphere is super chill and relaxed. Think trendy, young and cool hipster crowd.
– This is the PERFECT private event space. Not only can they accommodate large dinner parties with their banquet style table, but along with eating and drinking you'll find card games and even twister to keep the night going!
Cool factor continues : they are offer several types of events Wed-Sun:
– Their casual "pocket watch Wednesdays", i.e. #PWW, where they serve a different selection of gourmet street food every week. Basically to get in, you are supposed to score one of their ten signature vintage Pocket Watches floating around Cape Town, which acts as an invitation for you and four of your friends to attend the humpday. OR you need to know someone in the know…  OR you can still try your luck and book for #PWW by coming up with a witty reason as to why you deserve a spot and getting in touch with them on social media or via email. Basically it's not that hard to get in, it just sounds way cooler if they give you the impression it is. The Wednesday event is the one I attended for my friend's rehearsal dinner – she didn't seem to really have problem to book for 25 people… then again she IS really cool.  Wednesdays are their most casual night, with no cover charge and an average of R80 per plate. All dishes are best served family style and shared. I have to admit the food was very disappointing when I was there, but the atmosphere made up for the lack of flavor and innovation.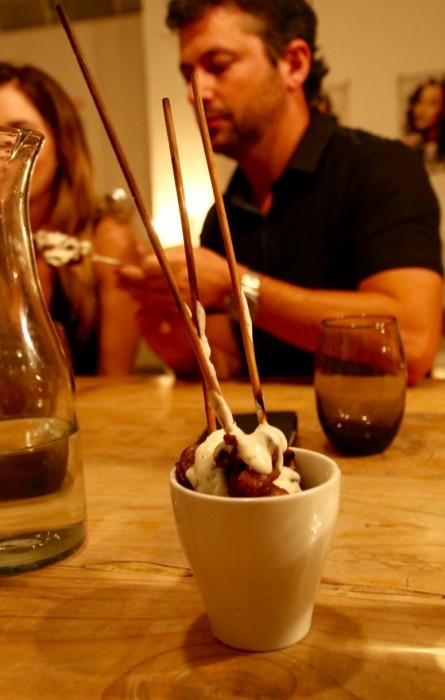 – Spasie is best known in the Mother City for their higher-end Chef's Table events on Thursday and Friday nights, where top South African chefs and rising culinary stars offer 4-5 course meals with wine pairings from the region, for a reasonable price of R650 per person. Booking for chef's table is limited to 30 guests. Email for booking hello@spasie.co or phone +27 214221492.
– On Saturday evenings the executive Chef Nicholas Charalambous uses organic ingredients for a seasonal à-la-carte menu (R60-90 for starters and R80-150 for mains). Spasie is also a great place to just stop by for a drink at their Saturday cocktail bar.
– And for the ultimate New York déjà-vu, go for Sunday brunch, with an American style menu with locally farmed ingredients, and even a DIY Bloody Mary bar!
Spasie was the highlight of my Capetown dining experience, not for the food itself,  but for the trendy space, laid back but vibrant space, making it THE place for a highly entertaining and interactive dinner.
This is perfect spot for private events such as birthdays, rehearsal dinners (or hipster wedding?), corporate dinner etc. Accomodates . 50-60 guests for seated dinner and 120-150 for drinks and snacks.
Notes: Accommodates for vegetarians. 
Payment can be made by cash or SnapScan app.