The East Coast vs. West Coast battle didn't die with Biggie and 2Pac. The rivalry rages on, and as a true New Yorker at heart, I am always ready to debate and enumerate why West Side does not equal best side. Only a few arguments would make me surrender: the weather, the beach, the tacos and… SUGARFISH. Luckily for us East-Coasters, Cali just lost a decisive point, as the wildly popular L.A. sushi institution has finally landed in New York City!
Ever since its first Los Angeles opening in 2008, SUGARFISH became an instant hit with a fanatical following. Eight years and ten L.A. locations later, the casual sushi restaurant opened a New York Flatiron outpost in November 2016 – a major deal for obsessive sushi aficionados. And snatching a table at SUGARFISH Flatiron has been like hitting the lottery ever since…
The massive popularity behind SUGARFISH lies in its affordable, high-quality sushi and its approachable omakase options. SUGARFISH is all about offering simplicity, authenticity, and integrity to the sushi experience, with a dedication to quality at a low price. SUGARFISH's motto is to make finer sushi dining accessible to more Americans. The New York location is slightly more expensive than in L.A. (gotta cover the rent, I guess), but it's hard to beat an omakase dinner for $27, $39, or $51 ($23, $33 and $45 for lunch! ) without sacrificing the freshness and excellence of the fish.
Pair your meal with their super affordable Sake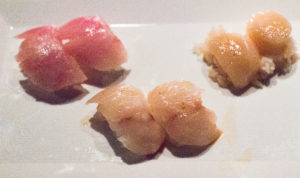 SUGARFISH is for sushi purists. No California rolls or spicy tuna there (don't get me started on these…). Sushi master chef Kazunori Nozawa is known for mastering his own style of "real" traditional sushi and highlighting the purity of the basic ingredient: it's all about the fish. Another Nozawa trademark is his preparation of rice. His legendary rice is served warm and is loosely packed to create a melt-in-your-mouth sensation beneath the cool fish, for a unique texture balance. He believes the airiness of the rice is one of the key components to great sushi. And don't you dare ask for extra rice or sauce (sacrilège!) –  SUGARFISH has its own  house-prepared soy sauce, with a lighter flavor, less sodium, and only a hint of smokiness to not overwhelm the fish flavor.
The attention to detail is distinguishable in every umami bite. They even state their kitchen to be "built to run like a Swiss watch"! Both lunch and dinner menus offers extensive à-la-carte pieces, but the whole point here is to get one of the three core "Trust Me" omakase options (and order extra à-la-carte of your faves).
No-tipping – Service is included
Now to the most challenging part : managing to actually have a meal at SUGARFISH. When SUGARFISH Flatiron first opened, rumor had it that the wait was 5-hours long – and it wasn't a myth! SUGARFISH is a full-service, no reservations restaurant that seats "only" 43 people in the dining room and 8 at a counter, with a limited fresh catch supply. The New York opening was so highly anticipated that their first-come-first-serve walk-in system is often overwhelming. Basically, for peak lunch or dinner hours, get there as early as you can (expect around a 3-hour wait). They have a texting system in place that will message you when your table is almost ready, and give a 15-minute window to get your party together – so stay in the Flatiron/Gramercy area (they also have a seated waiting area upstairs). Sadly, delivery and take-out are not yet available at the New York location, but hopefully in the works!
Service is casual and friendly, and every tasting comes out at a perfect pace. The only thing I don't like at this Flatiron outpost is the super dark, charmless dining room. I enjoy the minimalist style, but the space lacks a certain je-ne-sais-quoi to make the vibe more special.
So, is the massive SUGARFISH hype and the ridiculously long wait worth it? Definitely! We are sushi-spoiled in NYC, so claiming SUGARFISH serves the all-time best sushi would be a stretch… However, no other place in town offers authentic, high-quality sushi at such an affordable price point. Thanks to SUGARFISH, omakase no longer means breaking the 3-digit bills.
Open for lunch and dinner (dinner service begins at 3:30pm):
Mon-Sat 11:30 am – 10:00 pm / Sun 12:00 pm – 9:00 pm