When in Montauk, one must go (or at least attempt) to The Surf Lodge. Anyone who has ever been, or even heard of Montauk, knows about this iconic spot. The Surf Lodge is single-handedly THE place that changed the Hamptons nightlife game.
The Surf lodge was first built in the 1960s, and was historically the only hipster hangout that would attract visiting surfers.  As a result, the venue has always been finger-pointed, and later despised by locals for gentrifying the town. But love it or hate it, no other place can beat its unique lakeside location.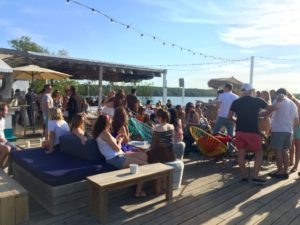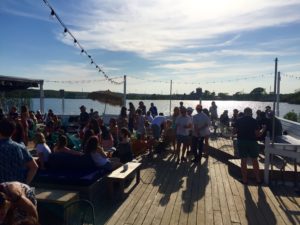 The Surf Lodge is set on a prime setting on Fort Pond, with an unbeatable ample outdoor space and view. It's now a hotel, restaurant and most popular for its hip and trendy beach-bar scene. It has everything on site for the ultimate Montauk summer experience: indoor and outdoor dining tables, a dance floor with DJ tunes, two waterfront decks, including one with sand, a fire pit and a huge projector shooting surfing videos, and another with colorful beach chairs and a stage for free summer concerts. Check, check and check!
For reservations call 631-483-5037
A couple of years ago, The Surf Lodge was still a casual, chill place for a post-beach hangout and live concerts. Since the Summer of 2015, it's become the hardest place to get into in the Hamptons. Now, a table minimum fee is imposed, and forget trying to get in on weekend evenings without a reservation… The new Surf Lodge has, naturally, attracted a new clientele, mixing regulars with rowdy B&T peeps and a snottier crowd 😕 .
Make table reservations to be sure to get in
The Surf Lodge is not what it used to be, but if you can get in – go! To be sure to make the most of The Surf Lodge experience without it being wasted by the obnoxious bouncers, the impossible lines and trashy crowd:
– Book a table for dinner (or lunch / brunch) and stay for the rest of the evening. Reservations are accepted two weeks in advance for Saturday bookings and a month advance for the rest. The food is simple but not too bad, with a seafood and organic market-driven menu. Book early.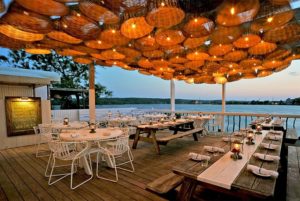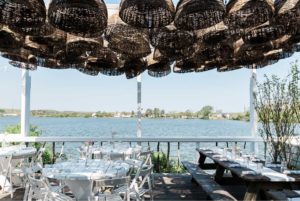 – If you don't have dinner reservations, you can get a table at the outdoor decks with a minimum spend (think a 4-digit bill 😕 ). Finger food is also available if you order it at the bar or from the outside waitstaff. The bar food menu is VERY average and limited. The menu includes a (blah) lobster roll, a hummus plate, chorizo skewers etc. The chicken fingers and oysters are your safest(ish) bet.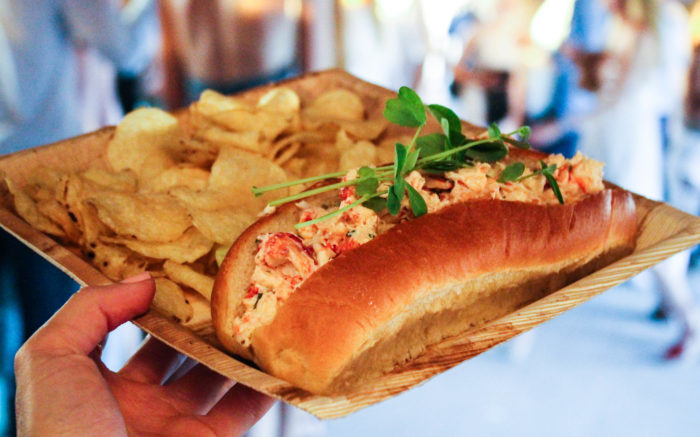 – Book a Hotel room if you're ok with never having sleep before 2:30am.
– Best time to come is for sunset, with stunning views overlooking Fort Pond Bay.  If you don't have a reservation, make sure to come by 5pm latest. Not 5:15pm, not 5:30pm, 5pm is your last shot!
– Stay until it closes at 2am and boogie in their indoor dance floor.
– The best vibe is during their evening concerts.
– The very best day to enjoy The Surf Lodge is on Sunday evenings, combining sunset, concert and cooler crowd.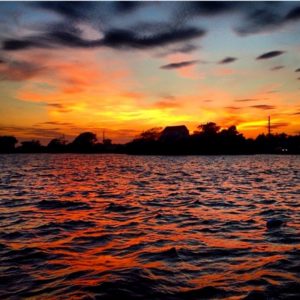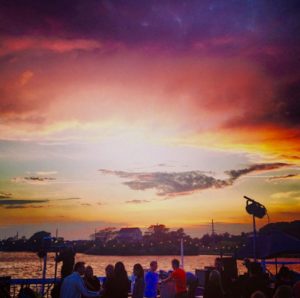 Every regular missed the old Surf Lodge, but no summer in Montauk is complete without a sunset drink with its Ford Pond view.
Open seasonally 7 days a week:
Lunch: Mon-Fri 12pm-3pm
Brunch: weekends 11am-3pm
Dinner Sun-Thur 5pm-10pm / Fri-Sat 5pm-11:30pm
Closes at 2am