When I think of all the times I've trekked to Queens, it's been to go to Astoria for some Greek food or… yup that's about it!! 😕
On a more serious note, THE best reason to head to Astoria is for a Greek seafood meal at Taverna Kyclades.
Taverna Kyclades is a New York staple when it comes to authentic Greek restaurants. Located on Ditmars Boulevard, right by the N/Q train, you'll know you've arrived when you'll see a conglomerate of locals, visitors and Greek families waiting for a table (if you're really lucky you might see George Clooney that's a regular!) 😛 . This is the place to go to for a traditional family-style Greek meal, and more precisely, for fish and seafood.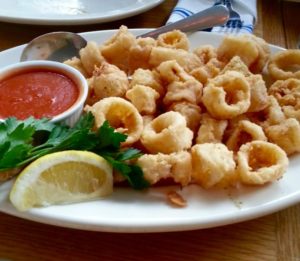 The menu has the widest selection of deliciously fresh fish, meat, appetizers and sides, at a bargain price and humongous portions. Make sure you order the grilled octopus, calamari, a whole fish, along with lemon potatoes, a peasant salad, saganaki and veggies to balance it out. Just avoid all their stuffed fish recipes (NOT authentic). If you're not a seafood lover, Kyclades has all the other classic Greek dishes (including a great spanakopita). Wash it off with one of their affordable Greek wines (no cocktails nor hot beverages here).
Make sure you ask for the complimentary dessert as soon as you get there to save a piece
This is not the place for an intimate dinner – Taverna Kyclades is a casual eatery that's always bustling and crammed with people eating, people waiting, and servers dangerously zooming past each other carrying overly full trays. It's fast paced and crowded, with a lively atmosphere will make you feel like you've transported yourself to Athens! Servers aren't always the friendliest (dropping an "efxaristo" here and there will help!) but are efficient (food comes out super quickly).
Along with your Metrocard and a major appetite, the only other thing you need to bring here is your patience. Taverna Kyclades does not take reservations, so be prepared to wait! Put your name on the waiting list (and put in a special request for an outdoor seat if it's nice out, or near a window) and kill time by stocking up on Greek produce or pastries at the neighboring markets and bakeries! If you're lucky, they often kindly give out free wine to the large standing crowd to make the wait more pleasurable!
Taverna Kyclades is a must-stop for New Yorkers from all boroughs to enjoy an authentic, fresh Greek meal at the best price. Come any day for lunch or dinner, for a casual foodie get-together and share as many plates as possible.
Mon-Thurs: noon-11pm
Fri-Sat: noon-11:30pm
Sunday: noon-10:30pm
Can't take you out of the Manhattan? Taverna Kyclades now has an East Village location!