The Breslin Bar & Dining Room is a contemporary British gastropub located inside the hip & trendy Ace Hotel in NoMad. Along with its iconic sister-restaurant The Spotted Pig, The Breslin has become a New York institution since its 2009 opening by restaurateur genius and Michelin star chef, April Bloomfield.
The Breslin is the perfect fall/winter restaurant for its warm and cozy ambiance. The interior is dark and very dimly lit with a unique rustic elegance, a wood decor and black plush leather seating. Think of a typical pub-like ambiance with a more sophisticated touch.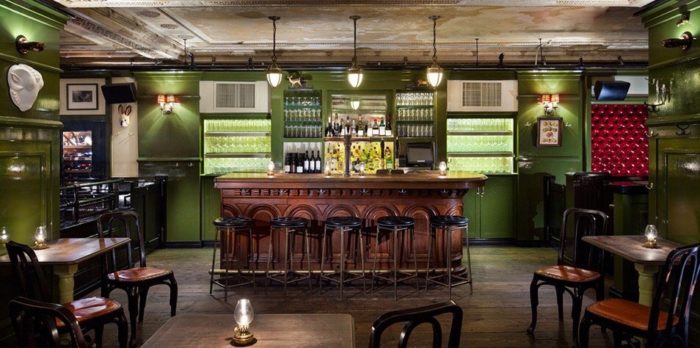 The restaurant features a hearty, meat-centric, British-inspired menu (hence the preference for a cold-weather meal) for any time of the day. Come here first thing in the morning if you're craving a full English Breakfast, for a late night snack if you had one-too-many cocktails at the adjacent Ace Hotel Lobby Bar, for lunch, weekend brunch or better yet for an intimate dinner.
Everything on the menu is tasty, but three dishes are what The Breslin is all about: the Scotch Egg, the Whole Roasted Suckling Pig and the Lamb Burger with Thrice Cooked Chips.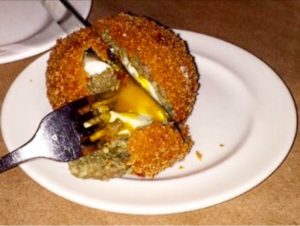 The first is Bloomfield's signature appetizer dish, a sinfully decadent $10 scotch egg that will blow your cholesterol through the roof! (to be consumed in moderation 😉 )
The Whole Roasted Suckling Pig is great for a unique convivial dinner gathering amongst a large group (to be ordered in advance).
And saving the best for last, the Lamb Burger is THE best lamb burger in the city, and debatably one the best New York burgers, period. This burger excels in both taste and texture.The lamb meat is perfectly gamey and juicy, served with a layer of feta and raw red onions in a flawlessly toasted ciabatta bun. Moist and soft to the bite, it's also very salty, but in a good way. Pair it with a full-bodied red wine or one of their draft beers.
Order the Lamb Burger medium rare
I can't say that this is my all-time favorite burger, but it's definitely my favorite "burger & fries" dish. Most famed burger joints focus on the patty and don't get the fries-combination down (what's with the shoe-string fries at The Spotted Pig, April?). The super crisp Thrice Cooked Chips are the perfect accompaniment to the burger, along with the addictive cumin mayo.
For the longest time, The Breslin was a walk-in only establishment, but reservations are now available online. Best seats in the house are the intimate nook-tucked booths on the side of the room.
The Breslin also has a super vibrant, always-crowded bar scene. If you're acoustic-sensitive, note that The Breslin can get very loud!
Come to The Breslin for a hearty meal with a group of friends or on a date, before or after a Broadway show or Madison Square Garden event.
Open all day Mon-Sun:
Breakfast 7:00am to 11:00am
Brunch (weekends):10:00am to 4:00pm
Lunch 11:30pm to 3:00pm
Mid-day 3:00pm to 5:30pm
Dinner 5:30pm to 11pm (midnight on weekends)
Late night to 1:30am