The Culinary Institute of America (CIA) is the Harvard of culinary schools in the U.S. Its primary campus is located in Hyde Park, New York, an approximate two-hour drive north from Manhattan. The CIA offers continuing and recreational education for both professionals and non-professionals of the hospitality industry, but the best part about the institute is its student-run restaurants!
In  this Hyde Park campus, located in what was once a former Jesuit monastery, are multiple restaurants staffed by the future star chefs of America. The CIA Restaurant Group is a family of restaurants that provide an array of culinary experiences, for students to gain practical skill in the kitchen and for patrons to "test out" a high-end meal at a discounted price. Each student spends time in both the front and back of the house to learn and master the full scope of restaurant operations.
Plan a visit during the fall season for the foliage beauty!
The CIA restaurants explore a variety of cuisines, from modern French to farm-to-table and from authentic Italian to new global flavors. For the best food and setting experience, book a table at Le Bocuse for a modern take on French Cuisine, or American Bounty Restaurant, for its seasonal menu highlighting Hudson Valley produce. Both offer casual, yet sophisticated service, with occasional (cute) mishaps from the young trainees 🙂 . For an authentic Italian fare, make a reservation at the Ristorante Caterina de Medici, overlooking a beautiful garden and the Hudson River.
Sit by the open kitchen at Le Bocuse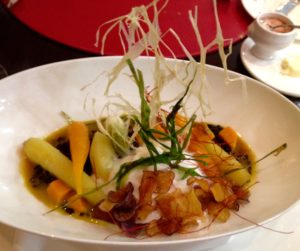 If  you couldn't manage to book a table at one of the restaurants, stop by the reservation-free The Apple Pie Bakery for breakfast or lunch.
A trip to the CIA is worth it if you're looking for high-quality cooking courses (great gift idea), or for a an upscale, yet affordable dinner at Le Bocuse or American Bounty. Pair your trip with a visit of the Vanderbilt and FDR historic sites, and enjoy Hudson Valley's picturesque scenery and nature (best in autumn for the fall foliage!).
No tips! A 17% charge is included instead, to support CIA student activities
Le Bocuse &  American Bounty Restaurant hours:
Open Tues-Sat for Lunch 11:30am-1pm / Dinner 6pm-8:30pm
Closed on Sundays, Mondays, and major holidays.
Ristorante Catarina de Medici hours:
Closed weekends
Open Mon-Fri for  Lunch 11:30am-1pm / Dinner 6pm-8:30pm
Apple Pie Bakery Café hours:
Closed weekends
Open Mon-Fri 7:30am-5pm