Along with brunch and happy hour, summer rooftop drinking is a New York sport. If you're stuck in the city this summer, there's no better way to escape the concrete jungle's humidity and smelly streets than by sipping rosé with a view at NYC's best rooftop bars. Coveted al fresco spots in New York City often with overpriced cocktails and annoying crowds, so Gourmadela has narrowed down this year's best new rooftop bars to discover!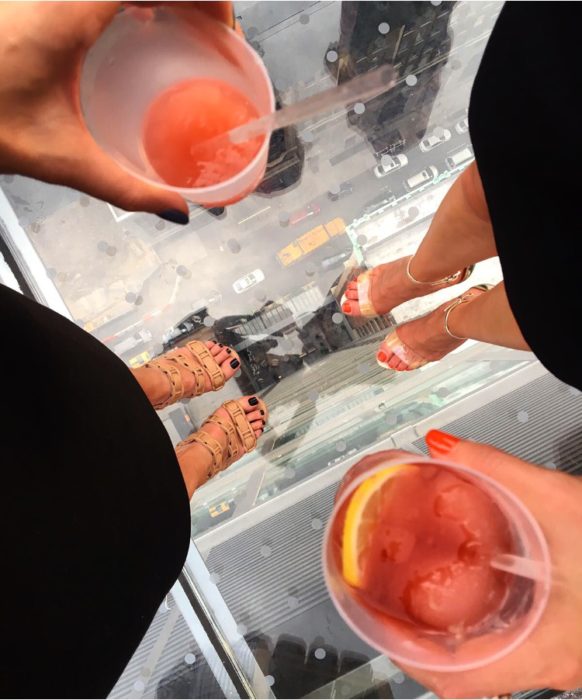 The Heights is a rooftop bar located on the 31st floor of the Arlo Nomad Hotel, opened late spring 2017 by Chef Dale Talde and his Three Kings Restaurant Group. The Heights quickly became the new summer hotspot for Midtown after-work Happy Hour. The crowd is mostly made of people in suits and tourists that come for the frozen drinks with expansive Midtown views (and an exclusive close-up on the Empire State Building). Unless you're afraid of – heights! – no stop at The Heights is complete without Instagramming their glass floor overlooking the busy Nomad streets (hashtag #allthewayup).Vertigo aside, The Heights has an affordable menu of refreshing drinks and tasty bar bites, which can't be said of many (any?) New York City rooftops . Chef Talde didn't go the signature Asian-fusion route, but put together a menu focusing on Detroit-style pizza, as well as many other snacks under $20. More on The Heights here.
4. Good Story Rooftop Bar – Surf Shack at Arlo Soho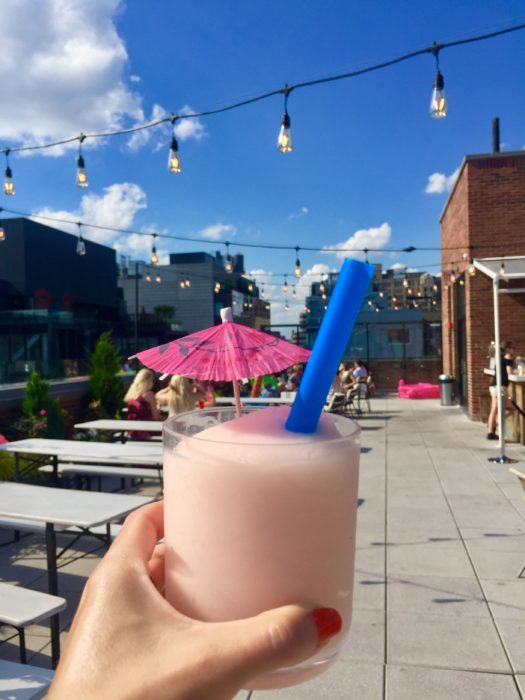 Arlo Soho's Good Story Rooftop opened in May 2017 with a "Surf Shack" themed pop-up. In a one-of-a-kind twist, 'pop-up' experiences take over the top floor with a rooftop that transforms into a fun-themed bar. The Surf Shack at Arlo Soho has a modest and cheesy (but cute) layout, with inflatable pink flamingos, kiddie pools, surf gear decor, and colorful paper umbrellas for your Tiki cocktails of course. The Hudson river views are not the most impressive, but Arlo Soho's rooftop is great for a chill drink with a group of friends, with various communal tables and a grilling station – their beach snacks will come in handy to soak up all those frozen margaritas, mai tais and slushy drinks! More on The Surf Shack here.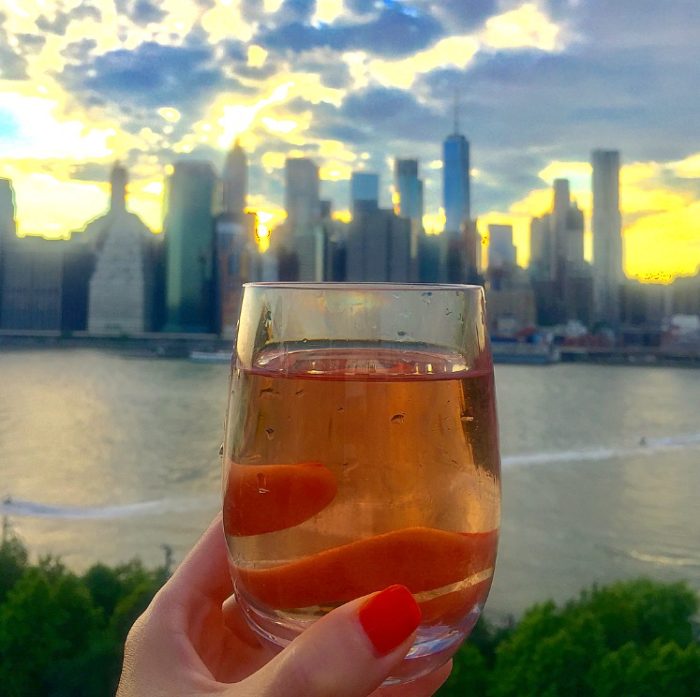 Move over The William Vale (and Wythe you are so five years ago)! Brooklyn has a new favorite hotel rooftop! 1 Hotels brings "ecoluxury" to the Dumbo waterfront by opening its second New York location in June 2017, for a green and earthy Brooklyn retreat.
1 Hotel Brooklyn Bridge is a modern, artistic hotel, but also attracts New Yorkers from all boroughs for its stunning location and views. Its top floor rooftop bar boasts unprecedented panoramic views of the East River and the Downtown Manhattan skyline. At the 1 Rooftop, you can spot landmarks like the Statue of Liberty and World Trade Center, as well as a direct view over Brooklyn Bridge Park and on London artist Anish Kapoor's captivating Descension Whirpool. More on the 1 Rooftop here.
2. The Crown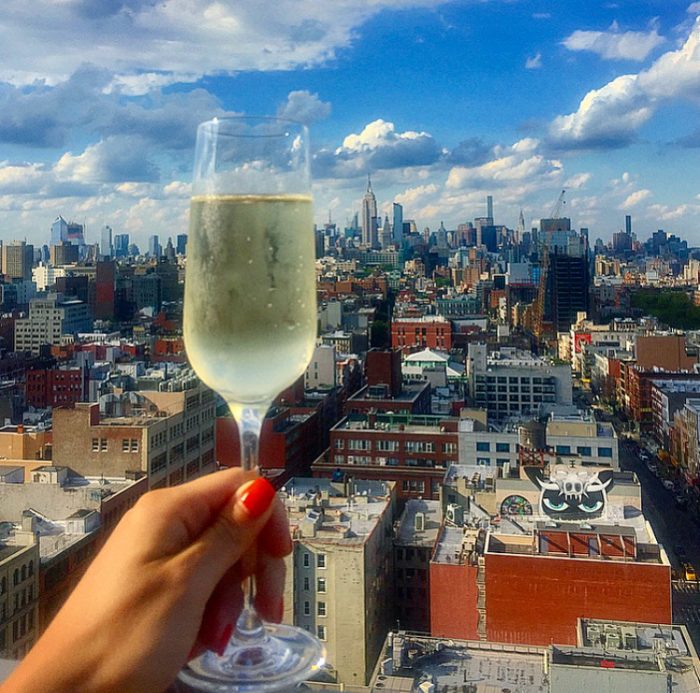 Along with #5 listed The Heights at Arlo Nomad, The Crown was another summer 2017 hot opening by the Three Kings Restaurant Group, aka chef Dale Talde, David Massoni and bartender John Bush. The Crown is a hip and trendy rooftop bar located on the 21st floor of Hotel 50 Bowery in Chinatown, with some of the most spectacular views lower Manhattan has to offer.
The rooftop bar is the first of its kind: located between Chinatown's Canal and Bayard streets, the neighborhood's low skyline gives way to the most spectacular unobstructed 360-degree views that stretch from the Midtown skyline to the Brooklyn Bridge, Downtown Manhattan to Williamsburg.
The Crown has two outdoor patios, and an indoor bar with floor-to-ceiling windows overlooking the terrace view. The outdoor lounge seating is (unfortunately) often reserved for bottle service, whereas indoors is open to all. More on The Crown here.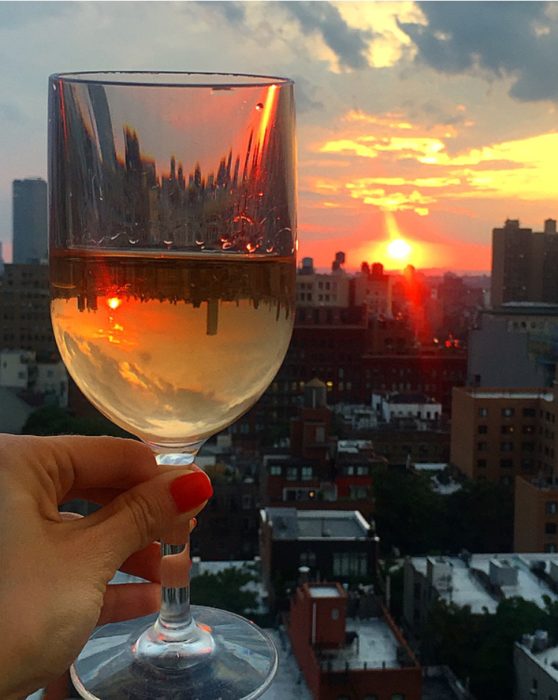 Almost five years after it was first announced, Public Hotel opened in June 2017, bringing affordable luxury hotel experience to the Lower East Side. The Roof at Public Hotel is the hottest opening of summer 2017. The hotel's top floor boasts indoor and outdoor bars with uninterrupted 360-degree panoramic views. This is the place for sunset cocktails, pre- or post- dinner at Public Kitchen or Louis, or for a late-night summer dance-off to their guest DJ tunes. The Roof's large outdoor terrace also hosts weekend BBQs and features communal tables and lounge areas to chill in small or large groups.
Such a summer hotspot naturally comes with an often frustrating door policy. The Roof's outdoor terrace attempts to stay at a low capacity for every experience to feel relaxed and exclusive. Make sure you come as early as possible or make a reservation if you want to avoid to be escorted to one of their indoor bars instead. More on The Roof at Public Hotel here.