As far as quintessential NYC staples go, Waverly Inn wins the West Village prize. First, for its historical landmark location, but most of all, for its unique neighborhood charm.
Tucked in a quaint West Village corner, on the ground floors of two adjacent townhouses, Waverly Inn makes you feel like you're standing on a special piece of New York history. Before Waverly Inn opened in 2006, the beautifully renovated 19th century building had been a restaurant since 1920! The perfect spot for a prohibition party!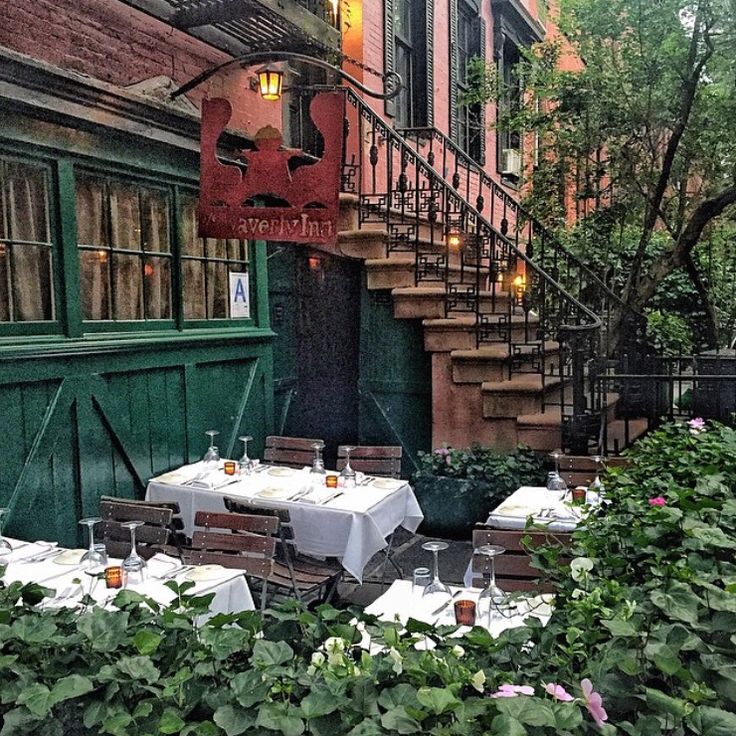 Waverly Inn opened as an upscale insider's club where reservations were only available if you were VIP enough to score its private number. It shortly after became the spot for almost-guaranteed celebrity spotting. Ten years later, the hype faded, the celebrity buzz died down, and mere mortals can now easily snatch a table. Despite having lost its original hotspot status, Waverly Inn has remained to this day a classic New York dining staple.
Best seats in the house are by the fireplace in the back patio
The restaurant serves a (rarely-changing) dinner and weekend-brunch menu, offering high-end spins on American home-cooking classics, with items like their signature chicken potpie, steaks, burgers, and mac & cheese (the most expensive you'll ever have, with a 3-digit pricing justified by its black truffle shavings! A total rip-off – only order if your corporate card is paying!). Waverly Inn ranks itself in the casual fine-dining category, but honestly, the food isn't at par with the hefty prices that go with the status (expect around $20 appetizers and average of $40 entrées). There are some solid dishes, but I've never been blown away by the cuisine, and have found the quality inconsistent. The attentive and efficient service somewhat helps to make up for the overpriced menu items.
You get the picture, Waverly Inn is all about the atmosphere and setting. The whole place is distinctive, charming, and incredibly cozy. The 19th century interior has low ceilings and is filled with wood paneling and paintings from 20th century New York. The entrance bar is buzzing and happening, and the dining room's red booths, fireplaces and dim-lighting provide an attractive and intimate hangout.
Cute outdoor tables for summer brunch!
The very best seats are at the back of the restaurant in their covered patio – it doesn't get any more romantic than sitting by the fireplace of this beautifully lit garden room. The best way to enjoy Waverly Inn is for a cozy winter date-night by the fireplace, or for a summer brunch in their cute outdoor street-side tables. There is also buzzing bar scene at the entrance, great for a winter house-cocktail before attacking the extensive wine list for dinner.
Waverly Inn is a West Village landmark that's a must-visit for its ambiance and charming atmosphere. Its ongoing popularity is undoubtedly more based on the scene than its cuisine. Come for a romantic date, an intimate family dinner or a corporate card to make the most of their wine list.
Book in advance!
Brunch: Weekends 11:00 am – 6:00 pm
Dinner: Sun-Thurs 6:00 pm – midnight / Fri-Sat 6:00 pm – 1:00 am