In a time where Montauk has been losing all its landmark joints (locals are still mourning the loss of the original Duryea's and Dave's Grill 😥 ), Westlake Fish House remains a Montauk staple for casual seafood dining. The Fish House has kept its authenticity and managed to not get overrun by tourists.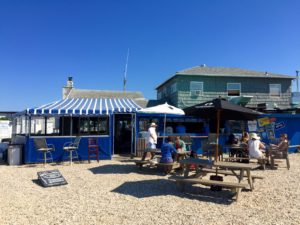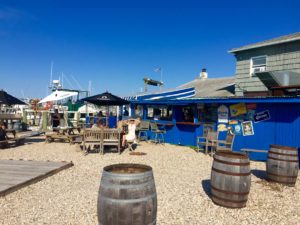 Beautifully located on the water at Westlake Marina, Westlake Fish House is a great option for waterfront dining to experience the true Montauk. If you're lucky, you'll even get to watch fishermen unload their catch of the day. The restaurant's atmosphere is very relaxed and laid-back, making it a great family place.
The indoor setting has a simple but welcoming nautical decor, but the best is to sit outdoors dockside to make the most of the summer weather and marina view.
Live music on summer evenings
Westlake Fish House is naturally best for its fresh seafood and oysters. The no-frills menu includes everything from fish, oysters, sushi, but also plenty of non-seafood options for contrarians, as well as a full bar for drinks. Being a popular fishermen pit stop, Westlake even serves breakfast daily from 5am! My favorite time of the day to come here though is for a quick lunch or afternoon snack. The food is simple but fresh and at a very reasonable price. The vibe is friendly and casual.
Westlake Fish House has kept the authenticity of what Montauk has always been before becoming the Long Island Saint-Tropez: a picturesque, family-friendly fishing village. Let's hope it isn't a matter of time before it becomes another new high-end development.
Open 7 days a week during the summer from 5am-close